Donald Trump's impeachment was set in motion after a whistleblower report came to light complaining about the inappropriate nature of Trump's July 25th call with Volodymyr Zelensky, the President of Ukraine.
During that call, Trump leveraged the threat of withholding U.S. aid funding to Ukraine in order to get an investigation into alleged corruption of Joe Biden and his son Hunter.
Many had fixated on one aspect of the timing of the call: it came just one day after Robert Mueller testified in front of Congress about his report, a testimony that was widely seen as a dud. Perhaps Trump felt emboldened and newly vindicated by Mueller's testimony.
But now we have a new clue as to what may have inspired the call to Zelensky: a Fox News poll that Trump had been touting that very morning:
Fox Poll say best Economy in DECADES!

— Donald J. Trump (@Donald J. Trump)1564055686.0
What else was in that poll?
Well, for one thing: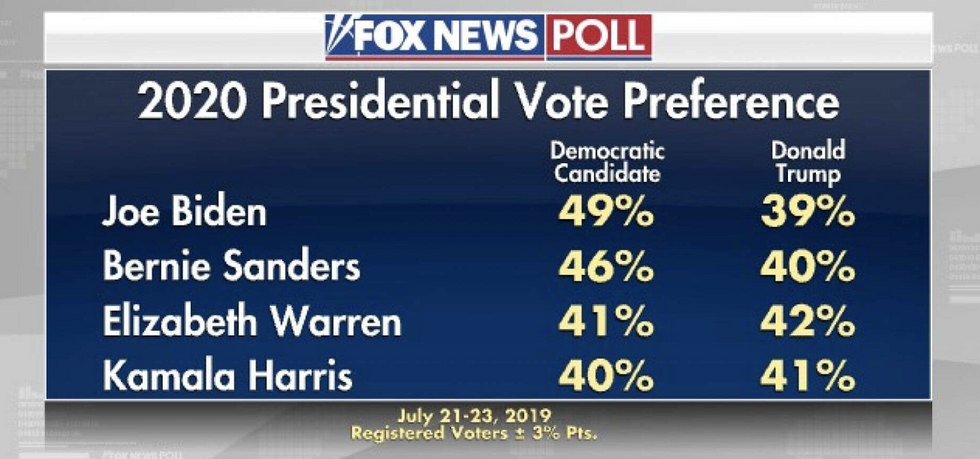 NBC News politics correspondent Heidi Przybyla gives us a glimpse into what may have motivated Trump that very day to want to undermine Biden's campaign:

👉The morning of his July 25 call asking Ukraine for a "favor" to investigate Joe Biden's son, Trump was reading a F… https://t.co/CxpB6NtR4x

— Heidi Przybyla (@Heidi Przybyla)1577132194.0
The timing is damning:
Trump pressed Zelensky to investigate Biden's son 1 HOUR after tweeting about a Fox poll that... showed Biden with… https://t.co/F2E7CefmUG

— Heidi Przybyla (@Heidi Przybyla)1577136128.0
@HeidiNBC 7:54 AM Trump sees Fox News poll with Biden leading him Trump & Sondland talk 9:03 AM Trump Zelensky ca… https://t.co/LFGdEFt2IB

— Restore Democracy (@Restore Democracy)1577160053.0
People are on board with the theory.

@HeidiNBC This is pretty damning. My only quibble is with the "trump was reading" part. Seems far-fetched.

— Adam Parkhomenko (@Adam Parkhomenko)1577159806.0
@HeidiNBC This is an excellent point! The poll data on that day is significant to the context of the call. Great work as usual!

— Robyn J Leader (@Robyn J Leader)1577132763.0
@HeidiNBC Heidi is putting together what we know happened in an orderly way. Good job! This is the kind of Journalism we need!👏♥️

— SVTaylor Biden2020🥁 (@SVTaylor Biden2020🥁)1577137029.0
@HeidiNBC Excellent Twitter-sleuthing, Heidi. Sure as hell looks like compelling motive evidence.

— Bill Corbett (@Bill Corbett)1577155447.0
And legally, it could have serious implications.
This is what proscecutors call MOTIVE. https://t.co/B44T0acCA1

— Mimi Rocah (@Mimi Rocah)1577155125.0
This is the sort of material that could be used in a devastating cross-examination if #IMPOTUS ever testified. https://t.co/U0g4VbTj0N

— George Conway (@George Conway)1577163889.0
Hard to argue with math.

@Mimirocah1 @gtconway3d This is what we less educated in law but astute folks call 2+2=4.

— Just a Girl From TX (@Just a Girl From TX)1577195146.0
Hoisted by his own Twitter petard.