Todd Beeton
Todd Beeton is Senior Content Editor for The Social Edge. Before that, he served as Digital Director for Senator Kirsten Gillibrand's campaign, directing her social media content and strategy over four election cycles. During the 2008 election, Todd blogged about the presidential election as a front page blogger and editor for MyDD.com, a national progressive political site.
Now that the impeachment articles have been transferred to the U.S. Senate and Senators have been sworn in as jurors, Donald Trump's Senate impeachment trial is officially underway.
And while it's adjourned for the long weekend, the White House just announced their legal team, and it's a doozy.
In addition to lead attorneys Pat Cipollone and Jay Sekulow, Trump's legal team will consist of five additional lawyers who are expected to have speaking roles on the Senate floor throughout the trial:
Robert Ray
Alan Dershowitz
Ken Starr
Jane Raskin
Pam Bondi
Yep, you read that right, Ken Starr, of Clinton impeachment infamy.
And none other than Monica Lewinsky herself weighed in with a reaction that was relatable AF:
Many were here for it and had Lewinsky's back.
But doesn't that sentiment pretty much define every day?
And how is that going to. go for Starr?
Fair:

Can we make this happen, please?
Christmas is usually a time when politicians send apolitical Christmas holiday wishes and seasons greetings.
That was not the case for Republican Congressman Rep. Paul Gosar, however, who took the opportunity on Christmas Eve to share an old video of Hillary Clinton almost getting taken out by lighting equipment during a 1992 60 Minutes interview.
His caption:
Remember the reason for the season! #MerryChristmas
Keep reading... Show less
Donald Trump's impeachment was set in motion after a whistleblower report came to light complaining about the inappropriate nature of Trump's July 25th call with Volodymyr Zelensky, the President of Ukraine.
During that call, Trump leveraged the threat of withholding U.S. aid funding to Ukraine in order to get an investigation into alleged corruption of Joe Biden and his son Hunter.
Many had fixated on one aspect of the timing of the call: it came just one day after Robert Mueller testified in front of Congress about his report, a testimony that was widely seen as a dud. Perhaps Trump felt emboldened and newly vindicated by Mueller's testimony.
But now we have a new clue as to what may have inspired the call to Zelensky: a Fox News poll that Trump had been touting that very morning:
What else was in that poll?
Well, for one thing: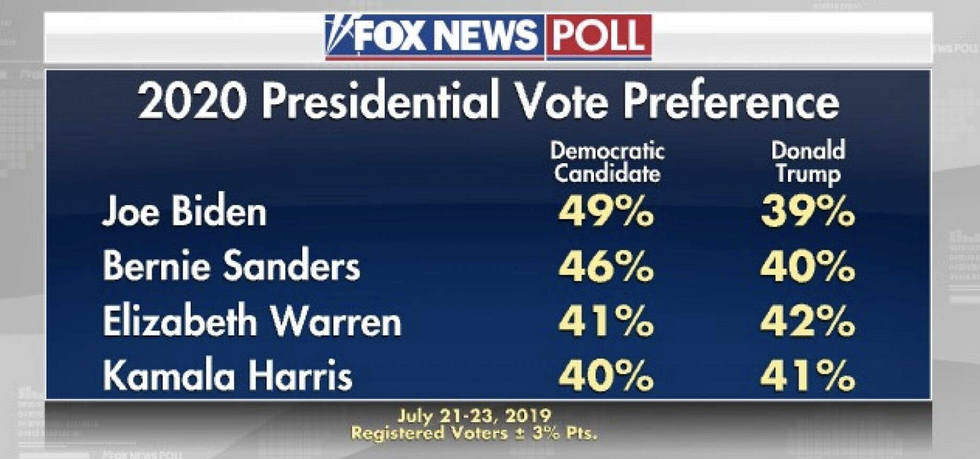 NBC News politics correspondent Heidi Przybyla gives us a glimpse into what may have motivated Trump that very day to want to undermine Biden's campaign:

The timing is damning:
People are on board with the theory.

And legally, it could have serious implications.
Hard to argue with math.

Hoisted by his own Twitter petard.
On Wednesday, December 18, 2019, President Donald J. Trump was impeached by the House of Representatives on two articles of impeachment.
Not surprisingly, when Vladimir Putin weighed in on the news on Thursday, he sounded very much like a mouthpiece of the Trump White House.
One of Republicans' favorite talking points about impeachment is that Democrats have been trying to impeach Trump ever since he got in office, and that impeachment is just another way of re-litigating the 2016 election.
They also assert that Trump did nothing wrong, neither in 2016 nor on the call with President Zelensky of Ukraine.
Cue Putin:
"One party that lost the elections, the Democrats, is now trying to find new ways by accusing Trump of collusion with Russia. But then it turns out there was no collusion, this can't be the basis for the impeachment. Now they came up with some pressure on Ukraine.."
Sound familiar?
Watch below:
People were not surprised.
Some wondered who was following whose talking points.

After all:
The puppet master is at it again.