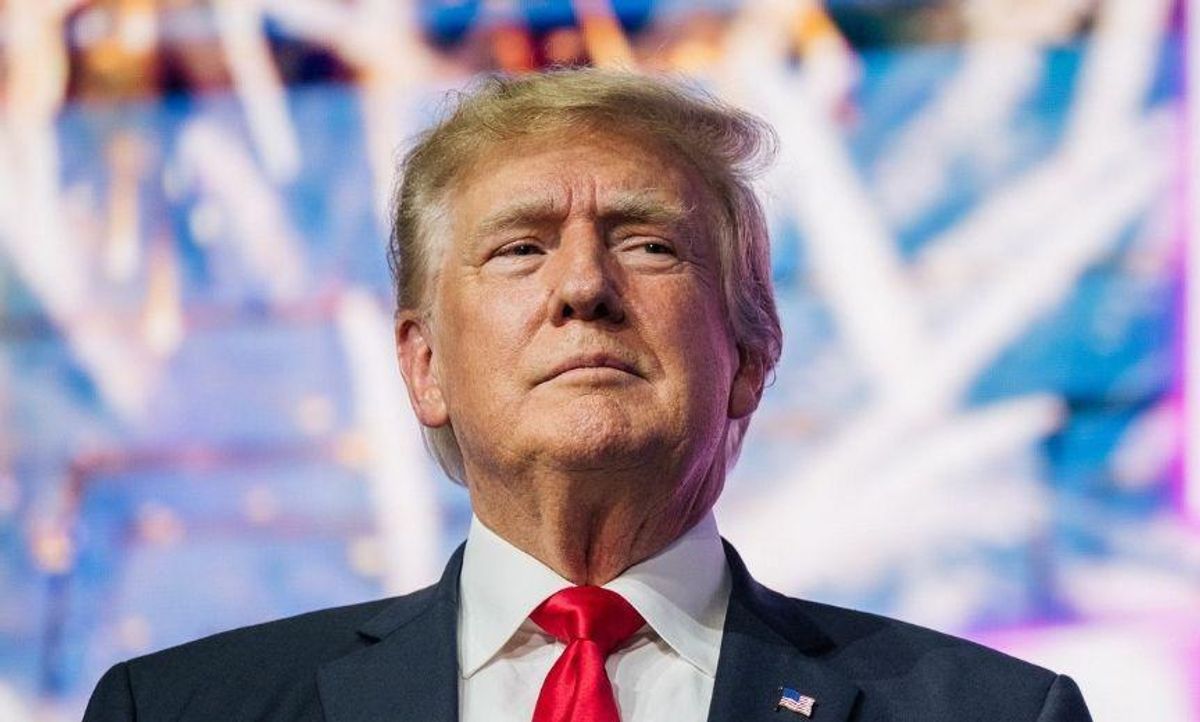 Brandon Bell/Getty Images
Earlier this week, former President Donald Trump announced that his political organization raised a whopping $122 million in cash reserves as it prepares to head into the 2022 midterms and, potentially, a 2024 presidential campaign. Shortly after, Trump issued a statement decrying the "Fake News Media" for doing "everything in their power" not to report it (the sum was reported on CNN, ABC News, the Wall Street Journal, the New York Times, The Hill, and the Washington Post, just to name a few).
Trump's critics were alarmed that, a year after his election lies incited a deadly failed insurrection against the United States Capitol, the former President continues to enjoy the undying loyalty—and donations—of his supporters.
It's a loyalty and devotion the former President and his allies prey upon, most blatantly in campaign fundraising emails and texts. One email last year from the National Republican Congressional Committee (NRCC) warned that if donors unchecked a recurring donation box, they would "have to tell Trump you're a DEFECTOR & sided with the Dems." Another email in June of last year blasted recipients, saying "We've emailed you 13x. Fail to respond=Trump knows you've abandoned him."
Trump's son, Eric Trump, wrote similarly aggressive fundraising emails during the 2020 campaign, telling would-be donors, "I convinced my father to give you another chance. ... Don't let the President down." Trump himself, along with Vice President Mike Pence, repeatedly emailed that he was adding donors to a special list of his top supporters, further leading them to believe he'd be personally looking for their name.
At a certain point, even Trump's own supporters were annoyed at the outreach, especially those who were duped into recurring donations that wreaked financial havoc on their lives.
As journalist Aaron Rupar pointed out in a recent tweet, Trump's fundraising arm is once again sending unhinged and bizarrely personal emails convincing his supporters that they can ingratiate themselves with their favorite President...for a price.
Warning the supporter that they "CANNOT share this with anyone," the email reads in part:

"I'm hosting a very important lunch in MAR-A-LAGO soon, and I've requested that YOU be my special guest."
It continued:
"My team just told me you haven't entered yet. I'll admit that I was disappointed to hear that, but, you're one of my BEST supporters, Friend, so I've decided to do something I RARELY DO in the hope that you'll join me for lunch."
An unignorable segment of Trump's base believes unhinged conspiracy theories, from the fantasy that Trump really won the 2020 election to the delusion that Trump was sent by God to expose a network of satanic cannibal pedophiles secretly controlling the world. The common thread of these conspiracy theories, some of which can only be described as cults, is that the twice-impeached President is unimpeachable, even divine.
Reacting to this latest email, social media users called out the Trump orbit's eager exploitation of his supporters' devotion.
Some likened the copy to the infamous, long-running "Nigerian prince" email scam.

Back in 2019, Judd Legum—creator of the Popular Information newsletter—did a deep dive into whether these contests ever actually produce any winners, noting that Trump had never posted any pictures or updates on the contests, unlike practically all other presidential candidates with similar promotions. Though Trump's communications director at the time, Tim Murtaugh, insisted there was a winner for every promotion, he provided no documentation for this, nor did then-Trump campaign press secretary Kayleigh McEnany.