OLIVIER DOULIERY/AFP via Getty Images // Pablo Blazquez Dominguez/Getty Images
In 2019, teenage climate activist Greta Thunberg was deemed TIME's Person of the Year, a move that prompted the ire of President Donald Trump, who'd criticized the magazine in the past for supposedly snubbing him for the award.
The President proceeded to mock the then-16 year old to his tens of millions of Twitter followers, claiming she had "anger management" issues.
Trump tweeted for Thunberg to "chill!"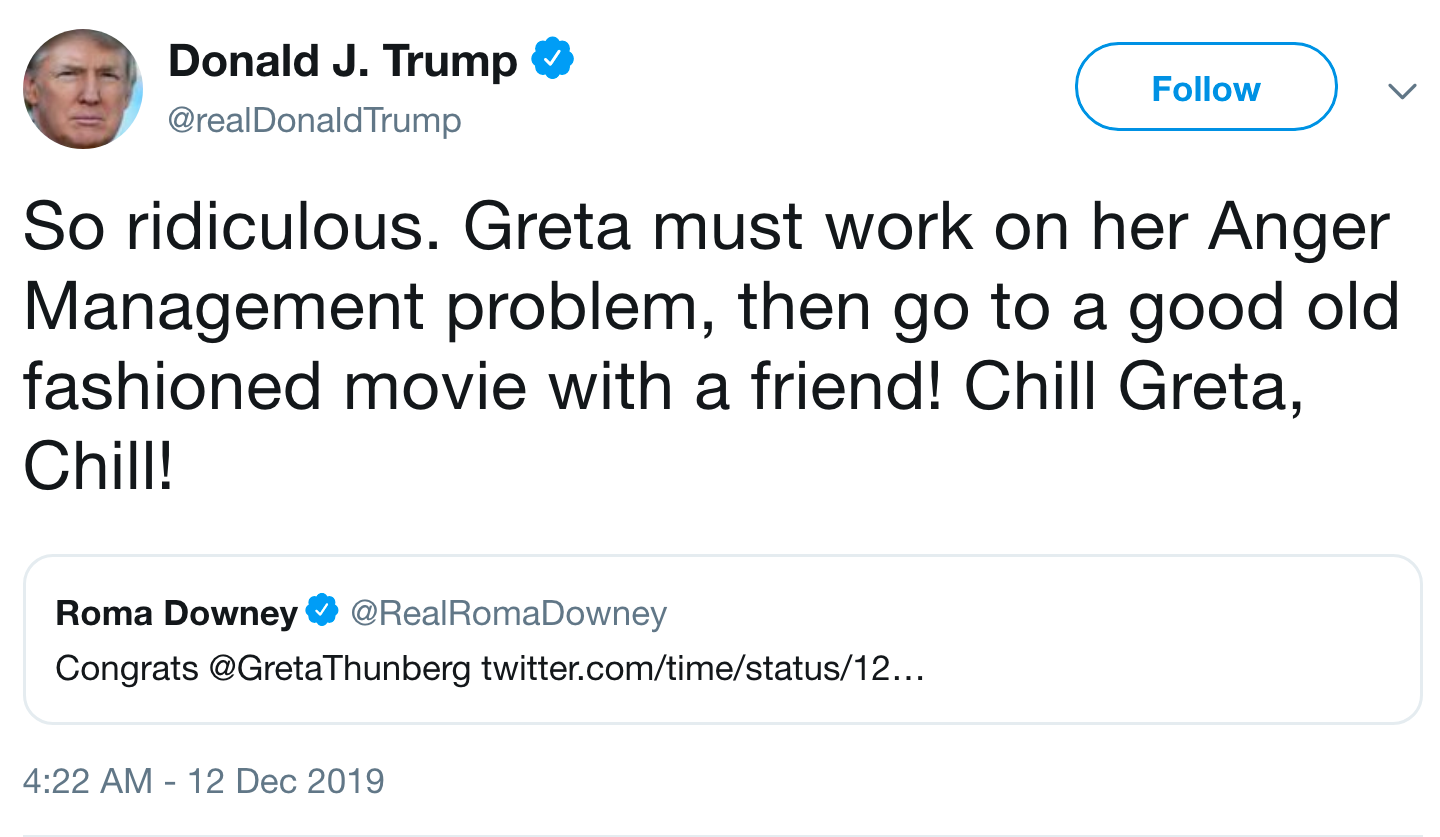 The ill-advised tweet came just after pro-Trump figures attacked lawyer Pamela Karlan for saying the name of Trump's youngest son—Barron—while acting as a constitutional witness before the House Judiciary Committee in favor of Trump's first impeachment. Trump's allies accused Karlan of unfairly subjecting a child to national scrutiny. This same courtesy, for Trump, didn't extend to Thunberg.
Just a few months later, Trump again targeted the teenager on his Twitter account, mocking her for voicing concern about the threat posed by the climate crisis.
Now, Trump's presidency is in its final hour. After a months-long smear campaign absurdly claiming Democrats orchestrated widespread election fraud to deliver a false victory to President-elect Joe Biden in the 2020 election, Trump finally acknowledged that a new administration would be taking power.
As expected, Trump bucked the traditional welcome to the White House that most Presidents have extended to their successors. Instead, Trump held a less boisterous version of his infamous rallies before boarding an aircraft headed for his resort in Palm Beach, Florida.
Thunberg issued the perfect parting words.
He seems like a very happy old man looking forward to a bright and wonderful future. So nice to see! https://t.co/G8gObLhsz9

— Greta Thunberg (@Greta Thunberg)1611150891.0
People cackled at the young climate activist using Trump's own sarcasm against him.
Sister! Draaaagggggg HIM! You are ten times the leader he could ever hope to be! Cheers! And thank you. https://t.co/KMNlUQLMJs

— Pam Keith, Esq. (@Pam Keith, Esq.)1611151204.0
I salute Greta's international petty. https://t.co/2LP0RKiIaD

— Homie Wan Kenobi killed Ragnarok Lobster (@Homie Wan Kenobi killed Ragnarok Lobster)1611156711.0
The queen of shade https://t.co/7QuZtpayJI

— Emily C. Singer (@Emily C. Singer)1611156386.0
Screaming! https://t.co/YUn5V4oKvv https://t.co/efOJ9GmC10

— James Besanvalle (@James Besanvalle)1611151369.0
the funniest thing about this tweet is that Trump can't respond to it https://t.co/IIMfvnu01V

— julia reinstein 🚡 (@julia reinstein 🚡)1611151187.0
she was waiting for the right moment and that was the right.. MOMENT! https://t.co/XxDlyCYbei

— Bruno 🧮 (@Bruno 🧮)1611151345.0
Environment-themed jokes were made.

For someone who hates global warming, Greta Thunberg brings the 🔥🔥🔥 https://t.co/1BvN9HFqf4

— Melissa Murray (@Melissa Murray)1611152480.0
This burn is so clean it's certified zero emissions. https://t.co/aXvR2VASxU

— Andrew Thaler (@Andrew Thaler)1611151281.0
Greta Thunberg said let's save the trees so i can throw some shade https://t.co/KYNvh8axyk

— Ryan (@Ryan)1611153819.0
At noon, President-elect Biden and Vice President-elect Kamala Harris will be inaugurated.