If Supreme Court Justice Clarence Thomas is to be believed, the SCOTUS' recent ruling on Dobbs v. Jackson Women's Health Organization will have far reaching consequences beyond reproductive freedom.
In his portion of the conservative, theocratic majority opinion, Thomas placed a bullseye on contraception, non-heteronormative sexuality and marriage equality. Thomas—who is in his 31st year on the bench—stated the overturn of Roe v. Wade should lead to the eventual overturn of all cases based on a right to privacy.
Thomas specifically cited giving states the ability to outlaw contraception, any sexuality other than heterosexual and same-sex marriage, but it would also impact the 1967 case of Loving v. Virginia, giving states the ability to make interracial marriage illegal again.
In response, Congress tried to pass legislation to protect reproductive healthcare access including contraception and marriage equality for LGBTQ+ people and interracial couples. The bill does not address the marriage inequality faced by the disabled.
The reproductive freedom bills addressing abortion access were stymied in the Senate after passing largely along party lines in the House. The House bill to protect marriage equality—the Respect for Marriage Act (HR 8404)—passed in the House as well, with much more support from Republicans.
Now the Senate prepares to work codifying or denying marriage equality. Florida Republican Senator Marco Rubio already came out firmly against LGBTQ+ equality and protections for interracial couples.
According to CNN's Manu Raju:
"Marco Rubio told me that he is a NO on House's same-sex marriage bill, calling it a 'stupid waste of time'."
About 50 Republican House members supported the marriage equality bill, all 11 Florida Democrats voted in favor of the bill and six Republican Representatives from Florida voted yes.
Democratic Representative Val Demings who is challenging Rubio for his Senate seat in the November midterms also voted for the LGBTQ+ civil rights measure.
Demings said in a statement:
"Equality under the law is an American value. We're going to stand up for freedom and refuse to go back into a discriminatory past."
"A small group of politicians do not get to dictate America's future in this government of the people. Every married couple must have fair and equal access to all of the benefits of marriage, from Social Security to veterans and military benefits to health care."
"I'll always fight for your freedom and I'm proud to help support legislation to protect every American couple's fundamental right to have their marriage treated as equal under federal law."
When Rubio campaigned for the Republican nomination for the presidency for 2016—before being routed by Donald Trump—Rubio promised to appoint Supreme Court Justices who would target LGBTQ+ equality.
Rubio has also been a frequent speaker forranti-LGBTQ+ organizations like The Heritage Foundation and CPAC.
While former Republican President Donald Trump did that for him, Rubio has still made it clear he intends to restore exclusionary and discriminatory laws targeting LGBTQ+ people.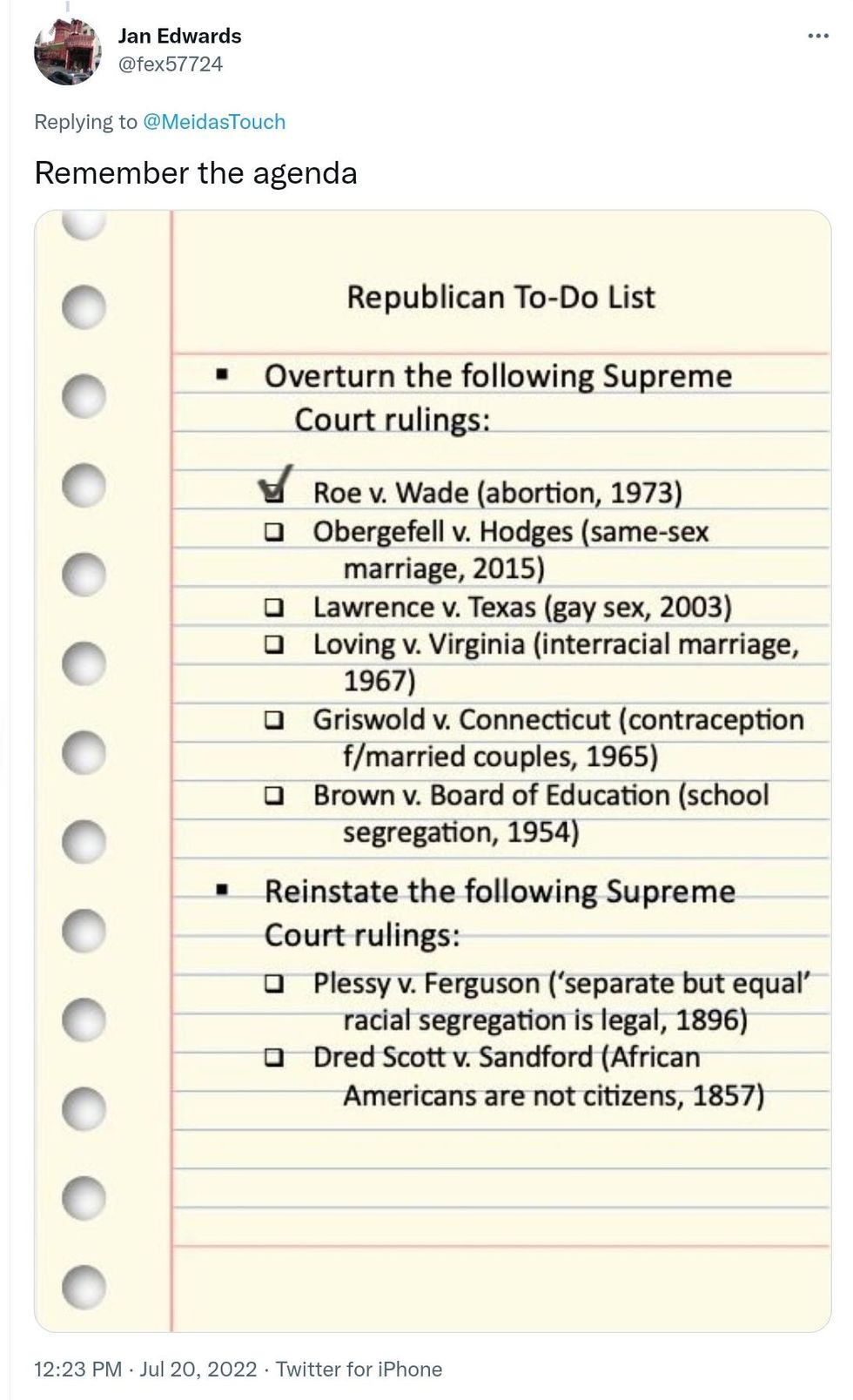 @fex57724/Twitter

@JDCocchiarella/Twitter
The Senate hasn't set a timetable for HR8404, but it will need the full support of all Democratic Senators and at least 10 Republicans to overcome the expected filibuster.

A May 2022 Gallup poll found support for same-sex marriage hit a new high of 71%, up 1 percentage point from 2021.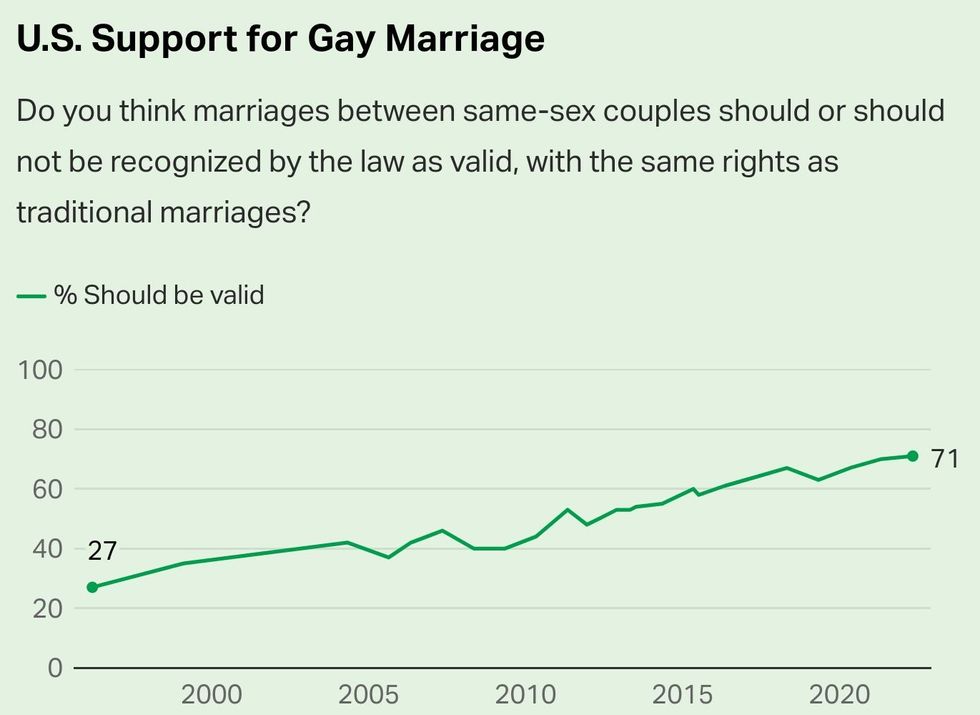 Gallup
55% or more of Republican voters have supported same-sex marriage since 2021. The majority of people over 65 and Protestants also support marriage equality for LGBTQ+ people.
However Republican platforms across the country are still treating LGBTQ+ rights, including marriage equality, like their constituents are against them.
Whether such focus on a loud, but shrinking homophobic and transphobic base hurts Republicans in their state and district elections won't be clear until November.