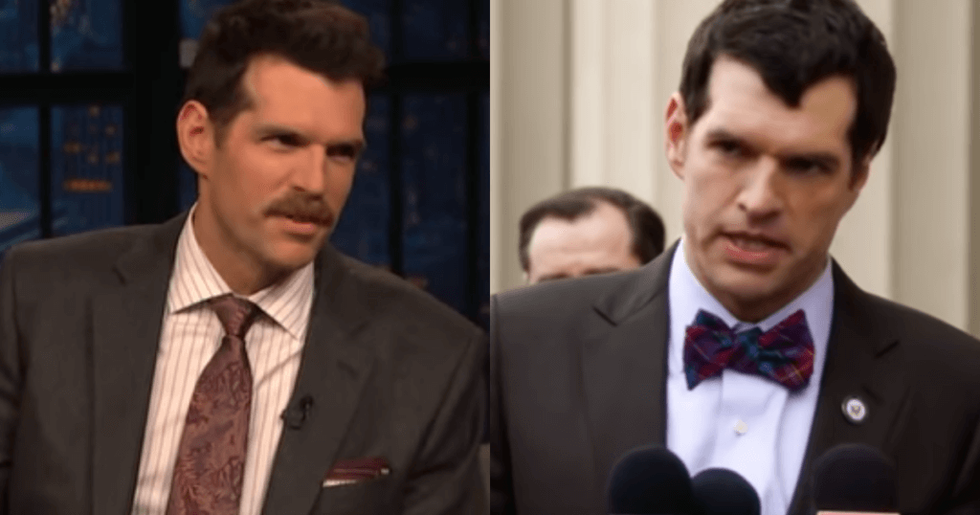 Screenshots from Late Night with Seth Meyers/YouTube, VeepWiki/YouTube
Veep
star
Timothy Simons
has revealed that his character, Jonah Ryan, is based on a real-life politician. (Fear not, there are no season 7 spoilers here).
Ryan is a ne'er-do-well Congressman from New Hampshire who cost Selina Meyer the presidency when he botched a vote in the House after an election ending in an Electoral College tie.
His career began as a "liaison" between the vice president's office and the West Wing - an entirely pointless post he constantly tried to exploit to get girls and rub shoulders with Washington powerbrokers.
Ryan is immature, boorish, crass, gullible, and utterly hilarious for all the wrong reasons.
On Tuesday, Simons explained on Late Night with Seth Meyers that the inspiration for his character is Texas Senator Ted Cruz (R).
Originally conceived out of a "smash together" of "D.C. lackeys that all they care about is proximity to power," it makes perfect sense that Cruz would be Ryan's eventual archetype.
"He's charmless, and he's graceless, and he's narcissistic, and he doesn't care about anybody but himself," Simons said of Ryan, "The person, speaking of charmless and graceless and just universally disliked, I based a lot of it on Ted Cruz."
He continued:
"Begrudgingly you have to admit that Ted Cruz, he has fallen ass-backwards into some sort of power and until he's out, everybody just has to deal with him, and that's very much Jonah's vibe, that's his thing," Simons said.
Watch below:
Makes total sense, tbh.
Jonah Ryan is inspired by... Ted Cruz! Perfection. https://t.co/mS8e1DQe3q

— Justin Gunderman (@Justin Gunderman) 1554296267.0
The connection between Cruz and Ryan was initially drawn a couple of years ago, and people were here for it.
On my latest PopPolitics, Veep's Tim Simons says there's a "large Venn diagram crossover" of Jonah Ryan & Ted Cruz. https://t.co/Z6TdSkYn2X

— Ted Johnson (@Ted Johnson) 1496617430.0
credit to ted cruz where it's due: i really enjoy getting to see what it would be like if jonah ryan were less self-aware and likable

— Kellie Herson (@Kellie Herson) 1513624869.0
This is funny because Ted Cruz is the Senate's Jonah Ryan. https://t.co/GGA8mZrB6h

— Chris Hall (@Chris Hall) 1499703015.0
I just realized that Jonah Ryan is Ted Cruz. #Veep

— KerooSeta is a Metroidvania (@KerooSeta is a Metroidvania) 1498624657.0
As far back as 2016, Simons was flaunting the parallels.
This was back when Cruz had lost the Republican presidential nomination to Donald Trump.
#Veep's @timothycsimons compares his love-to-hate character Jonah Ryan to Ted Cruz. https://t.co/VEhmm11d87 https://t.co/ecHEn4vGe1

— LAT Entertainment (@LAT Entertainment) 1466883906.0
Remember when Cruz picked Carly Fiorina as his running mate?
Report: It was under the advisement of Jonah Ryan that Ted Cruz announced his VP running mate after getting creamed again on a Super Tuesday

— Brian Monzo (@Brian Monzo) 1461789197.0
If only Cruz were fictional.
This ad by Ted Cruz is like a segment from Jonah Ryan's Ryantology web series. God help us all. http://t.co/6IyGk3x1p6?

— Ashleigh Redmond (@Ashleigh Redmond) 1438633158.0
Veep's seventh and final season premiered Sunday on HBO.
Keep reading...Show less