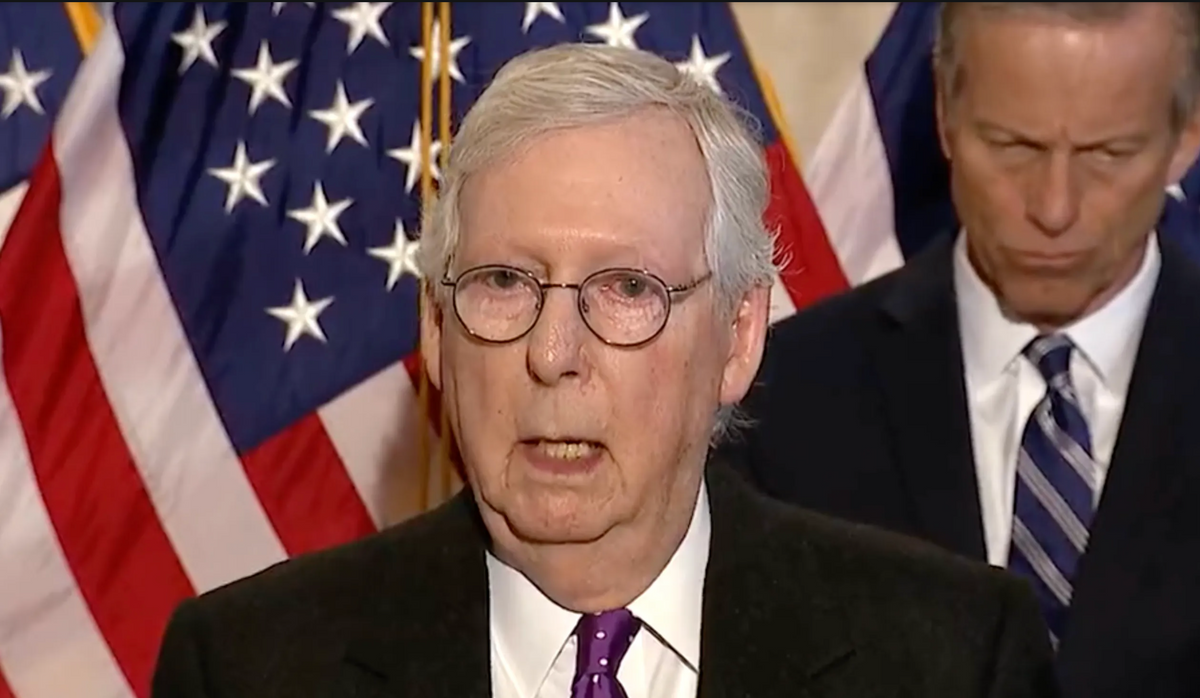 @TheRecount/Twitter
Senate Minority Leader Mitch McConnell is 0-2 lately with efforts to convince popular Republican governors in blue states to run for the Senate, and he may soon go 0-3. Privately, McConnell has lamented the damage that former President Trump has done to the party and has declared he will not allow "goofballs" to win Republican Senate primaries only to lose in the general election. McConnell has been hoping to recruit more moderate, traditional Republicans to step up and run, but the sale has been a hard one to close, particularly given the poisonous, partisan atmosphere in Washington.
First, it was Gov. Chris Sununu of New Hampshire, whom McConnell and others courted heavily to run against Sen. Maggie Hassan. In the very light blue state of New Hampshire, Hassan was seen as particularly vulnerable. But as I wrote about back in November, Sununu teased some initial interest but in the end he declined to run, citing his lack of desire to "end up on Capitol Hill debating partisan politics without results."
This came as a blow to McConnell's hopes of retaking the Senate: There are four currently-held Democratic Senate seats that are widely viewed as the best chance for a GOP pick-up, and New Hampshire is one of them. (Arizona, Nevada and Georgia are the others. More on that below.) But without a strong contender like Sununu to run against Hassan, the GOP has had to look elsewhere.
McConnell's second overture was to Gov. Larry Hogan of Maryland, another rare GOP governor in a blue state. Hogan, who is term-limited, seemed a logical choice to pursue on the assumption that he would want to remain politically relevant. So for months, McConnell led a pressure campaign, which included Senators Tim Scott (R-SC), Mitt Romney (R-UT) and Susan Collins (R-ME), to convince Hogan to run against incumbent Democratic Senator Chris Van Hollen. Hogan had seemed lukewarm on the idea all along but finally foreclosed it last week.
"I will not be a candidate for the U.S. Senate," Hogan stated at a news conference in the state's capital, Annapolis. "A number of people said that they thought I could make a difference in the Senate and be a voice of common sense and moderation. I was certainly humbled by that, and it gave me and my family reason to consider it. But as I have repeatedly said, I don't aspire to be a United States senator, and that fact has not changed." This was a particularly hard blow for the GOP, as polls had indicated Hogan had a shot at unseating Van Hollen. "Just because you can win a race doesn't mean that's the job you should do if your heart's not in it," Hogan said. "And I just didn't see myself being a U.S. senator."
That leaves one more open possibility of a sitting governor running as a senator for the GOP: Gov. Doug Ducey in the state of Arizona, where incumbent Democratic Senator Mark Kelly remains popular, well-funded, and a likely winner against some demonstrably "goofball" GOP primary candidates. Current GOP contenders include state Attorney General Mark Brnovich (an election fraud conspiracy pusher), venture capitalist Blake Masters (a protege of billionaire extremist Peter Thiel), and solar power executive Jim Lamon (who recently appeared in a political ad in a cowboy outfit shooting at images Mark Kelly and Nancy Pelosi).
According to reporting by the New York Times, McConnell and more traditional conservatives are still hopeful Ducey will enter the race as a real challenge to unseat Kelly. But the move is complicated by the fact that the former president despises Ducey for not doing more to help him push fraudulent election claims during the 2020 election, holding him in much the same disdain as he holds Gov. Brian Kemp of Georgia. A Ducey run would inevitably lead Trump to attack Ducey publicly and endorse one of the other primary challengers, setting up a relitigation of 2020 and possibly even the January 6 insurrection—a backward-looking and bruising campaign that would only help the Democrats.
Ducey, who has stated in the past that he is uninterested in entering the race, will need to make his position clear not long from now. If the answer is no, McConnell's chances of once again becoming majority leader will narrow still further, leaving Georgia and Nevada as his best hopes for a flip. This map looks tougher still for the GOP if you consider that they must also prevent Democratic seat flips in the toss-up states of Pennsylvania and Wisconsin, as well as wild-card Democratic flips in Ohio, North Carolina, Florida and Missouri.
For more political analysis, subscribe to the Status Kuo newsletter.