nbc news wall street journal poll
Read the fine print.
26 July 2018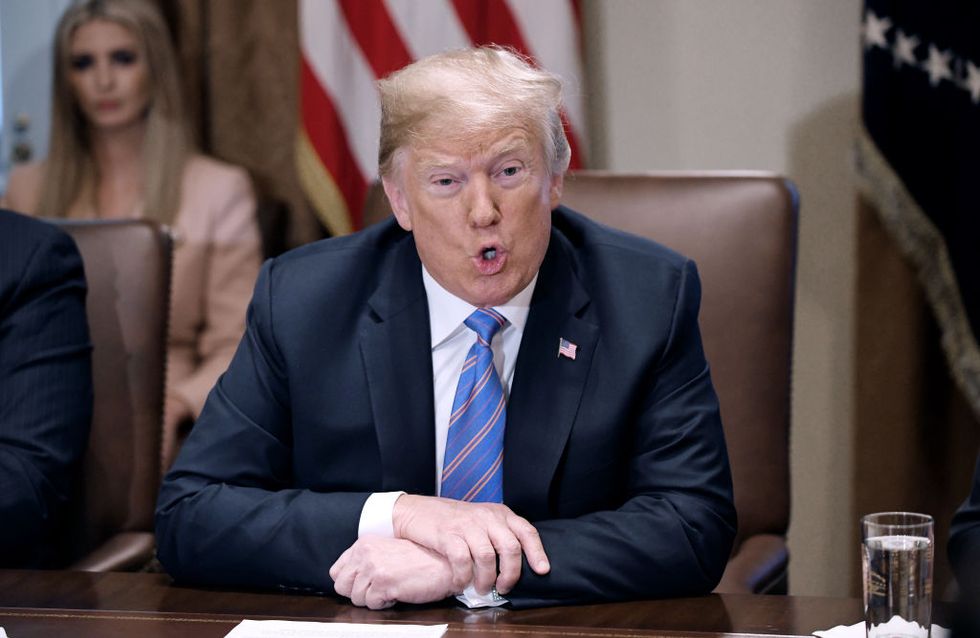 U.S. President Donald Trump speaks during a cabinet meeting in the Cabinet Room of the White House, July 18, 2018 in Washington, DC. Photo by Olivier Douliery/ Abaca Press
President Donald Trump shared the results of a recent job approval rating poll on Twitter, but social media users noticed that the president may be overlooking some important details.
"Thank you very much," Trump tweeted Wednesday afternoon in response to an NBC News/Wall Street Journal poll which showed the president with an 88 percent approval rating. "Working hard!"
Thank you very much, working hard! https://t.co/cSzbFfq2NW

— Donald J. Trump (@Donald J. Trump) 1532559575.0
Trouble is, that 88 percent is solely among Republicans, who represent a shrinking bloc of the American voting electorate.
Twitter jumped on this, mercilessly.
@realDonaldTrump https://t.co/rCZQThFTMM

— Adam Parkhomenko (@Adam Parkhomenko) 1532559721.0
@realDonaldTrump AMONG REPUBLICANS! This is worth nothing.

— Thorsten (@Thorsten) 1532559916.0
@realDonaldTrump So, only 24 % of Americans are Republican. So, you're actual approval rating among Republicans is more like 21%. SAD! 😓

— Stupider & Watergateyer 🤪🤡💩⚠️😬 (@Stupider & Watergateyer 🤪🤡💩⚠️😬) 1532559959.0
One user did the math, and the 88 percent of Republicans who approve of the job Trump is doing constitute, at most, 23 percent of the country.
@realDonaldTrump "Among Republicans." Just 27% of the population identify as Republican. So 88% of 27% equates to… https://t.co/7msk5fVssv

— stonecircle (@stonecircle) 1532607753.0
@realDonaldTrump Read the fine print--that's 88% among Republicans. But then, you never let the facts get in the way of truth and context.

— Samra Jones Bufkins MJ, APR (@Samra Jones Bufkins MJ, APR) 1532612616.0
@realDonaldTrump Republicans are 26% of the voting population. If 88% of Republicans approve, that means 22% of the… https://t.co/1IqBuzcQHA

— Sunshinegirl (@Sunshinegirl) 1532612078.0
Others noted that voter turnout in 2016 was also low. Trump lost the popular vote to Hillary Clinton by nearly three million votes.
@realDonaldTrump https://t.co/0NUJODd59n

— Oliver G. Hardley (@Oliver G. Hardley) 1532562443.0
@realDonaldTrump *Among [the small & dwindling] Republican [Party] But, see what the majority thinks: https://t.co/pKzmpU6xje

— Jessica Goldman Fx #DisloyalJew (@Jessica Goldman Fx #DisloyalJew) 1532612837.0
@realDonaldTrump You do realize this is not a majority of the population. This is just among the GOP. You are supp… https://t.co/lefonGHIjm

— Patti Cook (@Patti Cook) 1532608086.0
Trump would be wise to read the fine print on this poll because the numbers don't look great for him. While 88 percent of Republicans either approve or strongly approve of his job performance, only 45 percent of all registered voters felt the same way, the poll found.
Among Democrats, Trump's approval sits at an abysmal nine percent. The president's numbers among independents are also circling the drain, with just 36 percent saying they approve of his performance. Independent voters are essential for victory in November's midterm elections.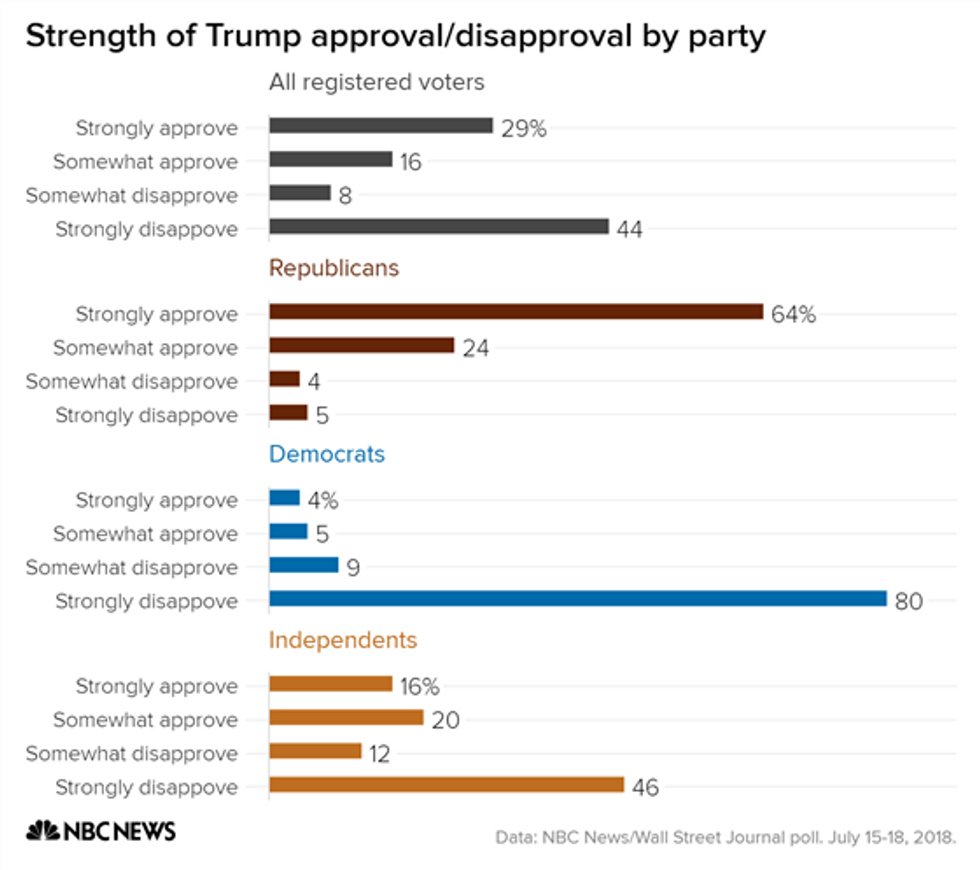 Source: NBC News/Wall Street Journal Poll July 15-18, 2018
The poll also showed that 52 percent of those surveyed disapprove of Trump, and that number climbs to 58 percent among Independents and skyrockets to 89 percent among Democrats.
NBC surveyed 900 registered voters from July 15-18 by landline and cell phone. The poll has a margin of error of 3.3 percentage points.
Indeed, July has been a rough month for the president's job approval ratings. Numerous other polls have shown that voters are tiring of Trump.
An NBC News/Marist poll released on Wednesday showed that only 28 percent of voters in Michigan, 30 percent in Minnesota, and 31 percent in Wisconsin think Trump deserves to be reelected. Trump narrowly carried Michigan and Wisconsin in 2016 and lost Minnesota by less than a point.
Voters who took a Quinnipiac poll gave Trump a miserable 38 percent approval rating in the wake of his controversial summit with Russian President Vladimir Putin last week.
A CBS poll showed only 32 percent of Americans approved of his handling of the meeting with Putin, which took place behind closed doors in Helskini, Finland.
Perhaps the biggest dig for Trump came in a Pew survey that asked Americans to pick which president they felt has done "the best job in your lifetime."
Barack Obama led the pack at 31 percent, followed by Bill Clinton and Ronald Reagan. Trump trailed in fourth place, with only 10 percent of the country saying he is the best president in their lifetimes.
A Gallup poll earlier this month showed that only 47 percent of the country is proud to be an American, which is a record low in Gallup's 17-year history of asking that question.
Among women, the nation's largest voting bloc, Democrats have a 25 point edge over Republicans heading into the midterms, according to a Quinnipiac poll released on Wednesday. An NPR/PBS News Hour/Marist poll gave Trump a 30 percent approval rating among women. Nearly 60 percent of women disapprove of Trump's job performance, the poll found.
Keep reading...Show less