Aaron Rupar posted video of Fox Business host Maria Bartiromo and her panel of experts announcing another strong jobs report.
08 December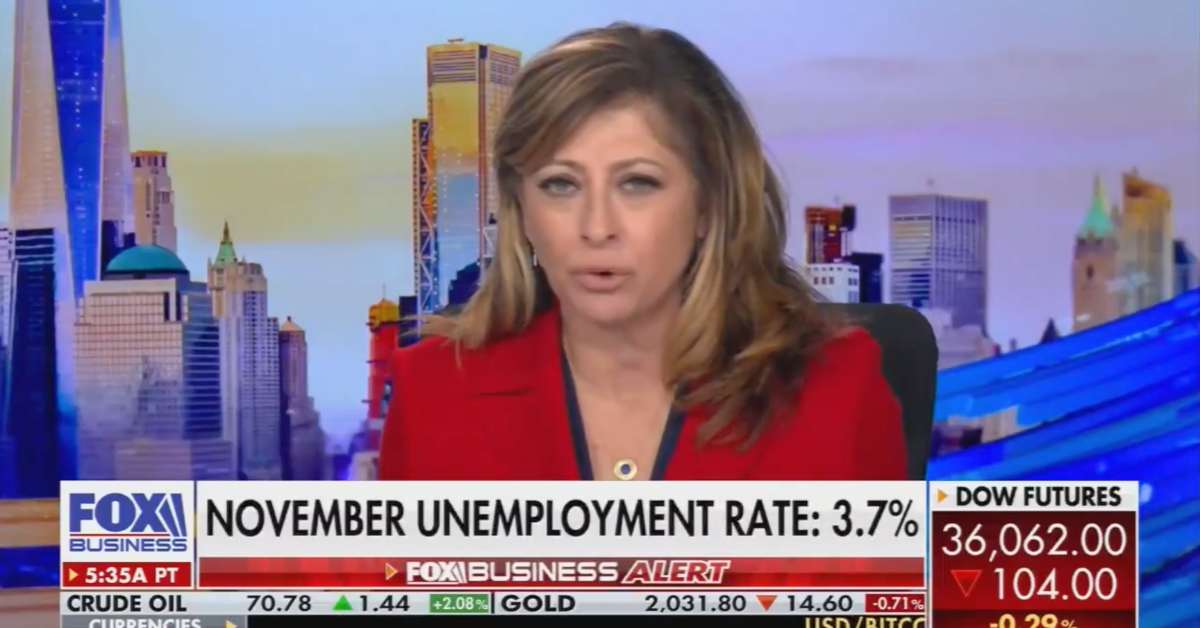 Fox Business
People couldn't get enough of a video of Fox Business host Maria Bartiromo and her panel of experts announcing another strong jobs report after the new ADP jobs numbers showcased a stronger labor market performance in November than initially projected.
Contrary to expectations, the unemployment rate dipped to 3.7 percent last month, down from 3.9 percent in October. The U.S. economy showed resilience, adding 199,000 jobs in November, a notable increase from the previous month's 150,000 figure. This boost came as striking auto workers and Hollywood actors returned to the workforce, contributing to the positive employment figures.
Economists surveyed by Bloomberg had anticipated job gains of around 185,000, forecasting an unchanged unemployment rate of 3.9 percent. However, the labor market outperformed these projections.
And even Fox Business couldn't spin this, forcing Bartiromo to break from the network's typical critical coverage of the Biden administration:
"We've got to look at this report as a big positive. More jobs have been created than expected. ... [turning to one of her experts] ... You've been saying this for a long time, saying that the economy is a lot stronger thn anyone understands."
The expert concurred, saying the jobs numbers "are good numbers, no question."

You can hear what Bartiromo said in the video below.

The video of Bartiromo announcing the new jobs report brings to mind a moment over the summer when Fox Business praised the Biden administration for 497,000 jobs created in June, defying more conservative estimates.
People were similarly amused this time around, noting that the conservative panel looked disappointed by this turn of events.
The jobs report paints a picture of a steadily improving economy.

Wage growth, a key indicator for both inflation and workers' bargaining power, demonstrated a notable increase. Wages rose by 0.4 percent on a monthly basis and by 4.1% over the past year. Expectations were more conservative, with economists predicting a 0.3 percent monthly rise and a 4 percent annual increase.
Additionally, positive movements were observed in the labor force participation rate, edging up to 62.8 percent from the previous month's 62.7 percent. Average weekly hours worked also saw a slight uptick from 34.3 to 34.4.
The report highlighted significant job increases in crucial sectors. Healthcare saw a substantial addition of 77,000 jobs, while government employment surged by 49,000, reaching pre-pandemic levels. The leisure and hospitality sector also experienced a notable rise of 40,000 jobs.
This unexpected strength in job gains has shifted market expectations regarding the Federal Reserve's actions. Initially betting on rate cuts in 2024, investors are now reevaluating, speculating that the Fed might opt to maintain interest rates at their current level for a more extended period, considering the robust job market performance and the decrease in the unemployment rate towards historic lows.