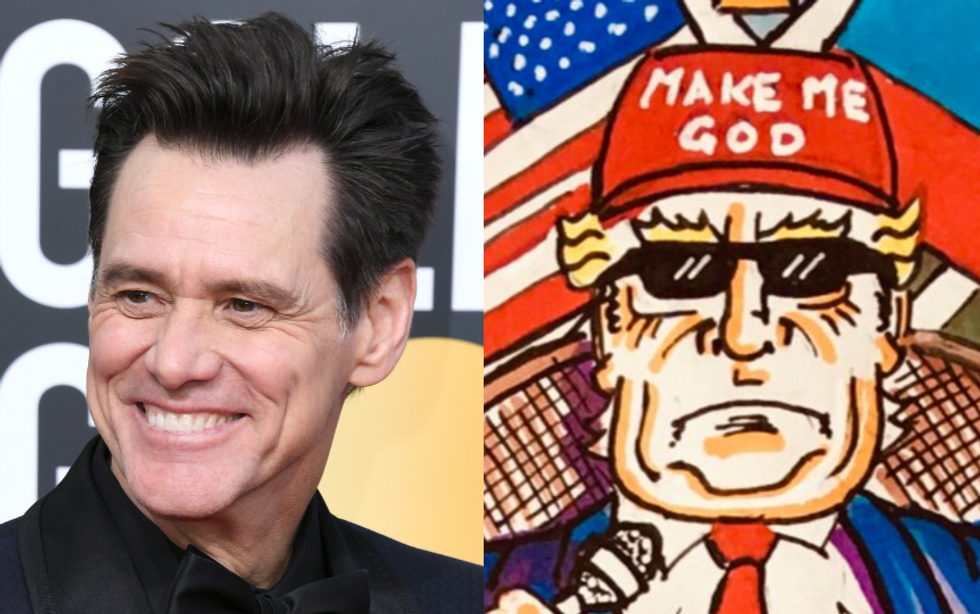 Jon Kopaloff/Getty Images, Screenshot, Twitter
Jim Carrey's disgust with President Donald Trump's administration has yielded some scathing artwork in the past, and it doesn't look like he intends to let up.
His latest work invokes William Golding's novel Lord of the Flies for his latest critique of the Trump administration.
The painting is captioned "How Much Poison Are You Willing to Swallow?!" and shows Trump wearing a "Make Me God" hat and clutching a microphone. In front of him are stalwart Trump allies Senator Lindsey Graham (R-) and Senate Majority Leader Mitch McConnell (R-KY) pouring Kool-Aid down the throats of his supporters—reminiscent of the mass suicide of Jim Jones followers in Jonestown. His backdrop is the American and Russian flags separated by a gold "T."
He also christens Donald Trump with an all-too-fitting nickname: the new king of lies.
Fans felt the work was an accurate depiction.
Carrey is no stranger to political commentary. He's painted several other cutting odes to Donald Trump, and hasn't been particularly kind to Attorney General William Barr, either, calling him "Most crooked AG ever – Barr none!"
"I'm a creative," Carrey said in December. "And I can't not paint and I can't not create. It has to go some someplace, and I can't sit behind a desk, and I can't glad-hand people all the time, and I can't be dishonest."
His supporters are here for it.
No matter what the reaction, Carrey's art is here to stay. "It's just exploding," he said. "I don't know where it's going. You don't know which tributaries are actually going to cut a groove, you know, [but] you do it."
Keep reading...Show less