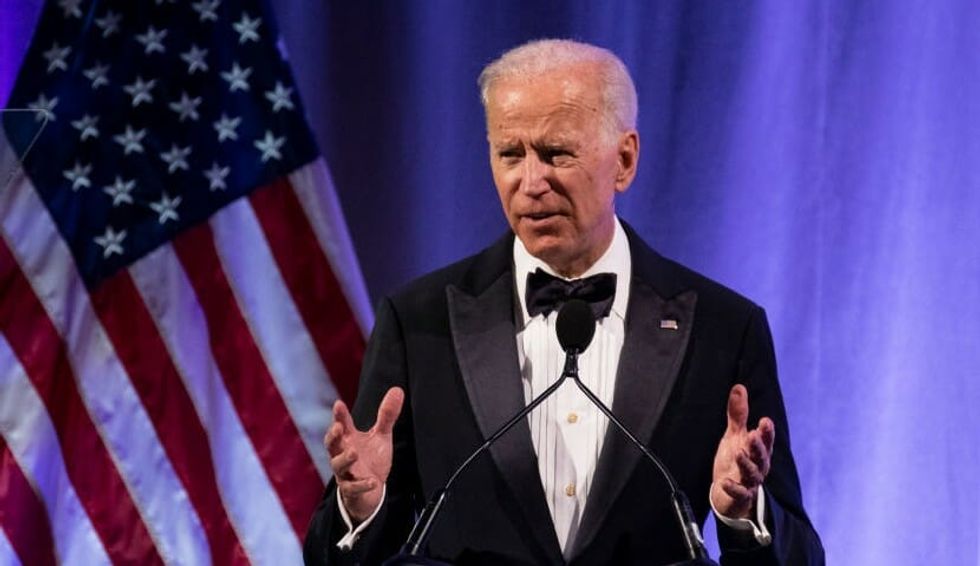 Former U.S. Vice President Joe Biden delivers remarks during the National Minority Quality Forum on April 9, 2019 in Washington, DC. (Photo by Alex Edelman/Getty Images)
At one time a political campaign involved mainly stumping. A candidate would travel throughout their voting area and speak to the people, something newly announced Democratic candidate Joe Biden is familiar with.
This method of campaigning extended from local elections to national ones. Former presidential candidates would often travel the country in a campaign train and speak directly from the rear of the train as a makeshift stage.
While stumping—which now takes place in arenas in the form of campaign rallies or more intimate town hall events—is still important, in the age of the internet social media savvy is equally important.
Some candidates have a gift with social media, like New York freshman Democratic Representative Alexandria Ocasio-Cortez. Others, like Texas Republican Senator Ted Cruz, not so much.
One Democratic presidential candidate recently learned the importance of a good digital media or internet team in planning a campaign.
Former Vice President Joe Biden is getting trolled. Hard.
Someone bought several internet domains—or website addresses—one might associate with a Biden campaign for President.
Why?
Firstly, to capture traffic from search engine look-ups for Biden. Secondly, to direct those people who do not know the exact official Biden website address to their own website.
From there, the why gets a bit more complicated.
On the list of websites so far that belong to someone other than the Biden campaign are joebiden.org and joebiden.info.
Oh no they didn't register https://t.co/yJSgeXTMlV

— Timothy Cama (@Timothy Cama) 1556205672.0
Both are being used to troll Biden. While the former redirects to the White House's official webpage dedicated to President Donald Trump's accomplishments, the latter seeks to discredit Biden more directly.
@JoeBiden PLEASE buy up any available URLs with the name Joe Biden. I cannot believe that your staff did not do t… https://t.co/yvBeTVEZUB

— Brenda Grauer (@Brenda Grauer) 1556210348.0
Whoever's in charge of Joe Biden's web properties forgot to purchase https://t.co/7bxiswBf09, and now it lists all… https://t.co/yg0tE03irW

— Alex Palombo (@Alex Palombo) 1556203443.0
Whether the purpose is strictly profit...
Expert trolling - Whoever has https://t.co/mBSZBZLEBd listed on GoDaddy auction for $99,999 currently has it setup… https://t.co/KcJlCxaTh9

— Kevin Bingle (@Kevin Bingle) 1555685540.0
...as active attempts are being made to sell those domains for considerable profit...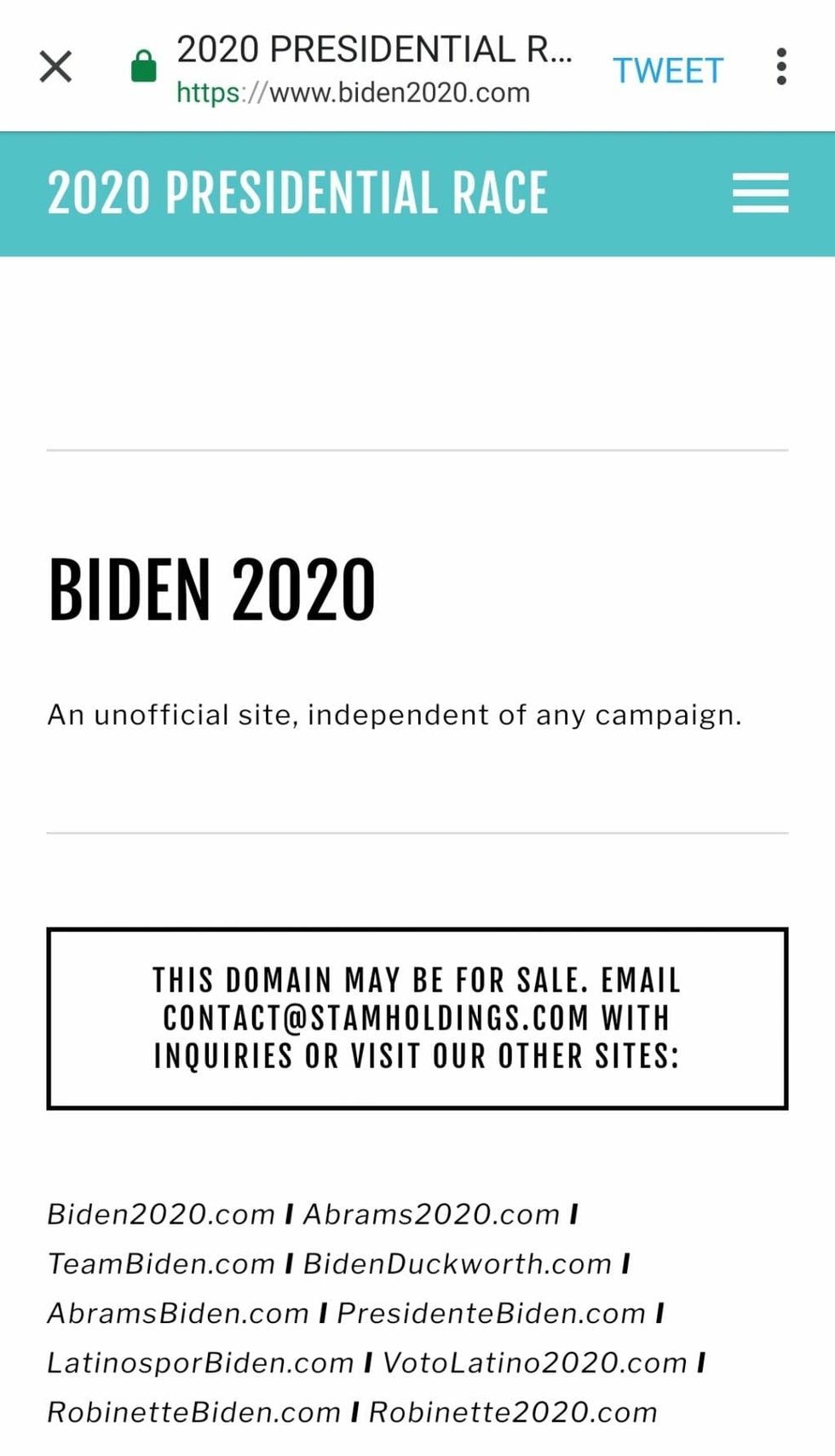 Homepage of biden2020.com advertising a number of Joe Biden domain names for sale (biden2020.com)
...or to actively derail Biden's campaign...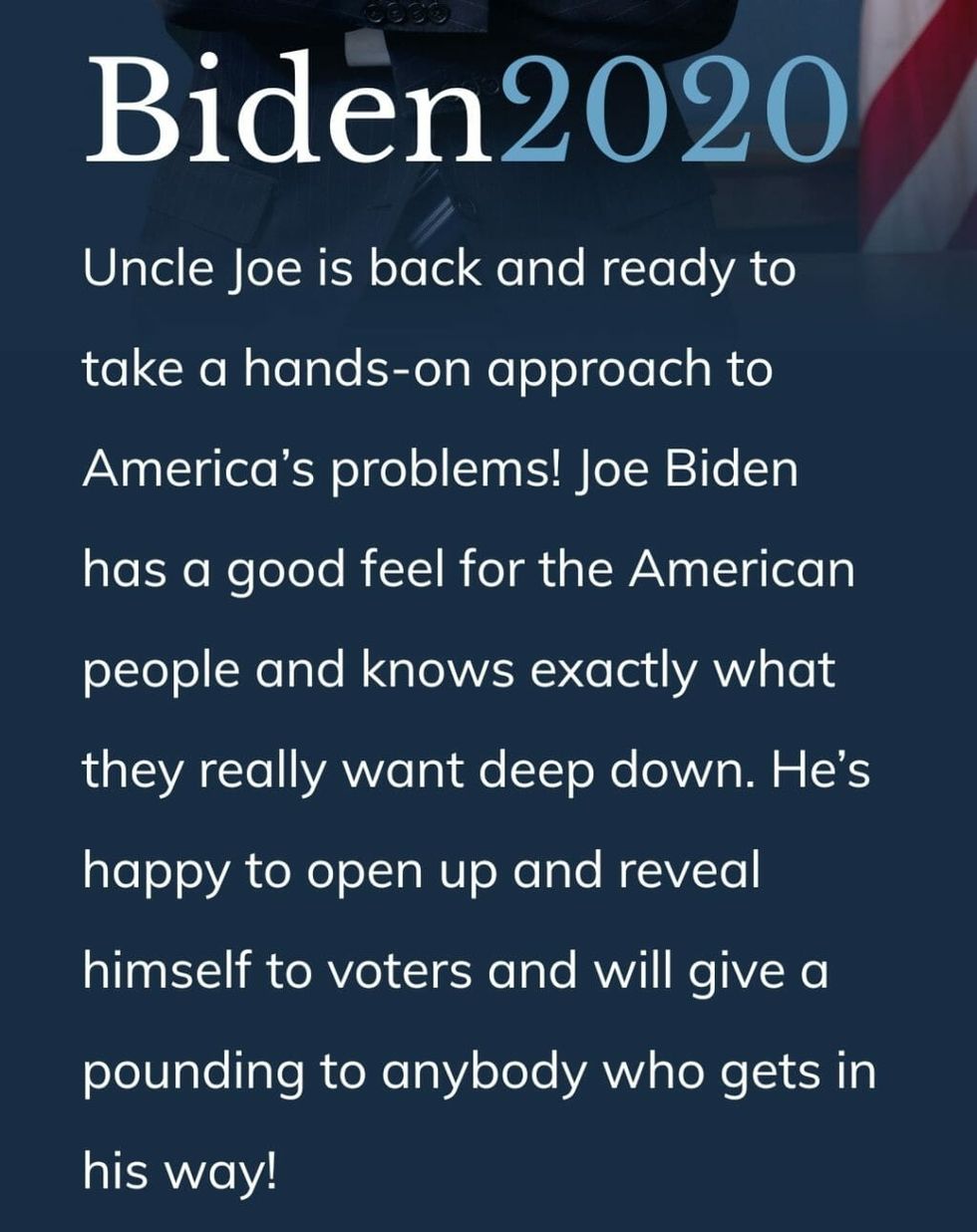 Homepage of Biden attack website joebiden.info. (joebiden.info)
...not owning websites that may appear in an internet search of a candidate's name can be costly to a campaign in more ways than one.
People are surprised at the oversight by the Biden campaign.
So it would appear that if you visit https://t.co/TF6q1Qhjqp It redirects you to a list of accomplishments by the T… https://t.co/OXUQc4BXqs

— Commonwealth Conservative (@Commonwealth Conservative) 1556199876.0
Okay! We all know it's #JoeBiden day. Heck, he's been campaigning for POTUS for the last 4 years. But, go to… https://t.co/DQ0D09pNlq

— Northeast Democrats (@Northeast Democrats) 1556210048.0
Russian interference or is #JoeBiden2020 really a dark horse campaign to unseat @mike_pence and become #Veep again?… https://t.co/sjEAUdlGpq

— Jon Simons (@Jon Simons) 1556217606.0
Whether Biden's digital team will buy the rights to related domain names or cut their losses remains to be seen.
Keep reading...Show less