house intelligence committee
He should listen.
22 November 2019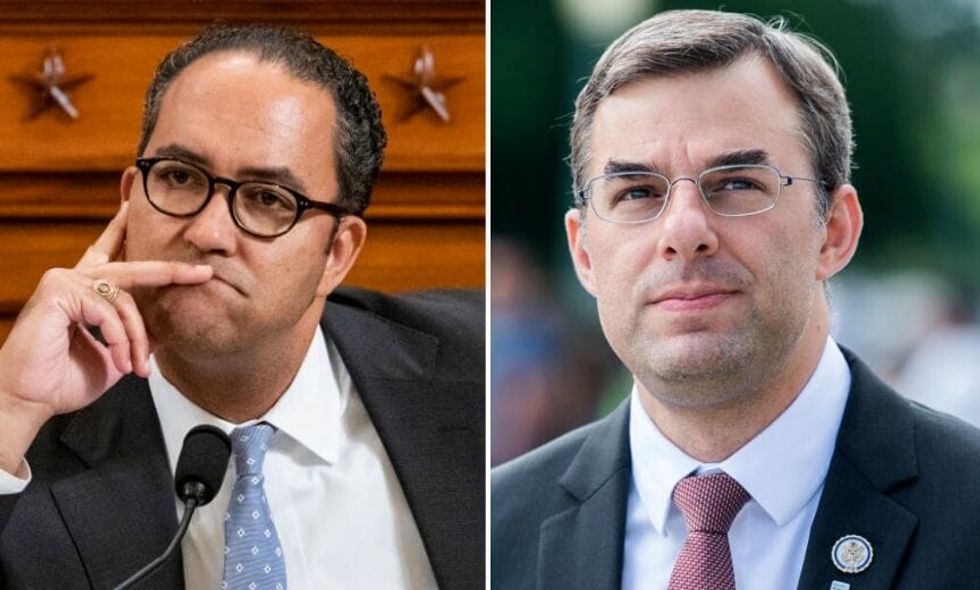 Samuel Corum - Pool/Getty Images // Tom Williams/CQ Roll Call via Getty Images
While most House Republicans are seen as hopeless causes when it comes to the effort to impeach President Donald Trump for his corrupt dealings in Ukraine, some hoped that moderate Republican Will Hurd from Texas—who won't be running for reelection at the end of this term—would be at least one Republican who might step across the aisle for the sake of the country.
Those hopes were seemingly dashed on Thursday with Hurd's speech during the final public impeachment hearings in the Committee.
Watch below.
Putin wins and our allies in Ukraine suffer each day we fight each other. My full thoughts: https://t.co/1CW3VgIQ3o

— Rep. Will Hurd (@Rep. Will Hurd) 1574368431.0
While Hurd did condemn the pressure Trump put on Ukraine to investigate former Vice President Joe Biden, Hurd said he didn't see adequate evidence to vote in favor of impeachment, saying it required "clear and unambiguous" evidence:
"An impeachable offense should be compelling, overwhelmingly clear and unambiguous, and it is not something to be rushed or taken lightly. I have not heard evidence proving the president committed bribery or extortion. I also reject the notion that holding this view means supporting all of the foreign policy choices we have been hearing about over these last few weeks."
Hurd was criticized by many for his words, not the least of whom was Congressman Justin Amash (I-MI), who left the Republican Party earlier this year and is now the lone Independent Congressman.
He took Hurd to task respectfully, saying he "applies the wrong standard" to the impeachment decision.
With respect, my friend @HurdOnTheHill applies the wrong standard. House impeachment is an indictment, not a convic… https://t.co/gGcwWwu399

— Justin Amash (@Justin Amash) 1574445154.0
Amash rightly pointed out that the House passing Articles of Impeachment is an indictment, not a verdict. Once Articles of Impeachment are passed, the President goes on trial in the Senate, which votes whether or not to remove or acquit.
People widely agreed with Amash, and heavily criticized Hurd.
Let's not insult GOP lawmakers' intelligence by saying they're confused. Neither @HurdOnTheHill nor anyone else in… https://t.co/HTcbz3pWYP

— Ashton Pittman (@Ashton Pittman) 1574453892.0
Yep. And it ain't even close. https://t.co/ayNgPEFT7p

— Matt Lewis (@Matt Lewis) 1574446082.0
I agree with you, Justin. @HurdOnTheHill you really need to rethink your position What do you want history to s… https://t.co/wpzKx9U4sy

— Diana 🍂🦃 (@Diana 🍂🦃) 1574445306.0
@justinamash @HurdOnTheHill with respect, your friend @HurdOnTheHill doesn't care. he's following the party line, a… https://t.co/eES1O5LAcN

— Seeking Justice (@Seeking Justice) 1574445382.0
@justinamash @HurdOnTheHill He also thinks that someone as corrupt, autocratic and narcissistic as Trump can pursue… https://t.co/86UnPkAwGW

— Andy Farquhar (@Andy Farquhar) 1574453741.0
This is something so easy to understand but so many seem to misunderstand. https://t.co/0Nr4imzny9

— Jason Cranford 🦃 (@Jason Cranford 🦃) 1574454302.0
Hey @WillHurd read below https://t.co/BbBF7oTBnN

— Sharyn I Ginsberg (@Sharyn I Ginsberg) 1574448462.0
In light of Hurd's speech, if nothing substantively changes, it appears likely that House Republicans will vote against any Articles of Impeachment brought against Trump.
Keep reading... Show less