People could die.
29 January 2019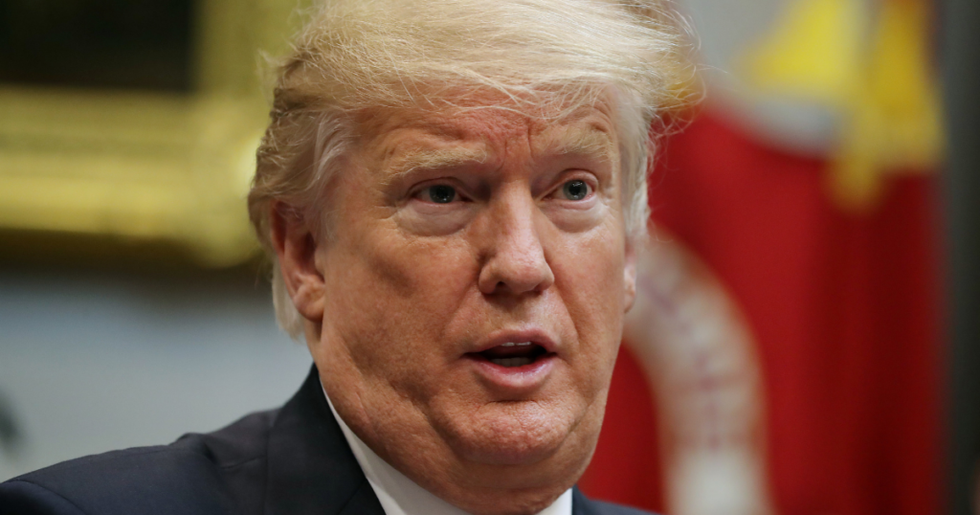 WASHINGTON, DC - JANUARY 23: U.S. President Donald Trump delivers remarks to reporters while participating in a roundtable about 'fair and honest pricing in healthcare' in the Roosevelt Room at the White House January 23, 2019 in Washington, DC. During the meeting Trump said 2018 was the first time in over 50 years that prescription drug prices declined. (Photo by Chip Somodevilla/Getty Images)
President Donald Trump is mocking the science of climate change as Arctic air is set to blast the Midwest with record low temperatures this week.
Like a scene from The Day After Tomorrow, temperatures in Chicago, for example, are expected to plunge to -24 degrees. Minnesota could see wind chills dropping to -65. For comparison, the average surface temperature on Mars is -81. Put another way, it will be cold enough to freeze mercury.
So how did the President respond? With a painfully on-brand tweet:
"In the beautiful Midwest, windchill temperatures are reaching minus 60 degrees, the coldest ever recorded.," Trump tweeted on Monday. "In coming days, expected to get even colder. People can't last outside even for minutes. What the hell is going on with Global Waming [sic]? Please come back fast, we need you!"
In the beautiful Midwest, windchill temperatures are reaching minus 60 degrees, the coldest ever recorded. In comin… https://t.co/FnaCaBA5Nz

— Donald J. Trump (@Donald J. Trump) 1548728929.0
Not only did the president misspell 'warming,' he is failing to grasp the very basics of how rising global temperatures are disrupting the climate and causing extreme weather or even that weather and climate are two different things.
According to scientists, climate change's warming of the North Pole is splitting the normal flow of the polar vortex, allowing frigid air to drift across the North American continent.
In December, polar atmospheric temperatures rose 125 degrees, allowing swaths of cold air to wander away from the region. As the pole continues to heat up, the polar vortex will become a more frequent event in the United States, scientists say.
"Where the polar vortex goes, so goes the cold air," said Judah Cohen of the Atmospheric Environmental Research in Boston, adding that this week's cold snap would drag on for weeks.
"The impacts from this split, we have a ways to go. It's not the end of the movie yet," Cohen said. "I think at a minimum, we're looking at mid-February, possibly through mid-March."
Twitter did its thing and inundated Trump's feed with facts about climate change.
@realDonaldTrump Please have a staffer read this to you! It's specifically geared towards a 4th Grade reading leve… https://t.co/oVluTSvMKN

— Ryan Hill (@Ryan Hill) 1548741610.0
@realDonaldTrump Notice how the anomalies in temperature are increasing exponentially! THIS IS NOT A GOOD THING!… https://t.co/ftl12kARxM

— Ryan Hill (@Ryan Hill) 1548742014.0
@realDonaldTrump .@realDonaldTrump may mock climate change, but it is happening faster and with greater impact than… https://t.co/MW5Z9F7opB

— Richard N. Haass (@Richard N. Haass) 1548769888.0
@realDonaldTrump Here's an article in @NatGeo explaining this well-documented phenomenon, as well as the difference… https://t.co/6lc5mGEtn8

— David Slack (@David Slack) 1548746012.0
The level of cold forecast is deadly to many creatures that walk or fly, including humans.
@realDonaldTrump lol Putin's lapdog should know humans can last for minutes in colder temps. Try reading-learn stuff https://t.co/OV1HEGlfJC

— Hooperstar (@Hooperstar) 1548777155.0
Trump's self-proclaimed "great instinct for science" is facing ruthlessly mockery.
And rightly so.
@realDonaldTrump "What you've just said is one of the most insanely idiotic things I have ever heard. At no point i… https://t.co/IsB8xAiola

— lindelof (@lindelof) 1548775232.0
@realDonaldTrump Oh crap, I thought this was the parody account.

— Dead Sea Squirrel (@Dead Sea Squirrel) 1548762654.0
@realDonaldTrump Amazing to think America was once a scientific leader.

— Jemaine Clement (@Jemaine Clement) 1548744231.0
@realDonaldTrump Hi Mr. President. Happy to explain since you seem confused. As nearly every legitimate scientist i… https://t.co/PXMd8yb8r0

— David Slack (@David Slack) 1548745918.0
@realDonaldTrump "Global WAMING?" I would say this whole tweet reads as if a 10-year-old wrote it... but a 10-year-… https://t.co/ZnKB7gtYsE

— Andy Ostroy (@Andy Ostroy) 1548762333.0
@realDonaldTrump Repeating that sentence makes you stupider every time. Minus 60 degrees are "weather". Regularly r… https://t.co/76F1SwZeDg

— Thorsten (@Thorsten) 1548746609.0
@realDonaldTrump "Waming", really. This tweet alone captures the mental capability of this man. Would someone pleas… https://t.co/bcTZjEpBpv

— Krom Stewart (@Krom Stewart) 1548773944.0
@realDonaldTrump https://t.co/AiTXup5FDR

— Gavin Lombard (@Gavin Lombard) 1548774348.0
While more data is needed to understand the connection between rising global temperatures and the polar vortex, other parts of the globe are sweltering in record heat.
@realDonaldTrump In Australia, our temperatures are hitting 50 degrees, fish are washing up dead by the million and… https://t.co/atwyMFNONU

— 🍩 Van Badham 🍩 (@🍩 Van Badham 🍩) 1548746194.0
In the last week, temperatures in Australia have soared above 118 degrees.
Keep reading... Show less