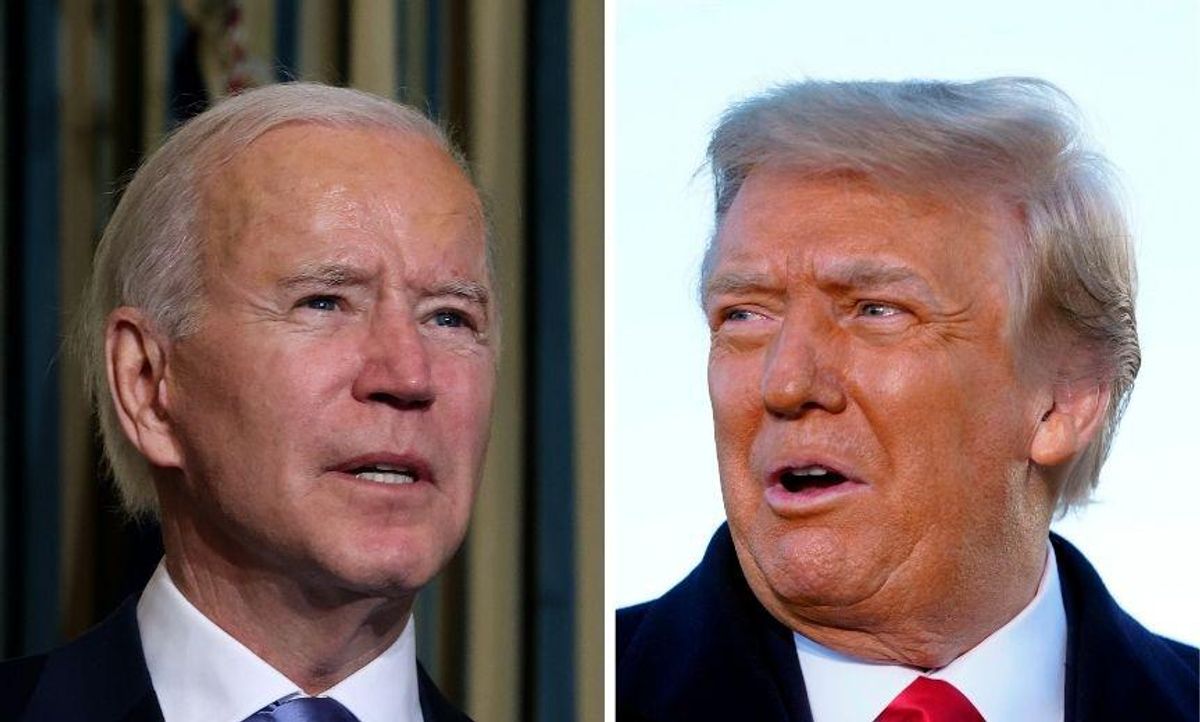 Chip Somodevilla/Getty Images // ALEX EDELMAN/AFP via Getty Images
Just before he departed the White House for a final time, former President Donald Trump issued a farewell address in which he boasted that "the world respects us again."
Trump's claim was debatable at best, since his administration embraced increasingly isolationist and nationalist policies that saw the United States exit from hard-earned international agreements like the Paris Climate Agreement and from international organizations like the World Health Organization.
Trump frequently blasted long-held allies like Canada and member countries of the European Union, all while praising enemy leaders such as North Korea's Kim Jong Un and Russia's Vladimir Putin.
Trump's continued refusal to accept the results of the 2020 election—a refusal that culminated in pro-Trump extremists attacking the Capitol, endangering the lives of lawmakers, and contributing to the deaths of at least five people—also shook world faith in America's democracy.
If the evidence of the last four years wasn't enough to indicate diminished respect for the United States across the globe, the reaction of world leaders to Wednesday's inauguration of President Joe Biden does.
Top European Union leader Ursula von der Leyen tweeted congratulations to the Biden administration.

She later added:

"[A]fter four long years, Europe has a friend in the White House. ... Europe is ready for a new start with our oldest and most trusted partner."
Watch below.
In his congratulations to Biden, German President Frank-Walter Steinmeier alluded to the far-right populism Trump on which Trump campaigned:

"Despite all the joy we feel today, we must not forget that even the most powerful democracy in the world has been seduced by populism. We must work resolutely to counter polarization, protect and strengthen the public square in our democracies, and shape our policies on the basis of reason and facts."
Spanish Prime Minister Pedro Sanchez offered the most direct criticism of Trump's tenure in the White House and the overall threat he posed to democracy:
"Five years ago, we thought Trump was a bad joke, but five years later we realized he jeopardized nothing less than the world's most powerful democracy."
Others largely shared the sense of relief abroad.
Many of Trump's critics are rejoicing what they say feels like a new start under Biden.
Biden has a long four years ahead of him—years that Americans hope will be marked by progress and the strengthening of international alliances to expand peace abroad.