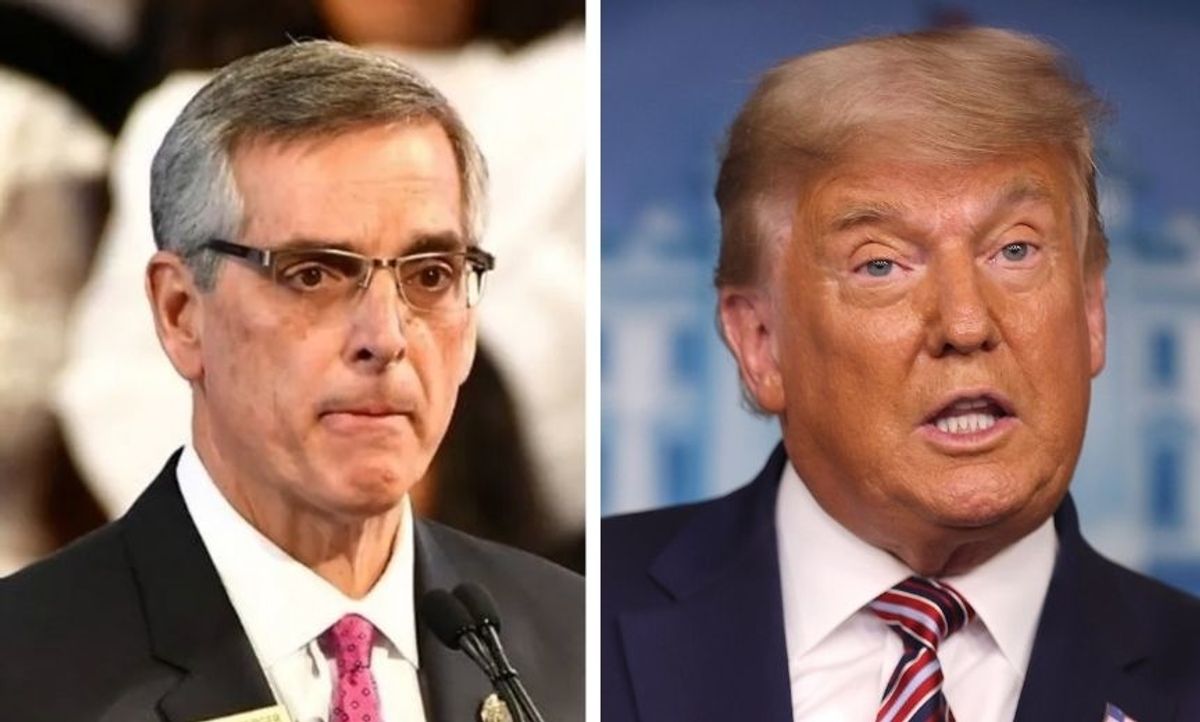 Paras Griffin/Getty Images // Chip Somodevilla/Getty Images
President-elect Joe Biden secured 306 electoral votes in the 2020 election —well over the 270 minimum requirement to take the White House. Sixteen of those electoral votes come from the state of Georgia, which had been reliably red since 1992.
Biden narrowly won the Peach State largely thanks to Get Out the Vote organizers like former Georgia gubernatorial candidate Stacey Abrams.
President Donald Trump is still refusing to acknowledge his defeat both in Georgia and in the overall election.
Trump has peppered his infamous Twitter account with even more lies about widespread voter fraud, which he claims Democrats orchestrated to tip the election to Biden.
The President falsely claimed that Republican election observers weren't permitted to oversee ballot counting and that "ballot harvesting" led to untold numbers of fraudulent votes.
Georgia's Republican Secretary of State, Brad Raffensperger, erupted at Trump's lies about election integrity in a series of fiery Facebook posts.
Raffensperger also took aim at Congressman Doug Collins (R-GA), a staunch Trump ally who lost his bid for a Georgia Senate seat earlier this month.

Raffensperger responded to Trump's and Collins' claims that the impending recount in Georgia is "MEANINGLESS" without signature matching:

"We strengthened signature match. We helped train election officials on GBI signature match—which is confirmed twice before a ballot is ever cast. Failed candidate Doug Collins is a liar— but what's new?"
People were happy to see some GOP pushback in the state against baseless claims of fraud.
Trump continues to push lies about signature matching in the state, but Twitter users don't seem to be buying it.
There are no signatures on ballots, obviously - we don't want anyone to be able to figure out whom you voted for. The envelopes that hold mail-in ballots are signed, but once an envelope is verified, it's permanently separated from the ballot, for the same reason: voter privacy. https://t.co/tD3kBNu3Kj
— James Surowiecki (@JamesSurowiecki) November 16, 2020
This is an outright lie and your puppet Kemp should make that clear.
— Scott Dworkin (@funder) November 16, 2020
Donald Trump LOST the state of Georgia! His efforts to contest the result in that state are, like all of his other efforts to dispute election results around the nation, based on lies and nonsense.
— MURRAY🧢🇺🇸 (@murray_nyc) November 16, 2020
You're lying, loser.
You're losing, liar.
— John Pavlovitz (@johnpavlovitz) November 16, 2020
In January, Georgia will hold runoff elections for both of its Senate seats, the results of which will determine whether or not Democrats have narrow control of the Senate.