Elon Musk asks Twitter Community Notes to factcheck Russian Market's tweet claiming 150,000 Ukrainian soldiers were killed—which appears to be Russian propaganda—after tweeting back to the account.
06 February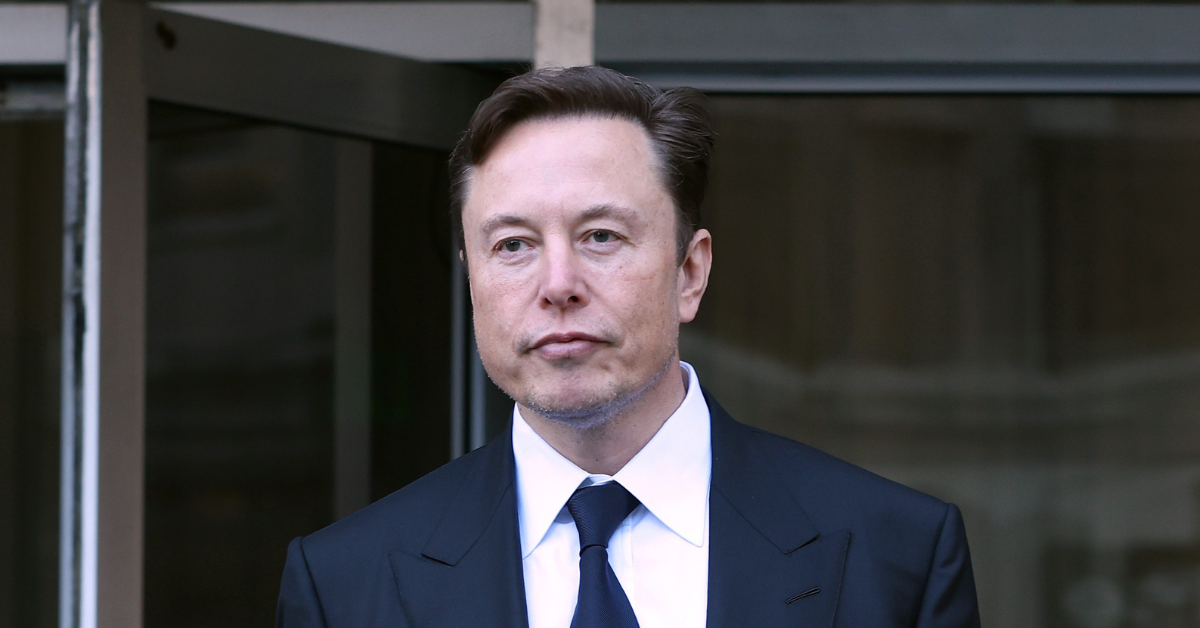 Justin Sullivan/Getty Images
Elon Musk is being called out for boosting disinformation yet again after responding "A tragic loss of life" to a tweet from a Russian propaganda account that claimed over 157,000 Ukrainian soldiers were killed in Ukraine and almost 2,700 NATO personnel were also killed.
The tweet claimed 234 NATO military trainers from the United States and United Kingdom as well as 2,458 NATO soldiers from "Germany, Poland, Lithuania,etc" were killed in Ukraine. A BBC fact check verified no NATO member country sent soldiers to Ukraine proving the tweet false.
The tweet linked to a Turkish language news site Hürseda Haber article.
The article titled "İddia: MOSSAD'a göre Ukrayna ve Rusya kayıpları"—roughly translated via Google to "Claim: Ukrainian and Russian casualties according to MOSSAD—cited "MOSSAD" as the source for its numbers but failed to provide a link to any actual source.
Mossad is the national intelligence agency of Israel.
The tweet also included a screenshot from a video by "Ursula" they claimed was "deleted." The text on the screenshot claimed "more than 100,000 Ukrainian military officers have been killed so far."
"Ursula" is President of the European Commission Ursula von der Leyen.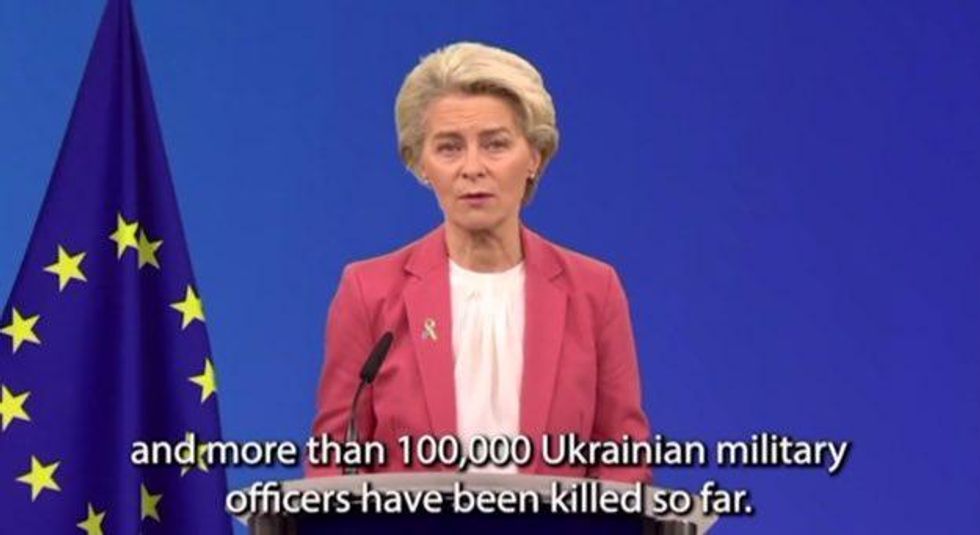 @runews/Twitter
You can see the original tweet...
...and Musk's direct reply—which amplified the original tweet to all 128 million+ of Musk's followers—here:

Actual Turkish journalist Ilhan Tanir—who had never heard of linked news site Hürseda Haber—called Musk out for boosting such obvious fake news.

"Even my aunt would be more careful. What r u doing? @elonmusk embarrassing"
Tanir was far from the only one criticizing Musk for the tweet.
Eventually Musk asked—on Twitter—for crowdsourced fact checkers instead of his own employees to fact check a tweet he boosted 11 hours earlier.
After people criticized his negligence, Musk tagged the crowdsourced fact checking system Community Notes to "please correct the above numbers."
Musk made no other apparent efforts to correct the misinformation he helped spread by legitimizing it.

A fact checking section—Community Notes—was added under the original tweet.
Twitter users were quick to add fact checks disproving the original post's validity.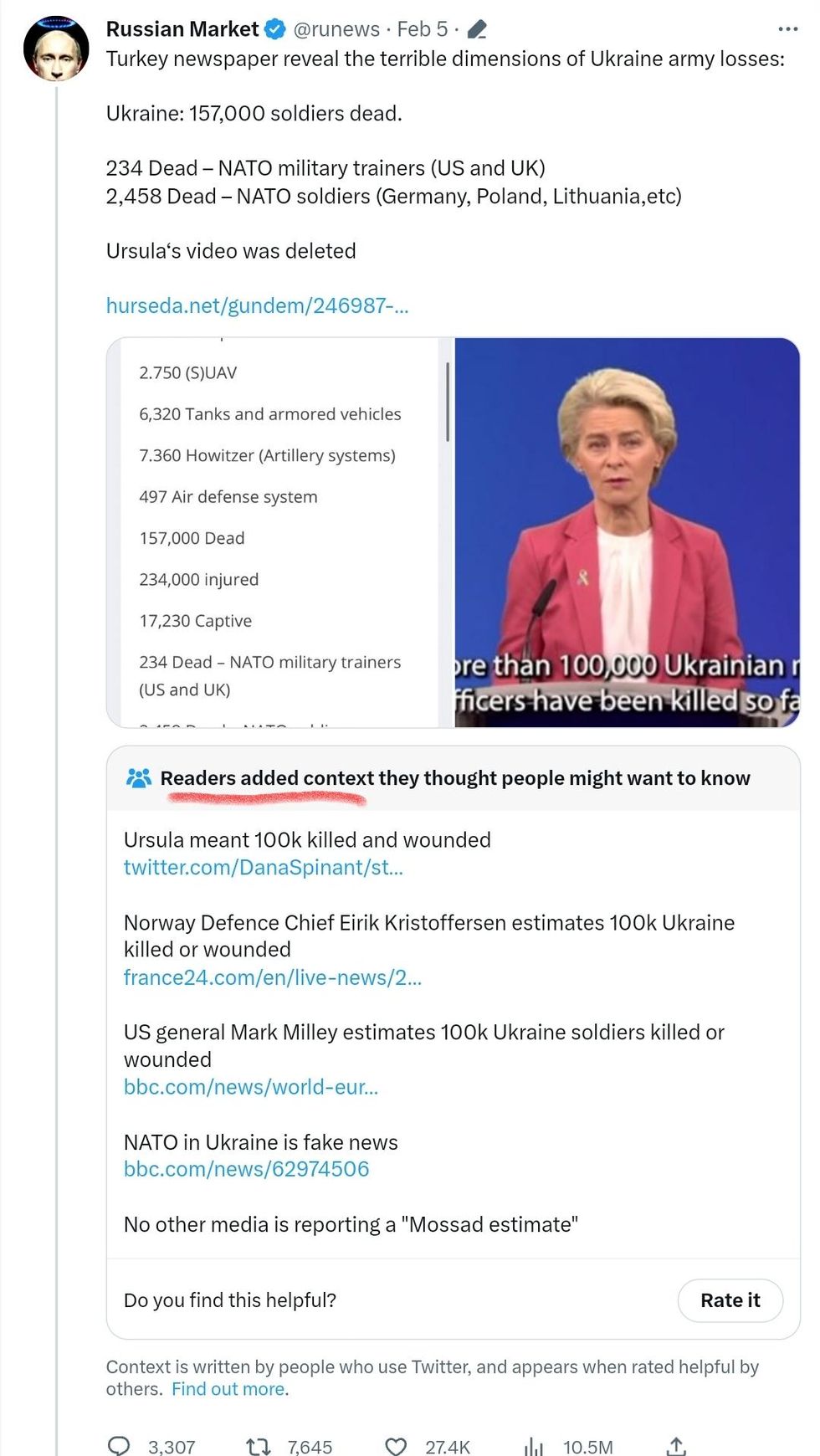 @runews/Twitter
It showed United States Chairman of the Joint Chiefs of Staff General Mark Milley and Norwegian Defence Chief Eirik Kristoffersen both said the number of Ukrainian soldiers killed or wounded was approximately 100,000 in November of 2022.

It has since been updated to link the BBC fact-checking article and indicate "No other media is reporting a 'Mossad estimate'."
This isn't the first time Musk made seemingly pro-Russia tweets.
In January, Musk argued Ukraine shouldn't use tanks against Russia.
"Tanks are a deathtrap now. With neither side having air superiority, you're left with infantry & artillery – essentially WW1."
Rolling Stone put out an article in October about Musk's propensity for spreading Russian propaganda after Musk made some bold claims about Russia's relationship with Crimea—which it illegally invaded and annexed in 2014.
Russia analyst Fiona Hill told Politico Musk's penchant for Russian propaganda was intentional.
"It's very clear that Elon Musk is transmitting a message for Putin."
Musk has also drawn criticism for spreading disproven conspiracy theories and other disinformation.