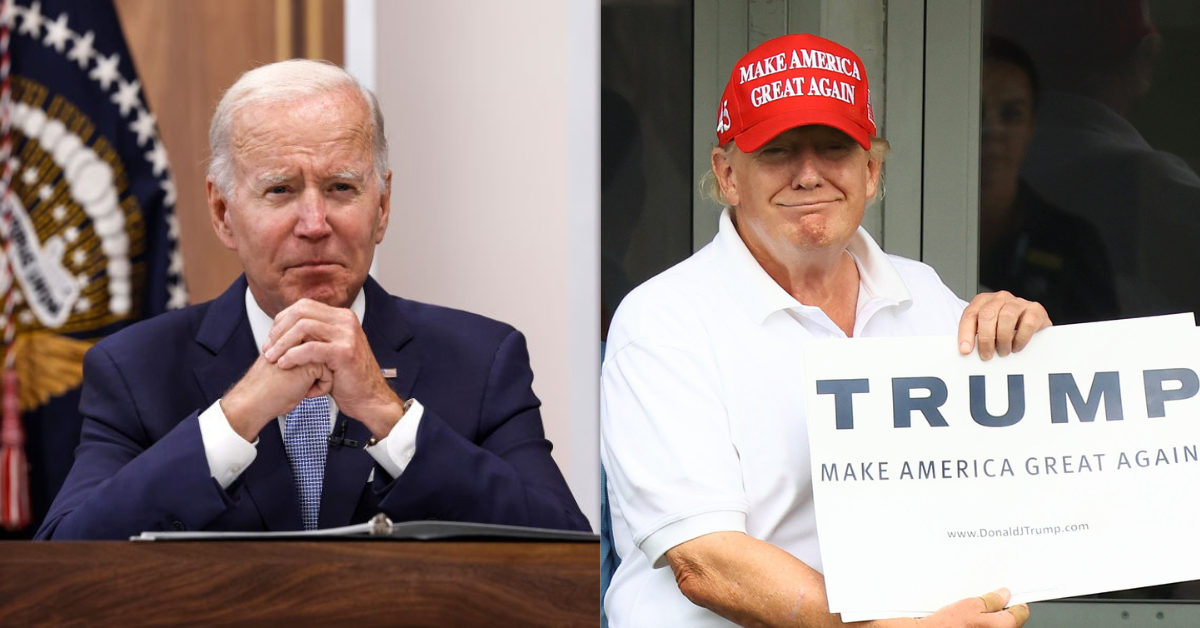 Anna Moneymaker/Getty Images; Mike Stobe/LIV Golf via Getty Images
Former Republican President Donald Trump took a shot at Democratic President Joe Biden in a Truth Social post that even conservative media is calling "backhanded" and a "wild rant."
On Sunday after a poorly attended golf event, Trump took to his struggling Twitter knock-off and posted:
"Joe Biden's second bout of Covid, sometimes referred to as the China Virus, was sadly misdiagnosed by his doctors. He instead has Dementia, but is happily recovering well."
"Joe is thinking of moving, part time, to one of those beautiful Wisconsin Nursing Homes, where almost 100% of the residents miraculously, and for the first time in history, had the strength and energy to vote—even if those votes were cast illegally."

"Get well soon, Joe!"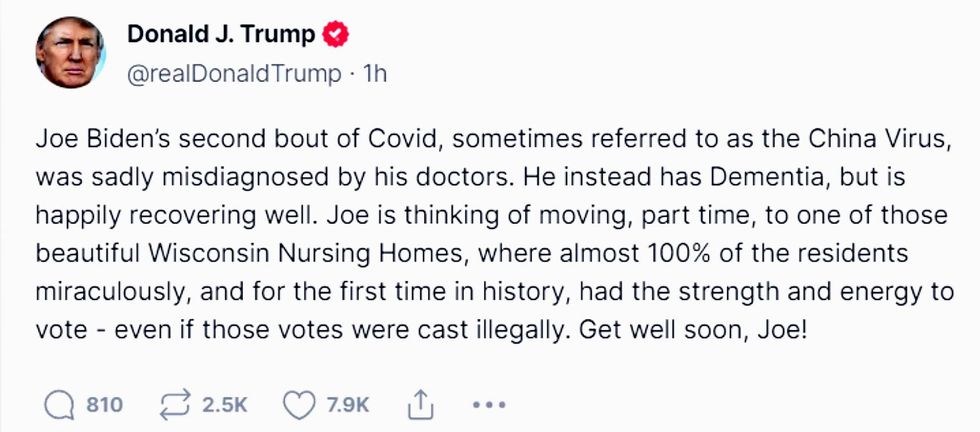 @realDonaldTrump/Truth Social
While the post was probably intended to be clever, it was instead described as petty, pathetic, racist and detached from reality.
The conservative Washington Examiner called Trump's post "rehashing his grievances with the 2020 election and reiterating his debunked accusations of widespread fraud."
In contrast, when it was announced in October 2020 that then President Trump and First Lady Melania Trump had COVID, 2020 presidential election rival Joe Biden tweeted:
"Jill and I send our thoughts to President Trump and First Lady Melania Trump for a swift recovery."
"We will continue to pray for the health and safety of the president and his family."
The contrast is being cited as class versus trash, with Trump coming out on the losing end.

@vaughnnnnnnnnnn/Twitter
President Biden had tested negative after his initial diagnosis, but tested positive again on Saturday.
The White House announced the President is not experiencing any symptoms thus far.