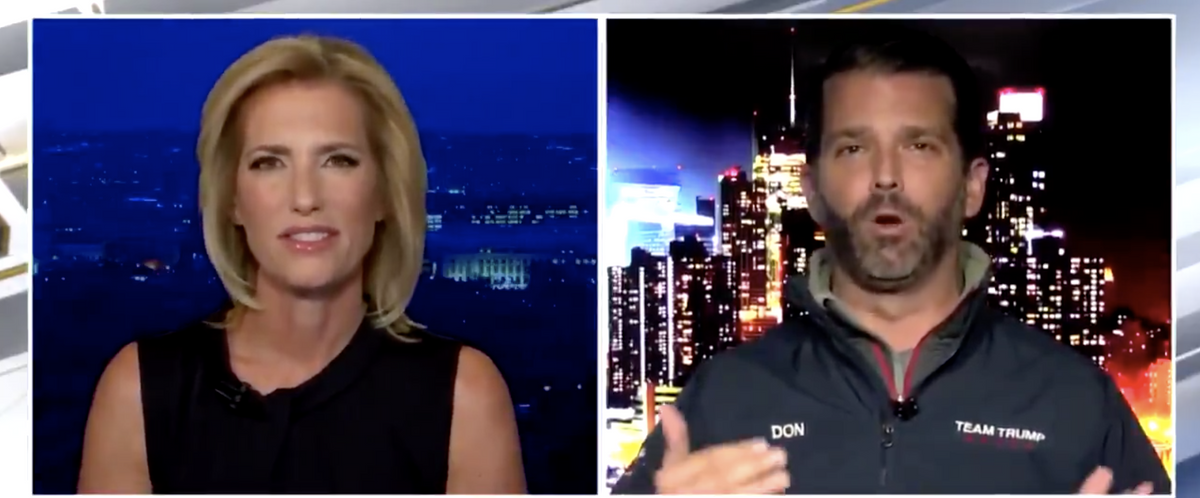 Fox News
Even with nearly 250 thousand dead and record high new case numbers, President Donald Trump and his allies continue to minimize or outrightly dismiss the threat posed by the virus that's upended daily life in the United States.
Trump's son and Trump Organization executive, Donald Trump Jr., continued that pattern on far-right Fox News host Laura Ingraham's show, where he made statements at odds with reality.
Watch below.

The President's son assured that deaths from the virus were at an acceptable level, saying:

"I went through the CDC data cause I kept hearing about new infections, but I was like 'Well, why aren't they talking about this?' Because the number is almost nothing. Because we've gotten control of this thing."
Not only does the United States have the highest death toll from the virus in the world, but it's also seeing record spikes in single-day new cases while hospitalizations rise as well.
CNN anchor Jake Tapper issued a sobering fact check to Trump Jr. on Twitter.
Tapper also took Fox News to task for promulgating numerous lies about the virus on behalf of the President, whose constant dismissal of it has informed the approach of conservative media outlets' reporting.
People largely agreed with Tapper.
Tapper wasn't the only one to call out Trump Jr. and the broader lie from the Trump circle that we're rounding the corner on the virus.