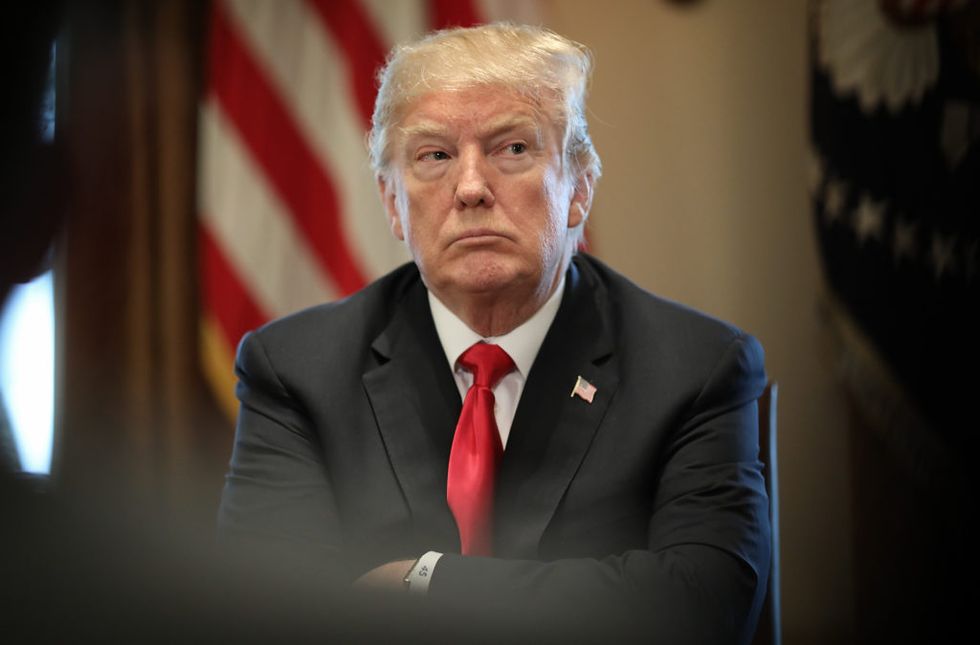 WASHINGTON, DC - MARCH 01: U.S. President Donald Trump participates in a meeting with leaders of the steel industry at the White House March 1, 2018 in Washington, DC. Trump announced planned tariffs on imported steel and aluminum during the meeting, with details to be released at a later date. (Photo by Win McNamee/Getty Images)
The Republican National Convention isn't until August of next year but President Donald Trump's racist rhetoric is already leaving a sour impression on the event's host city.
In the wake of the president's racist tweets to four Democratic congresswomen, the city council of Charlotte, North Carolina voted 9-2 to rebuke Trump for his divisive language in a proposal featuring a litany of Trump's racist and xenophobic remarks from the past three years to as recently as last week.
Full resolution proposed in Charlotte to "condemn" President Trump's tweets & "Send Her Back" chant. https://t.co/tWB7xB0YyQ

— Anna Douglas (@Anna Douglas) 1563828481.0
The proposal comes on the heels of Trump's rally last week in Greenville, North Carolina, where the audience chanted "Send her back" about Congresswoman Ilhan Omar (D-MN).
The resolution proclaims:
"Charlotte should always be welcoming and inviting of people of diverse and different ethnicities and background, so long as those differences do not lead to personal insults or violent discourse, strongly condemns all of President Donald Trump's racist and xenophobic social media tweets and comments."
Several people agreed with the council's assessment.
@maggieNYT @JohnJHarwood I hope the city of Charlotte realizes most of us North Carolinians don't want the convention anywhere near here.

— Turtles All The Way (@Turtles All The Way) 1563884100.0
@maggieNYT The entire country should condemn it AND HIM. His lies his ignorant rants his crimes his sexual assaults… https://t.co/SRek2Y4ol9

— Jo (@Jo) 1563853732.0
@maggieNYT After the Greenville nonsense NC is having serious second thoughts. We are purple—State went fir Obama i… https://t.co/ImETaJX8RD

— Musele (@Musele) 1563853542.0
@maggieNYT Good for North Carolina.

— jfree (@jfree) 1563856542.0
A swing state with 15 electoral votes, North Carolina is a crucial state for the Trump campaign in 2020. It's unclear whether holding the convention in Charlotte will invigorate North Carolinians to the right or just leave them seeing red.
@maggieNYT I wish Charlotte would tell the @gop they are uninvited.

— Bogue (@Bogue) 1563889644.0
@maggieNYT I live in Charlotte. The City Council wanted to do more than that and investigated breaking the contract… https://t.co/xUCpdS25nm

— JoanofArgh🍑 (@JoanofArgh🍑) 1563853673.0
@maggieNYT @michellesawyer6 So maybe cities across the country can boycott the convention because of his racism.

— Lucy Purse & Roger🐾 (@Lucy Purse & Roger🐾) 1563882482.0
@maggieNYT Time to boot the GOP convention @CLTgov

— Edward G Robinson (@Edward G Robinson) 1563853195.0
People have ideas for alternative locations.
@maggieNYT no worries. @gop will move convention to a property owned by trump or where he can get a good kick back, eg, @BetsyDeVosED

— boomer golden (@boomer golden) 1563886528.0
@maggieNYT Oh well, looks like Mr. Trump will have to move the convention to one of his properties.

— Dave Perrino (@Dave Perrino) 1563852975.0
@maggieNYT @gtconway3d Hold the convention in Mar-a-largo

— John (@John) 1563881637.0
We'll see come August.
Keep reading...Show less