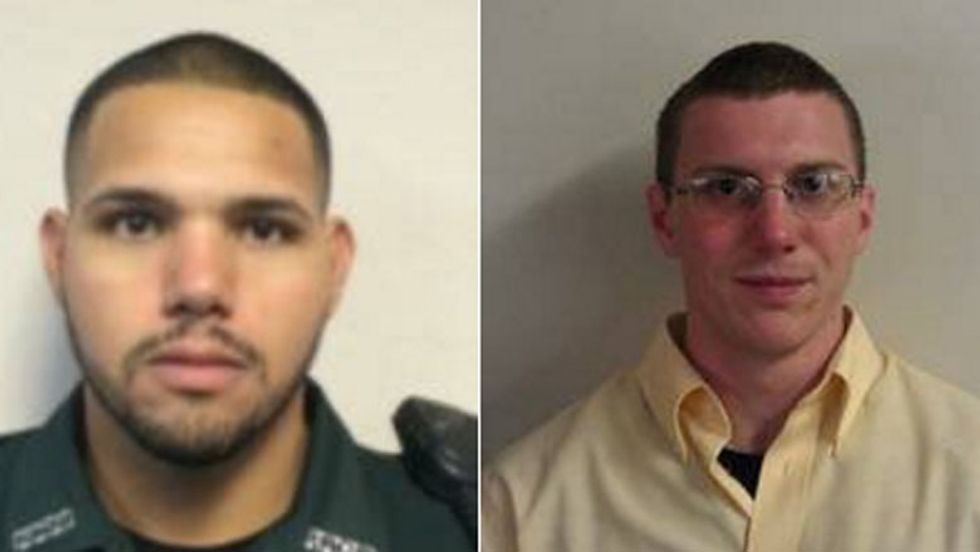 Sgt. Noel Ramirez and Deputy Taylor Lindsay. (Gilchrist County Sheriff's Office)
John Hubert Highnote has been named as the man who shot two Gilchrist County Sheriff's deputies dead inside a Chinese restaurant in Florida. The horror unfolded on the afternoon of April 19 at the Ace China restaurant in the town of Trenton, located 30 miles west of Gainesville. The slain deputies have been identified as Sgt. Noel Ramirez, 29, and Deputy Taylor Lindsey, 25. Highnote was first named in a press release from the Gilchrist County Sheriff's Office.
Highnote, Whom the Sheriff Referred to as a 'Coward,' Committed Suicide Before Cops Got to the Scene
County Sheriff Bobby Schultz told the media that the pair were getting food at the restaurant when Highnote walked up to a window and opened fire. Responding officers found Highnote, 59, dead with a self-inflicted gunshot wound inside his jeep, parked outside of the restaurant.
GCSO: Sgt. Noel Ramirez and Deputy Taylor Lindsey were eating lunch inside of the Ace China restaurant on SR 26th a… https://t.co/PZFOkQXsPr

— Curtis Jennings (@Curtis Jennings) 1524225293.0
Authorities have said that Highnote acted alone, and no other suspects are currently being sought. No motive has been made public for the attack. Highnote was a resident of the town of Bell, which is just north of Trenton. The Tampa Bay Times reports that Highnote lived in St. Petersburg, Florida, in 1987, 1988 and 1993. Between 1998 and 23003, Highnote lived in Clearwater.
Highnote Had a Brief, Non-Violent Criminal Record
WJXKT's Marilyn Vaca reports that Highnote has one prior in the Gilchrist Clerk of Courts records. In 2012, he was accused of an "improper lane change." Records show that in Pinellas County, Highnote had various traffic infractions. Highnote's weapons permit in Volusia County expired in 2010. The Tampa Bay Times reports that Highnote was arrested in 1978 in Tampa on concealed weapons charges. That charge was dismissed.
Sgt. Ramirez Had Recently Been Promoted to Sergeant
In his press conference, Sheriff Schultz said, "Sgt. Ramirez and Deputy Lindsey were the best of the best. They were men of integrity, men of loyalty. They were God-fearing, and they loved what they did, and we are very proud of them... After 26 years of doing this, there is nothing that can prepare you for senseless deaths."
Ace China restaurant in Trenton Florida is quiet this morning bullet holes remain in the window where two Gilchrist… https://t.co/xbNathfiur

— Joe (@Joe) 1524212686.0
WFTS reports that Sgt. Ramirez was a seven-year veteran of the force and is survived by his wife and two young children. He was previously with the Levy County Sheriff's Office and the Williston Police Department until joining the ranks of Gilchrist in 2016. In 2017, he was promoted to sergeant.
In a statement, the sheriff's office said that Deputy Lindsay had been with the Gilchrist office since 2013.
Keep reading...Show less