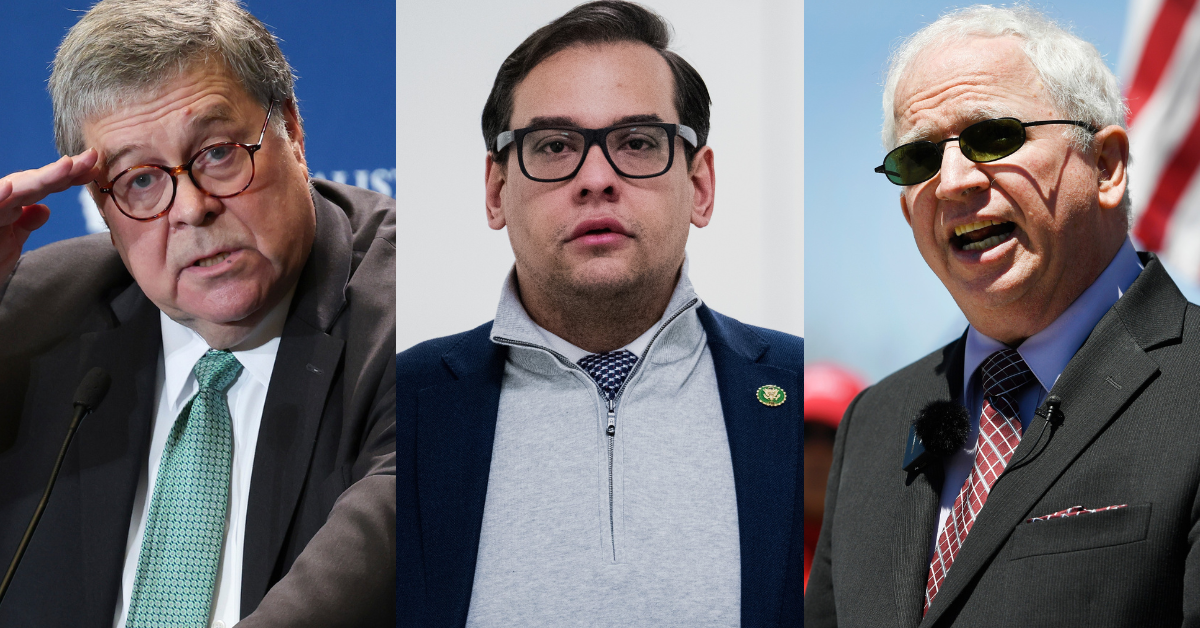 Win McNamee/Getty Images; Tom Williams/CQ-Roll Call, Inc via Getty Images; Andy Cross/MediaNews Group/The Denver Post via Getty Images
It's Friday, and while there is lots of serious news to consider, there's also George Santos, who is deeply unserious and yet seriously messed up. There's also a nice development with John Eastman, who is in serious trouble, and Bill Barr, who is seriously evil and needs to answer for some things.
The good news is, investigative reporters and ethical watchdogs are coming with receipts.
Let's take a look at these three unconnected but seriously bad men doing bad things and see how they are being called to account.

You can't just check a box and forge a signature.
The fabulist George Santos, who has come to exemplify the modern GOP—as a grifter, a pathological liar, and a continuing embarrassment—delivered up more let-me-first-blink-a-few-times nuggets for the press and investigators to chew upon.
The first has to do with amended Federal Election Committee (FEC) filings, which are due at the end of January. With all the problems swirling around his initial filings, there was much speculation about what Santos would do to try and "fix" the problems with his campaign disclosures.
For starters, no one believed he suddenly made millions and then loaned his campaign a huge chunk of that windfall, and this now appears to be a key admission by Santos.
Roger Sollenberger of The Daily Beast, who has been covering the Santos saga like thick foundation on a Brazilian drag queen, first reported on Tuesday that the half million dollar loan Santos supposedly gave his own campaign didn't come from his personal funds as Santos had earlier asserted.
The old FEC filing and the new filing still both say the loans came "from the candidate," but the new filing leaves untucked—sorry, unticked—the box for "personal funds of the candidate." A second filing on Tuesday disclosed that a further $125,000 "loan from the candidate" didn't come from "personal funds" either.
The crazy thing is (and I say that, knowing this is George Anthony Devolder Zabrovky Santos we're talking about), despite letting the FEC know that the loans didn't from his personal funds, Santos still doesn't disclose where the loans actually did come from—and that's a big problem.
You see, if they came from, say, an entity like RedStone Strategies, which appears to be tied closely to Santos, or if they were direct corporate contributions from his "own" company, the Devolder Organization LLC, then these would be illegal campaign contributions.

But wait, there's more!
The amended filings by the campaign not only have this undisclosed disclosure, but some contain an actual forgery. The Santos campaign is so embattled that no one wants to come anywhere near it, and yet he had to list someone as the campaign treasurer on relevant documents.
So on Wednesday, Santos' fundraising committees filed amendments to their statements of organization notifying the FEC of a new treasurer, Thomas Datwyler, who is a well known, veteran campaign finance guy. Problem solved!
The only thing is, Datwyler is not the treasurer and does not work for the Santos campaign.
Datwyler's attorney told ABC News that on Monday, Datwyler specifically informed the Santos campaign that he would not be serving as treasurer, and yet the filings still listed his name and forged his signature electronically without his consent.
It's clear that Santos has not only made false claims on his disclosures in the past, but that he continues to commit fraud before the FEC today. All this is adding up to a stronger case against him assuming, as is likely, that both ethical complaints and criminal charges are pursued to their conclusion.
Finally, a bonus WTF.
In case we needed any further reason to want Santos gone, a local news outlet on Long Island called Patch has unearthed a deleted social media post by him from March 2011 making jokes and salutes to Hitler, as well as observations about "the Jews and black[s]," while also committing crimes against spelling and grammar.
I won't repost it here, but you can see it at the link above.
Commit law crimes, lose your legal license.
Way over on the Left Coast, it's come-uppance time for a different shady character, former Trump attorney John Eastman. The State Bar of California, after a year-long investigation, announced that it intends to seek disbarment of Eastman over his role in attempting to overturn the 2020 election.
As you may recall, Eastman was the author of a memo that proposed a "soft coup" on January 6, whereby vice president Mike Pence would act in excess of his constitutional authority by refusing to count the electoral ballots of several swing states and then either declaring the election for Trump or sending it "back to the states" for further battles, keeping Trump in office longer than legally entitled.
A federal court found back in March 2022 that Eastman, along with Trump, likely violated two federal laws as part of the conspiracy within the White House to hang onto power.

Eastman faces 11 disciplinary charges, including making false statements around election fraud, provoking the crowd on January 6 to attack the Capitol, and seeking to prevent the electoral count from proceeding.
As legal ethics specialist Stephen Gillers, a professor at NYU, noted in an interview with The Washington Post, the accusations are "scathing." The State Bar "charges Eastman with knowingly or through gross negligence failing to support the U.S. and California constitutions, which he took an oath to do," Gillers said.
"The allegation that Eastman is guilty of 'moral turpitude' is an attack on his very character, in other words that he is a bad man, not merely a bad lawyer."
Eastman is now one among many lawyers for Trump or the Trump campaign who are facing suspension or disbarment for their actions related to the 2020 campaign. Others include conspiracy peddlers Rudy Giuliani, Sidney Powell, and Lin Wood.
Eastman is determined to fight the charges.
To underscore how much this move threatens his livelihood and future, Eastman even called a press conference for Friday to speak about the action, which commentator George Conway noted with no small irony came after Eastman pled the Fifth 146 times during his appearance before the January 6 Committee.
Perhaps reporters attending that should ask him the very questions he refused to testify to under oath.
Bill Barr may finally have gone too far to protect Trump.
Our third bad man today is Bill Barr, the former attorney general.
It's no secret that Barr did everything in his power to keep his old boss safe from prosecution, from bullying the intelligence agencies, to launching investigations of the investigators, to mischaracterizing and defanging the Mueller Report before the public could even see it.
But there was a new revelation in The New York Times on Thursday that has Barr-watchers fuming and could finally, maybe, possibly! lead to trouble for both him and his former master.
Call me cynical, but I refuse to hold my breath here.
So what's the big story?
You may recognize the "Durham Investigation"—that endless legal saga, led by U.S. Attorney John Durham who was named as Special Counsel on the investigation, that the right believed for years would expose that the Trump Campaign had been somehow unfairly or illegally targeted for investigation around Russian collusion.
This was Trump's and Barr's attempt to "investigate the investigators" by getting to the origins of how Russiagate became a focal point for the Justice Department. Nothing ever came of that, despite years of effort and breathless coverage on Fox News, much to the dismay of Trump and his supporters.
The Durham ordeal was a flop because the truth behind why the Russia investigation got started was actually quite simple: An Australian diplomat had tipped off intelligence that George Papadopoulos, then a Trump campaign adviser, had appeared to disclose advance knowledge that Russia would release hacked Democratic emails.
During the course of his investigation, Durham had pressed Italian officials on whether they had any role in setting off the Russia investigation. They basically said no, ciao, you're crazy. But by the way, we do have a tip for you linking Donald Trump to suspected financial crimes.
Record scratch.
Let me repeat that.
The Italian authorities told the U.S. Justice Department in 2019 that they had information about financial crimes implicating Donald Trump. But Barr, being Barr, decided not to run with this and to assign it immediately to another prosecutor or special counsel.
Instead, he instructed Durham to investigate the matter himself, though this was well outside his purview.
The nature of that alleged crime, and what Durham did with it, remains a total mystery. Until Thursday, no one even knew that a criminal investigation involving Trump was ever even underway back in 2019.
All that was known at the time was that the Durham investigation had somehow evolved to include a criminal investigation. But this wound up being a red herring, misleading the media to incorrectly frame this and to wrongfully imply Durham had found evidence of crimes related to the Russia inquiry.
Not so.
The criminal investigation was about Trump all along, which Barr cagily never made clear.
Speaking of unclear, we don't know what happens next with this story. There is both the matter of the alleged financial crime by Trump and Bill Barr's attempts to sweep it under the rug.
I suspect that Democrats in Congress will want to investigate this further, and they likely would do so in the Senate where there can be real oversight, rather than in the House before the new oversight committee, which is basically a clown car full of, well, clowns.
There's far more to this story that needs to be investigated and exposed. But for now, Bill Barr is likely not having a great day knowing he may have to answer for some shady things he did while AG, including most pressingly this apparent cover-up on Trump's behalf.
And really, anytime Barr is having a bad day is a good day for our democracy.