A rare international rebuke.
14 November 2018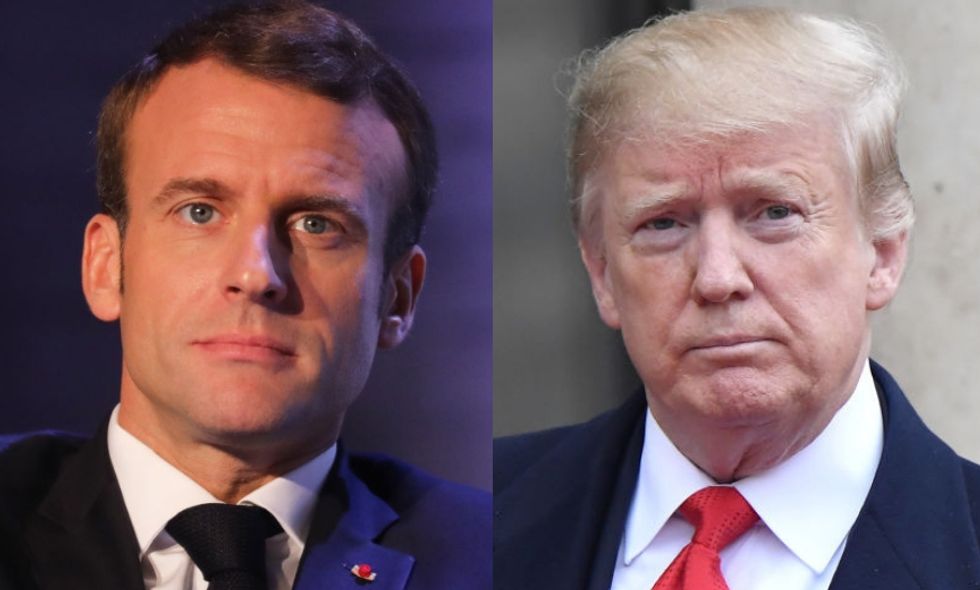 Ludovic Marin/AFP/Getty Images; Aurelien Meunier/Getty Images
Decency has never been the strong suit of President Donald Trump. While Americans may have gotten used to this, the French government is calling the President out for it.
It began in response to comments by French President Emmanuel Macron in favor of a united European defense system. Trump subsequently mocked France for being invaded by Germany in the Second World War and railed against Macron. Donald Trump posted the tweets on the third anniversary of the Bataclan terrorist attack in Paris which killed 130 people.
Emmanuel Macron suggests building its own army to protect Europe against the U.S., China and Russia. But it was Ger… https://t.co/2QhmeaaxPk

— Donald J. Trump (@Donald J. Trump) 1542109841.0
On Trade, France makes excellent wine, but so does the U.S. The problem is that France makes it very hard for the U… https://t.co/rzfwotgxI6

— Donald J. Trump (@Donald J. Trump) 1542114428.0
The problem is that Emmanuel suffers from a very low Approval Rating in France, 26%, and an unemployment rate of al… https://t.co/QlstDTD1Dv

— Donald J. Trump (@Donald J. Trump) 1542115026.0
......MAKE FRANCE GREAT AGAIN!

— Donald J. Trump (@Donald J. Trump) 1542115109.0
The comments were widely met with backlash given the solemnity of the day for the French people and the callousness with which Trump insulted the country.
Now, a spokesman for the French government, Benjamin Griveaux, is calling him out for it:
"We were commemorating the assassination of 130 of our compatriots three years ago in Paris and Saint-Denis, and so I will reply in English: 'Common decency' would have been appropriate."
Twitter users everywhere agreed.
@jdawsey1 It was absolutely appalling, even for Trump, to savage a country on it's day of national mourning. What i… https://t.co/HKtsW9RZC4

— larryleclair (@larryleclair) 1542203180.0
@joncoopertweets I side with France. 👍 Trump is a loser & an international embarrassment! 😡

— Independent Blue Resist (@Independent Blue Resist) 1542209035.0
@joncoopertweets We are sorry for his lack of conscience. He does not speak for the majority of the people

— Dana (@Dana) 1542208931.0
Americans warned the French that expecting common decency was a lot to ask of the person occupying the highest office in the land.
@kylegriffin1 This is the president who sends along criticism to those dealing with deadly wildfires and hurricanes… https://t.co/ka3dd3BGbe

— pwthm11 (@pwthm11) 1542207960.0
@kylegriffin1 Trump doesn't respect his own country . The French have high hopes !

— rmc (@rmc) 1542207749.0
@jdawsey1 There is no common decency within Trump, the Trump family, or any of his inner circle. None. Nada. Zip.

— Ellen Spivak (@Ellen Spivak) 1542204935.0
Fresh off a France visit fraught with criticism, Trump's Twitter tantrum was only the most recent in a series of missteps with one of the United States' closest allies.
The President received immense backlash when he opted not to commemorate the fallen World War I soldiers buried at Aisne Marne American Cemetery because it was raining.
This comparisons can be trite, but Fox would be in nonstop BREAKING NEWS coverage if Obama ever skipped a war memor… https://t.co/Xr6ojHhjJJ

— Matt McDermott (@Matt McDermott) 1541872633.0
Are conservatives mad that Trump skipped out on a memorial because he didn't want to get wet?

— Opinionated (@Opinionated) 1542202953.0
But if Trump's sloughing of the memorial surprised people, they may have forgotten what he'd said just a week prior.
Unspeakably vile and callous. Trump says he considered canceling his political rally not because 11 people were mur… https://t.co/u2C9sD2Nkj

— Brian Klaas (@Brian Klaas) 1540672732.0
Trump lamented at a campaign rally that he'd almost cancelled the event because - after answering questions on the Tree of Life shooting that killed 11 people in Pennsylvania - the wet conditions had given him a bad hair day.
"I said, 'Maybe I should cancel this arrangement because I have a bad hair day, And the bad news ― somebody said, 'Actually it looks better than it usually does.'"
The French government has every right to demand decency from the President of the United States on one of France's most solemn days. Unfortunately, with this president, it seems too much to ask.
Keep reading...Show less