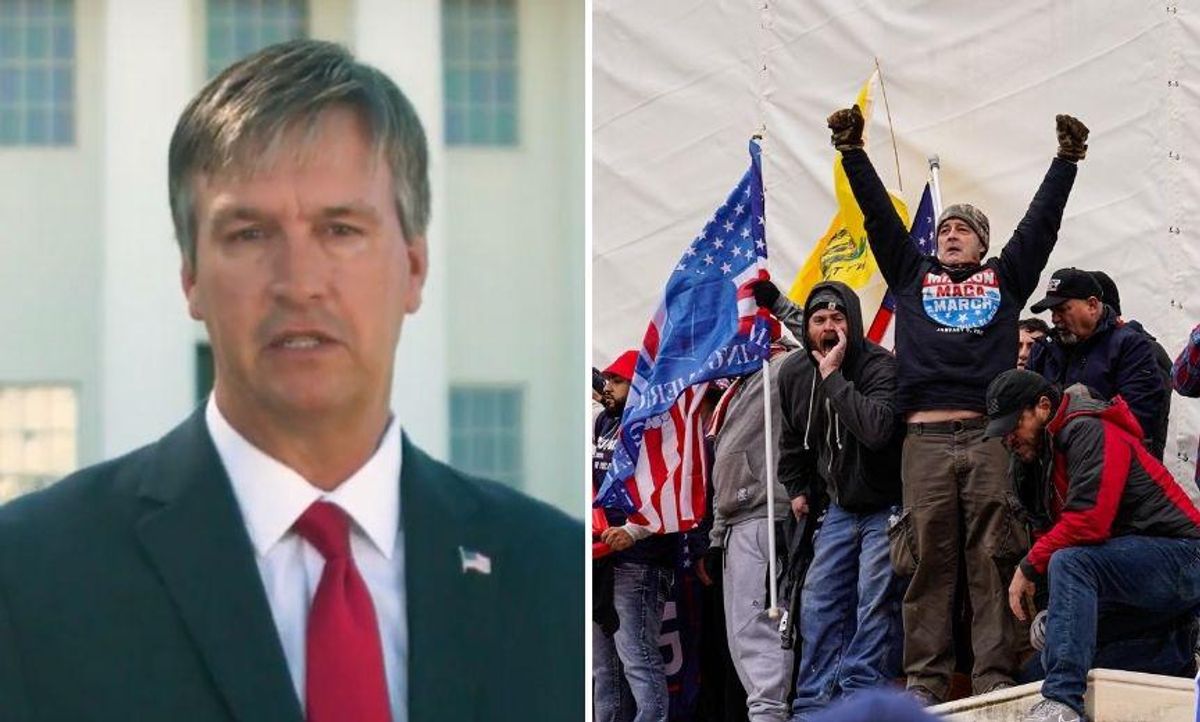 Barry Moore - Republican for Congress/YouTube // Shay Horse/NurPhoto via Getty Images
The nation continues to reel from the unprecedented siege of the United States Capitol by pro-Trump extremists that resulted in the deaths of at least five people last week.
The Capitol riots occurred shortly after outgoing President Donald Trump urged a crowd of his supporters to walk to the U.S. Capitol for the joint congressional session certifying the 2020 election victory of President-elect Joe Biden. The rioters were motivated by Trump's continued lies that Democrats orchestrated widespread election fraud delivering a false victory to President-elect Biden.
Vice President Mike Pence was forced to evacuate as lawmakers took refuge behind chairs and in offices. The rioters infiltrated the Capitol where they proceeded to destroy furniture, smash windows, smear excrement across the walls, parade around the Senate floor, and ransack congressional offices.
But at least one Republican member of Congress—Representative Barry Moore of Alabama—is dismissing the unprecedented act of domestic terrorism against the Capitol, all while propping up the same election lies that motivated the insurrection in the first place.
In a pair of since-deleted tweets, Moore scoffed that rioters were arrested while officials overseeing the 2020 election—none of whom have been charged or found guilty of a crime—were not.
Rep. Barry Moore R-AL https://t.co/Y7AMMnPOGj

— Jamie Dupree (@Jamie Dupree) 1610307567.0
Rep. Moore tweeted this out on Saturday about the shooting death of one of the Trump supporters who was attempting to get into the lobby off the House floor, where lawmakers were taking shelter from attackers. The Alabama Republican later deleted the tweet. pic.twitter.com/bfzjel0zSj
— Jamie Dupree (@jamiedupree) January 10, 2021
Moore has since deleted not only the tweets, but his entire personal Twitter account, leaving only his official congressional account.
Moore may have deleted the tweets, but the internet had already archived them.
What is wrong with people. This is crazy stuff! https://t.co/Am5j01g9Yz

— Jim Davies (@Jim Davies) 1610318431.0
Pretty sure if you're a Congressperson publicly questioning the election at this point during an active crisis of n… https://t.co/hrx9CCW187

— Anna Caudill (@Anna Caudill) 1610310380.0
The Democratic-majority House of Representatives is expected to bring an article of impeachment against Trump for his part in inciting the violence on the Hill—a move that could make Trump infamous as the first President to be impeached more than once.
Republicans—many of whom have legitimized Trump's election lies—are urging Democrats not to take this route, with Senator Lindsey Graham (R-SC) saying that it's "time to heal and move on." Other Republican officials have issued similar calls for "unity" in the face of the violence.
Democrats have largely dismissed these calls, assuring that unity and healing can't be achieved without accountability for those who contributed to the conditions that spilt blood in the U.S. Capitol.
Moore's tweets were a reminder for some that superficial unity just won't cut it.
Some are crying "unity" with crocodile tears while some are tripling down. https://t.co/jTQ5Yb4ciq

— Zack Ford (@Zack Ford) 1610308344.0
Unity....yeah, I don't see how with these lunatics. https://t.co/xHJSfWx0U9

— Alycea Faith (@Alycea Faith) 1610308903.0
This is why we cantove to unity without accountability and consequences. This man is a traitor. https://t.co/YEd8nSu9Np

— Patrick Healy (@Patrick Healy) 1610309321.0
In addition to House Democrats introducing an expected article of impeachment on Monday, freshman Congresswoman Cori Bush (D-MO) will introduce a resolution to expel members of Congress "who tried to overturn the election and incited a white supremacist coup attempt that has left people dead."