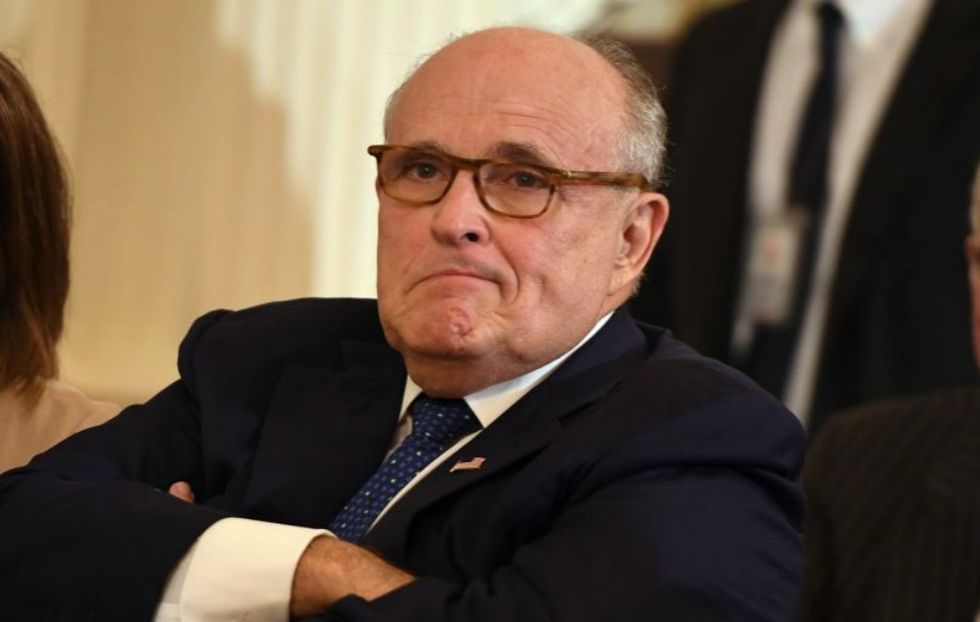 Lawyer of the US president Rudy Giuliani in the East Room of the White House on July 9, 2018 in Washington, DC. (Photo by SAUL LOEB/AFP/Getty Images)
President Donald Trump's personal lawyer Rudy Giuliani is known for making constant gaffes in attempts to defend his client.
He's admitted to potential crimes on the air, claimed that "truth isn't truth," and otherwise routinely demonstrated his ineptitude, but his most recent blunder might just top them all.
Giuliani butt-dialed an NBC reporter not once, but twice, leaving two different voicemails.
In the first, he can be heard discussing international dealings and the need for cash, but it's unclear to whom he's speaking and the context of the conversation is hard to decipher.
After expressing the need to send the other participant in the conversation to Bahrain, Giuliani says:
"The problem is we need some money. [silence passes] We need a few hundred thousand."
It's unclear what delegation is being sought in Bahrain, if any.
In the second call, Giuliani and his associate berate the Bidens, repeating baseless claims that Biden used his office of Vice President to boost his son's business dealings.
"There's plenty more to come out. He did the same thing in China. And he tried to do it in Kazakhstan and in Russia. It's a sad situation. You know how they get? Biden has been been trading in on his public office since he was a senator."
He then begins slamming Hunter Biden.
"When he became vice president, the kid decided to go around the world and say, 'Hire me because I'm Joe Biden's son.' And most people wouldn't hire him because he had a drug problem."
While none of the voicemails are particularly damning, Twitter didn't know whether to laugh or cry at the sheer stupidity of the incidents.
We are ruled by evil clowns https://t.co/UTI98lIrL4

— Paul Krugman (@Paul Krugman) 1572032482.0
booty guiliani https://t.co/YmbpDDvbhL

— Steadman™ (@Steadman™) 1572030640.0
You guys, I don't think Rudy Giuliani is a very good lawyer

— Molly Jong-Fast (@Molly Jong-Fast) 1572032974.0
hearing reports that giuliani has crashed through the ceiling of the new york times with a box labeled CRIME SECRETS

— Sarah Lazarus (@Sarah Lazarus) 1572032219.0
Giuliani slips on a banana peel, his phone with a text message that says "I committed all the crimes" goes flying o… https://t.co/7IQbZtMyDy

— Jess Dweck (@Jess Dweck) 1572032412.0
It's peak Trump that Giuliani, his attorney, butt dialed a reporter and discussed finances and overseas deals. It's… https://t.co/naLUSTSRcW

— Wajahat "Abu Khadija" Ali (@Wajahat "Abu Khadija" Ali) 1572032693.0
Little is known about the full conversation, including names mentioned and what exactly is supposed to happen in Bahrain, but we're sure talented reporters are already scouring for the sc
Keep reading...Show less