Kari Lake was mocked online after praising Donald Trump and Rudy Giuliani as 'heroes' of 9/11.
12 September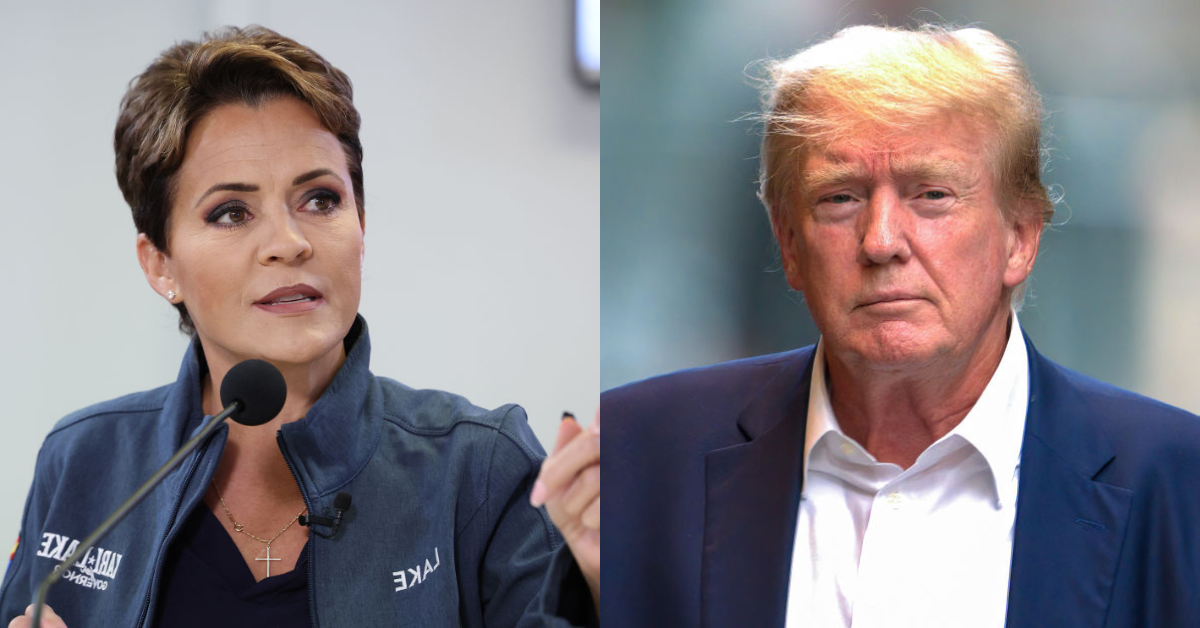 Kevin Dietsch/Getty Images; James Devaney/GC Images
Failed Arizona Republican guberrnatorial candidate Kari Lake was mocked online after praising former President Donald Trump and his attorney, former New York City Mayor Rudy Giuliani, as heroes of the terror attacks of September 11, 2001.
On the 22nd anniversary of the attacks—which resulted in nearly 3,000 deaths and was the impetus for the War on Terror—Lake wrote on X, formerly Twitte, that the two men "were among the many heroes that emerged in the aftermath of 9/11."
She proceeded to criticize the justice system, suggesting they've been "politically persecuted" in the wake of their respective arrests—along with 17 associates—under Georgia's anti-racketeering law for attempting to overturn the 2020 election results.
Lake, feeding into the lie that the 2020 election was stolen, said:

"Today, they are being arrested and politically persecuted for questioning corruption in our Government. We were so busy bringing 'freedom' to countries around the world that we lost it here at home."
You can see Lake's message below.

Trump has long been criticized for disrespecting the memory of those who perished on September 11, even as far back as the very day the attack took place.
On September 11, 2001, Trump, then just a New York real estate mogul, called into a New York TV news broadcast as the station aired footage of the World Trade Center attacks and claimed that his property at 40 Wall Street would now become the tallest building in the area.
That claim turned out to be false; according to the Council on Tall Buildings and Urban Habitat, 70 Pine Street, at 952 feet, became the tallest building in the area after September 11. Trump's building at 40 Wall Street is 927 feet tall, 25 feet shorter than 70 Pine Street.
Giuliani, meanwhile, was highly praised at the time for his major role in the response to the terrorist attacks. After the attacks, Giuliani coordinated the response of various city departments while organizing the support of state and federal authorities for the World Trade Center site, for citywide anti-terrorist measures, and for restoration of destroyed infrastructure.
He made frequent appearances on radio and television on September 11 and afterwards to update the public on the city's disaster response—but his legacy has been tarnished in the wake of his arrest, with his recent mugshot attracting considerable mockery and capping a remarkable fall from grace.
But it was Lake's claim that Trump was somehow ever a 9/11 hero anywhere but his own mind that really got people.
Lake—a known election denier and conspiracy theorist—has continued to defend Trump, often making farfetched statements about the level of support he enjoys.

Earlier this summer, she was criticized after stating if prosecutors wanted to target the former President, they would have to go "through" her and the 75 million Americans who supported Trump and were members of the National Rifle Association (NRA).
She infamously claimed Trump is outsmarting prosecutors investigating his role in the attack on the United States Capitol on January 6, 2021—the day a mob of his supporters attacked the nation's seat of government in a bid to overturn the 2020 election results—only to face considerable derision after Special Counsel Jack Smith charged Trump with federal offenses.