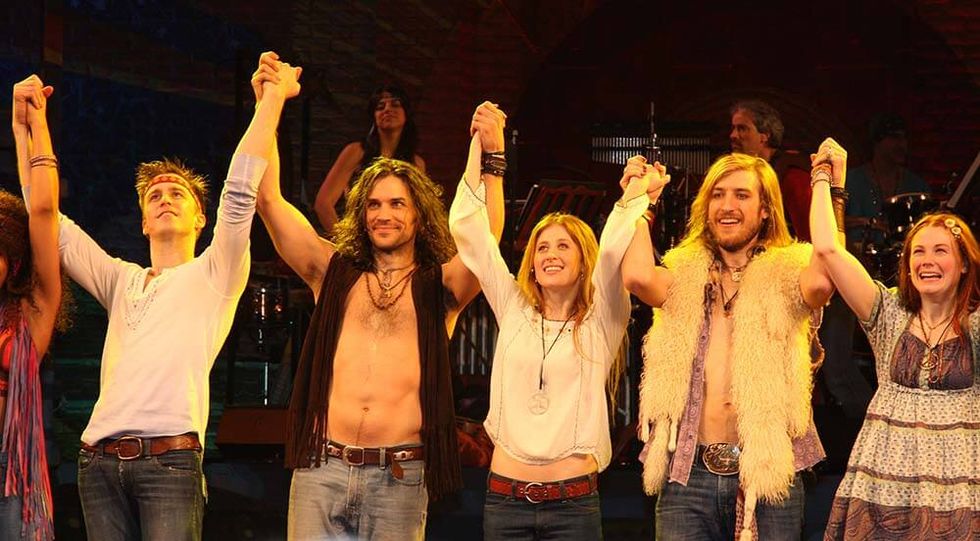 Gavin Creel, Will Swenson, Caissie Levy, Bryce Ryness and Allison Case at the opening night curtain call for the Broadway revival of "Hair: The American Tribal Love-Rock Musical" at Al Hirschfeld Theatre on March 31, 2009 in New York City, New York. (Bruce Glikas/FilmMagic)
This week, the Library of Congress announced' that the 1968 "Tribal Love-Rock Musical" Hair would be the newest original Broadway cast recording to be inducted into the National Recording Registry.
The musical was groundbreaking for its time when it opened in the late 60s at the height of the Vietnam War and military conscription. With its anti-war theme and focus on peace, sexual freedom, drug use, pacifism, and environmentalism, the musical quickly became mainstream due to its message and catchy tunes. Songs from the musical were covered by Barbra Streisand and Diana Ross.
But Hair is not the first groundbreaking musical to be inducted by the Library of Congress. It's the eleventh cast recording to be inducted, following (in order): The Cradle Will Rock (1937), Oklahoma! (1943), Guys and Dolls (1950), My Fair Lady (1956), West Side Story (1957), Gypsy (1959), South Pacific (1949), Sweeney Todd (1979), Kiss Me Kate (1948), and The Wiz (1975).
The induction of Hair coincides with the 40th anniversary of the release of the movie based on the musical, which came out in 1979. It also coincides with the 50th-anniversary production of Hair, which is going on tour in the UK.
Let the summer of love begin! The 50th anniversary production of Hair the Musical opens its 2019 UK Tour at New Wim… https://t.co/85T8q59QVY

— TheatreRoyalBrighton (@TheatreRoyalBrighton) 1553180422.0
Do you love Hair? What's your favorite song and how has the show affected you? Let us know below!
Keep reading...Show less