Ted Cruz sent the CEO of Anheuser-Busch a letter asking them to cut ties with Dylan Mulvaney after Bud Light influencer deal.
19 May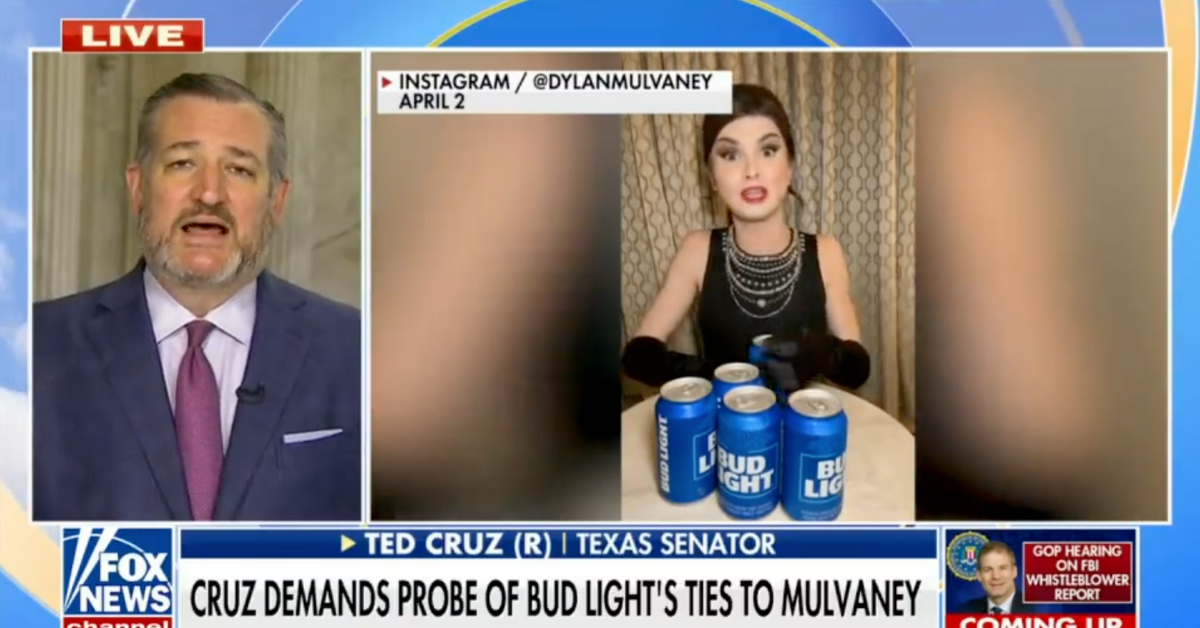 Fox News
Texas Republican Senator Ted Cruz has initiated a Senate investigation into his allegations that Anheuser-Busch, the popular beer company, targets underage consumers in its marketing campaigns.
Cruz, along with Tennessee Republican Senator Marsha Blackburn penned a letter to Anheuser-Busch CEO Brendan Whitworth, urging the company to "sever its relationship" with transgender influencer Dylan Mulvaney and apologize for allegedly "marketing alcoholic beverages to minors."
In the letter, Cruz and Blackburn called on the Beer Institute, chaired by Whitworth, to conduct its own investigation into the matter. They proposed that Anheuser-Busch could avoid a prolonged inquiry by publicly dissociating from Mulvaney and expressing remorse for any potential wrongdoing.
By taking these actions, the senators implied that the investigation could be avoided altogether, raising questions about the true intentions behind their request.
Cruz further promoted his stance on Fox and Friends on Thursday, finding a receptive audience to amplify his concerns, which he suggested mirrors the pushback against Joe Camel, an advertising mascot used by the R. J. Reynolds Tobacco Company for their cigarette brand Camel.
You can hear what Cruz said in the video below.

Cruz said:

"I can't think of a company in modern times that has more alienated its customer base and had so little understanding of who it is who actually drinks Bud Light. This week I sent a letter to the CEO of Anheuser-Busch, along with Senator Marsha Blackburn, because the CEO of Anheuser-Busch is also the CEO or the chairman of the Beer Institute."
"The regulatory body, the industry regulatory that regulates itself and one of the rules that beer companies are supposed to follow is that they're not supposed to market to kids. Remember the whole Joe the Camel thing? Same thing here."
"Well, a massive percentage of Dylan Mulvaney's audience are kids and Budweiser was trying, I believe, with this ill-fated marketing attempt to target teenagers... These are things clearly aimed at teenagers and children younger than teenagers."

Cruz and Blackburn highlighted Mulvaney's appearance in an Instagram post promoting Bud Light during March Madness, in which she showcased a personalized can featuring her likeness.

Mulvaney, a 26-year-old actor who gained a significant following on TikTok by documenting her transition, found herself at the center of a conservative backlash and subsequent boycott, causing a decline in Bud Light sales.
Cruz and Blackburn took issue with the title of Mulvaney's TikTok series, "Days of Girlhood," and her use of the word "girl" in her content, choosing to misgender her throughout their letter. They argued that this choice, along with other aspects of her online presence, specifically targeted and attracted a young audience that falls "below the legal drinking age."
The investigation initiated by Cruz raises questions about the motivations and validity of the allegations.
Critics argue that the senators' focus on Mulvaney's content and association with Anheuser-Busch seems to be driven by political posturing rather than genuine concern for underage drinking.
Many have condemned Cruz's actions.
Anheuser-Busch's partnership has for nearly two months drawn criticism from bigoted social media users who've called for a boycott of the brand and its parent company.

Last month, musician Kid Rock sparked outrage on social media after posting a video of himself shooting cases of Bud Light beer in protest against the company's collaboration with Mulvaney.
Anheuser-Busch has defended its collaboration with Mulvaney, stating the personalized can was sent as a "gift to celebrate a personal milestone and is not for sale to the general public."

The company also said it works with "hundreds of influencers" across its brands "as one of many ways to connect with audiences across various demographics."