At a press briefing yesterday, Sean Spicer continued the Trump administration's refusal to believe that words have specific meanings. When answering questions about the president's claim that former president Barack Obama wiretapped Trump during the campaign, Spicer argued that "wiretapping" in air quotes is not the same thing as wiretapping.
---
The president did use quotes in the two tweets above. He also used "tapp" (without quotation marks) in another tweet. But critics point out that the usage of quotation marks and misspelling does not change the meanings of words, as argued by Spicer as he deployed air quotes around the word wiretaps:
"I think there's no question that the Obama administration, that there were actions about surveillance and other activities that occurred in the 2016 election. The President used the word wiretaps in quotes to mean, broadly, surveillance and other activities."
Spicer's claim caused a 98,000% increase in the number of people searching for the definition of wiretap on Merriam-Webster's dictionary site. According to the site, "Wiretap means 'to tap a telephone or telegram wire in order to get information'; this use of tap means 'to cut in on (something, such as a telephone or radio signal) to get information.'"
Spicer had previously responded to press questions about the wiretapping tweets, saying,
"I'm just going to let the tweet speak for itself."
But the claim that Obama was personally responsible was also contradicted by Spicer, who said yesterday that
Trump "doesn't think President Obama went up and tapped his phone personally."
All this comes on the deadline the House Intelligence Committee set for the Justice Department to provide evidence supporting Trump's claims. No evidence has been provided by the White House or any department in the executive branch. Officials, including FBI Director James Comey, have denied that any wiretapping occurred.
Spicer and other members of the Trump administration seem to be conflating the fact that the Obama administration was investigating Russian interference in the 2016 election with spying on Trump and his allies personally. Kellyanne Conway told CNN that Michael Flynn was wiretapped yesterday, when his conversations were discovered because Russian ambassador Sergey Kislyak's communications were under surveillance.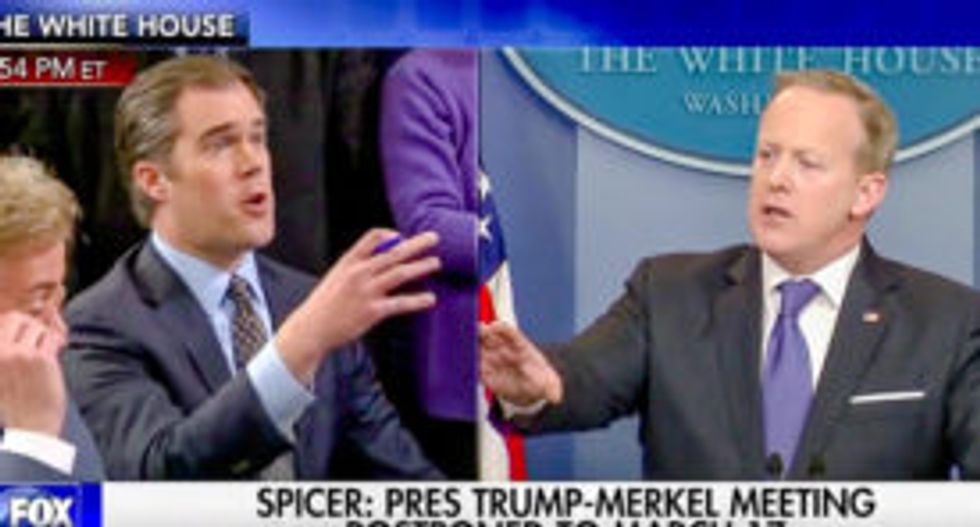 Source
The discussion was raised by NBC News reporter Peter Alexander, who pressed Spicer on a number of contradictory statements from Trump in recent days. On Friday, Alexander asked about Trump's embrace of the Congressional Budget Office's job numbers given Trump's claims that they were false when Obama was president. Spicer replied, "I talked to the president prior to this. And he said to quote him very clearly: 'They may have been phony in the past, but it's very real now.'"
Alexander returned to the topic in Monday's briefing and asked about wiretapping, the CBO numbers, and the claims of voter fraud. After Spicer continued to evade the questions, Alexander asked, "Can you say affirmatively that whenever the president says something, we can trust it be real?"
You can watch the exchange here:
Must-see exchange btwn @PeterAlexander & Sean Spicer on wiretap claim, CBO claim, jobs # claim, illegal voting claim https://t.co/fVWoEtfDcy

— Bradd Jaffy (@Bradd Jaffy) 1489429513.0