[DIGEST: NPR, ABC News, Brookings, New York Times]
When New York City Mayor Bill de Blasio announced in late April an initiative to offer free full-day preschool for 3 year olds, it seemed like an inevitable next step in a country whose investment in public preschool has been growing at a fast clip.
---
Though free pre-K for 3 year olds is still rare — New York is one of the few cities in the nation to offer it — public pre-K for 4 year olds now serves almost 30 percent of American children in that age group. In fact, 42 states and Washington, D.C., have adopted the infrastructure for public pre-K programs for 4-year-olds, many of them free to low-income families.
---
But with New York's initiative alone costing up to $1 billion and Education Secretary Betsy DeVos remaining silent on whether federal funds will be made available, the question arises: does pre-K really make a difference?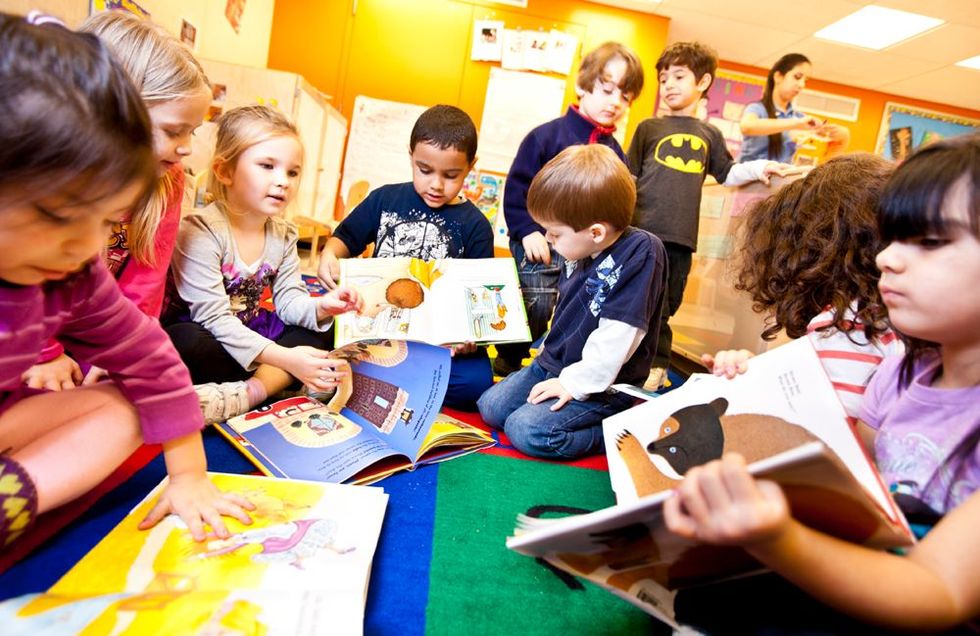 Credit: Source.
df">The Current State of Scientific Knowledge of Pre-Kindergarten Effects" reviews "the evidence on the impact of state-funded pre-kindergarten programs" by some of the biggest names in early-childhood education. Chief among its conclusions and recommendations is that children who attend public pre-K programs are better prepared for kindergarten than those who do not.
---
The team that compiled the report also found that low-income children see the greatest gains —  particularly those who primarily speak another language at home. "There's substantial evidence now that, because they're learning two languages at the same time,
they have stronger brain circuits that support self-regulation," said Deborah Phillips of Georgetown University, one of the authors of the report. "Their capacity to incorporate new information and to switch attention from one task to another — these are the skills they bring."
However, the team pointed out that they aren't suggesting that public pre-K be restricted to low-income and/or non-native English speakers only, as all children benefit from racial, cultural and economic diversity: "Part of what may render a pre-K classroom advantageous is the value of being immersed among a diverse array of classmates," the report notes.
---
The report task force also took a look at specifically which pre-K programs were found to be the most effective — those that focus mainly on social and emotional development, for instance, or those that are more academic skills-based, such as emphasizing numbers and letters. The findings: Programs with a "well-implemented, evidenced-based curriculum" see the strongest results. "What we know is that children bring a vast array of experiences, both strengths and weaknesses," Phillips said. "Some children need more support than others. Some bring vast knowledge and skills."
In all, the report's findings could mean more states will follow New York's lead in expanding their pre-K programs.
"We know there's a precious opportunity to reach children at the moment when they can learn and grow the best," de Blasio said of his expansion plans. "Bluntly, in a society where people are working longer and longer hours and are more stressed in so many ways, it's going to be something a lot of parents think is practically really important for their lives."
---