A new poll is casting some doubt on the oft-cited claim that Democrats commencing impeachment proceedings against President Donald Trump would be political suicide.
The poll, from YouGov, asked:
---
 If President Donald Trump suspended military aid to Ukraine in order to incentivize the country's officials to investigate his political rival, Joe Biden, and his son, would you support or oppose impeachment?
55% of the 2805 people questioned—including 32% of Republicans—would support impeachment if Trump withheld military aid from Ukraine on the condition of investigating Biden.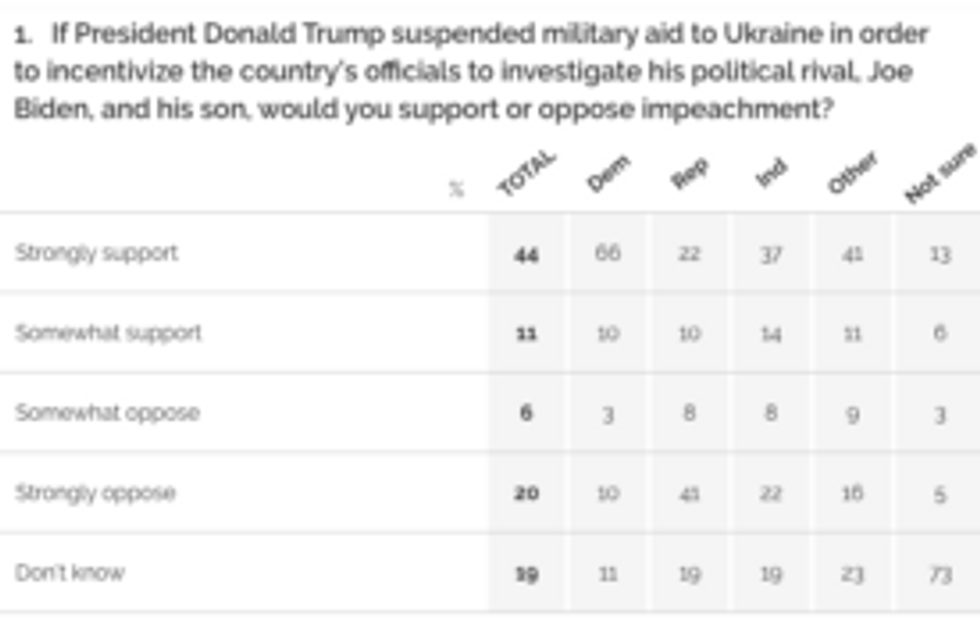 YouGov
It's important to note that the poll was conducted on September 24. Since then, in a whirlwind news week even by today's standards, the White House released a rough transcript of Trump's July 25 phone call with Ukrainian President Volodymyr Zelensky showed the President discussing a military aid package for the country. After Zelensky expressed gratitude, Trump said "I would like you to do us a favor though." He then urged Zelensky to investigate Biden.
A former advisor to Zelensky's transition team, Serhiy Leshchenko, said that talk of Biden was an understood precondition for Ukrainian officials to talk with the White House.
With these new developments, it's likely that many no longer consider the hypothetical floated by YouGov to still be a hypothetical.
It still remains undetermined what those questioned would consider confirmation that Trump withheld aid from Ukraine. Many Republican lawmakers are saying that the White House's transcript doesn't confirm that Trump required Ukraine to investigate Biden. Democrats say it confirms exactly that.
Regardless, people are noting a change in the impeachment tide.
Whoa. This was from two days ago. I wonder what the numbers will look like two days from now. https://t.co/v99ooDA4EW

— Daniel W. Drezner (@Daniel W. Drezner) 1569519650.0
There's a steamroller of public opinion comin'. https://t.co/SDNeSHdH75

— Tea Pain (@Tea Pain) 1569525753.0
Wow. Tide is shifting *very* quickly. 22% of Republicans strongly support impeachment, 10% of Republicans somewhat… https://t.co/oDoyJ0Has3

— Zach Wahls (@Zach Wahls) 1569511948.0
Revised tweet: Reputable poll finds that if Trump suspended aid to Ukraine to push for a Biden probe, most American… https://t.co/orTP8gWj72

— Doyle McManus (@Doyle McManus) 1569523409.0
Huge impeachment news in this poll. 32% of REPUBLICANS support impeaching Trump for abuse of power captured on Ukr… https://t.co/WW1RbzjBmG

— Kai Newkirk (@Kai Newkirk) 1569529581.0
Another SurveyMonkey poll asked a more straightforward question:
"Impeachment is the first step in the process of removing a president from office. Do you think the House of Representatives should impeach President Trump?"
Forty-five percent said yes. Fifty-three percent agreed with House Speaker Nancy Pelosi's decision to launch an impeachment inquiry, indicating they'd be amenable to Articles of Impeachment if the facts led them there.
Huh. Support for impeachment increasing. One might think Congressional leadership impacts public opinion. Who wo… https://t.co/pBUcJixEAg

— Philippe Reines (@Philippe Reines) 1569530106.0
Here's the first polling on impeachment post-Ukraine story breaking: 53% support an #ImpeachmentInquiry 45% suppor… https://t.co/AVCDAH2kSR

— Charles #GetCovered-ba (@Charles #GetCovered-ba) 1569515760.0
Support -- and intensity -- are strongly in favor of the House's impeachment inquiry. https://t.co/ncqgvKsVDo https://t.co/DdMyQmbbqq

— Colin Seeberger (@Colin Seeberger) 1569510387.0
More polling will be available in the coming days.
-----
Listen to the first season of George Takei's podcast, 'Oh Myyy Pod!' where we explore the racially charged videos that have taken the internet by storm.
Be sure to subscribe here and never miss an episode.