Former Secretary of State Hillary Clinton has some experience with impeachment. While her husband Bill was President, the Independent Counsel investigation led by Ken Starr probed every aspect of her life before and during her time in the White House as well as her husbands.
While Starr failed to find any criminal wrongdoing by the First Lady, he did after his four year investigation discover her husband's extramarital affair with a White House intern.
---
The affair was enough for the Republican controlled House of Representatives to issue Articles of Impeachment and vote to impeach Clinton, making him only the second President to be impeached in US history. He was later acquitted in the Senate trial.
Now President Donald Trump is facing impeachment with far more than an illicit affair backing it. And Secretary Clinton stated it plainly for people on Twitter.
On Thursday morning, Clinton posted:
"Make sure your family and friends see the evidence for themselves:"
"The president asked a foreign power to interfere in the 2020 election for his own political gain."
"Americans deserve free and fair elections. He must be held accountable."
Included in her post was a link to the website "trumpandimpeachment."
The website banner reads:
"Get the facts on impeachment"
The homepage of the website reads:
"The facts are clear: Trump asked a foreign power to interfere in the 2020 election for his own political gain."
"President Trump demanded that Ukraine investigate his political rival before he would give them military aid."
"If anyone else engaged in a similar bribery scheme, they'd be charged with a crime."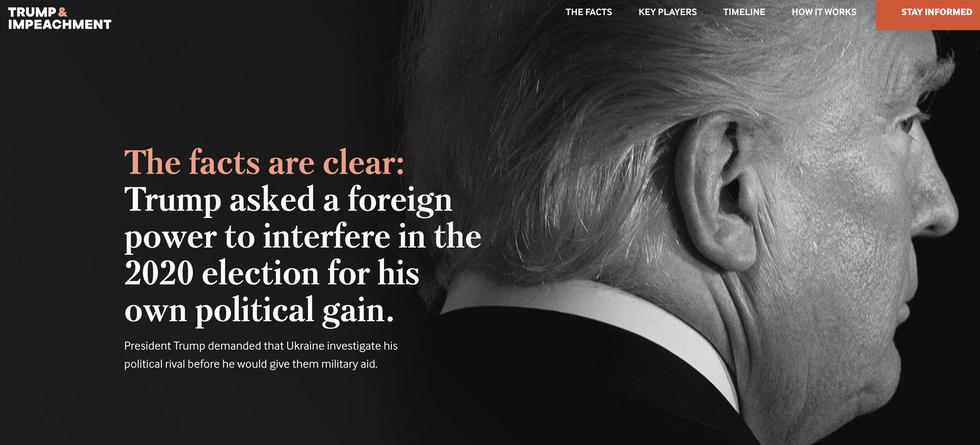 trumpandimpeachment.com
Visitors to the site have the option to review:
the facts
key players
timeline
how it works
There is also an option to sign up for updates to "stay informed."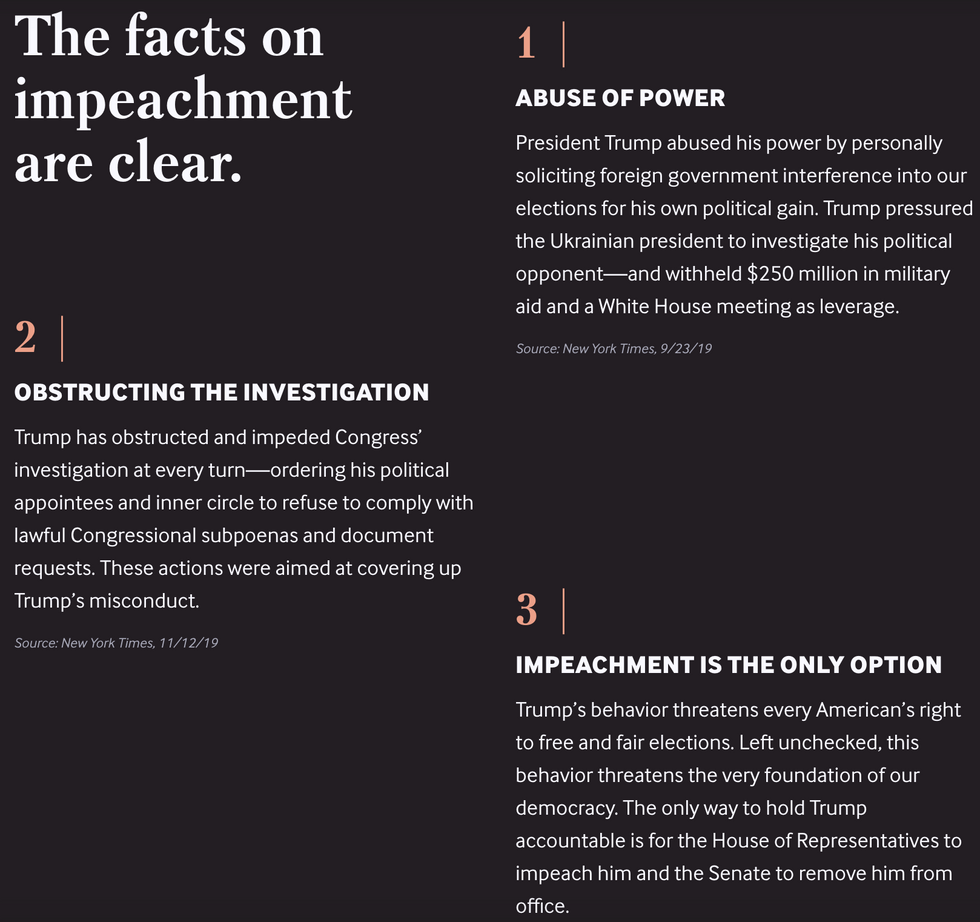 trumpandimpeachment.com
People appreciated Secretary Clinton's contribution to get the facts out to the public.
And some suggested a way others could do the same.

Of course, Trump supporters repeated the rhetoric they heard from the President and his allies.
But while many MAGA members camp out in Clinton's comment section, not everyone was buying what Trump has been selling.
Regardless of where a person's politics fall on the spectrum, understanding how the impeachment process works and being able to distinguish facts from lies and rhetoric is key.
The book, A Citizen's Guide to Impeachment, is available here.