After working for 100+ days on chipping away at the legacy of President Obama, Donald Trump turned his sights on the priorities of former First Lady Michelle Obama.
In 2012, the Obama administration phased in new more stringent nutrition standards for public school lunches, which then First Lady Michelle Obama advocated as part of her Let's Move anti-obesity initiative. Yesterday, Trump Agriculture Secretary Sonny Perdue announced he would be relaxing those standards.
---
As a result of the new rules, any school that receives public funding for free or reduced school lunches for low-income students will be able to serve 1% and even flavored milk instead of the nonfat milk currently mandated; they'll be able to apply for waivers to the whole grain requirement, which now requires grains to contain more than half whole grain; and they will be able to delay a planned reduction in sodium. The new rules leave in place some of the Obama era regulations, such as the requirement that students take fruits and vegetables at lunch.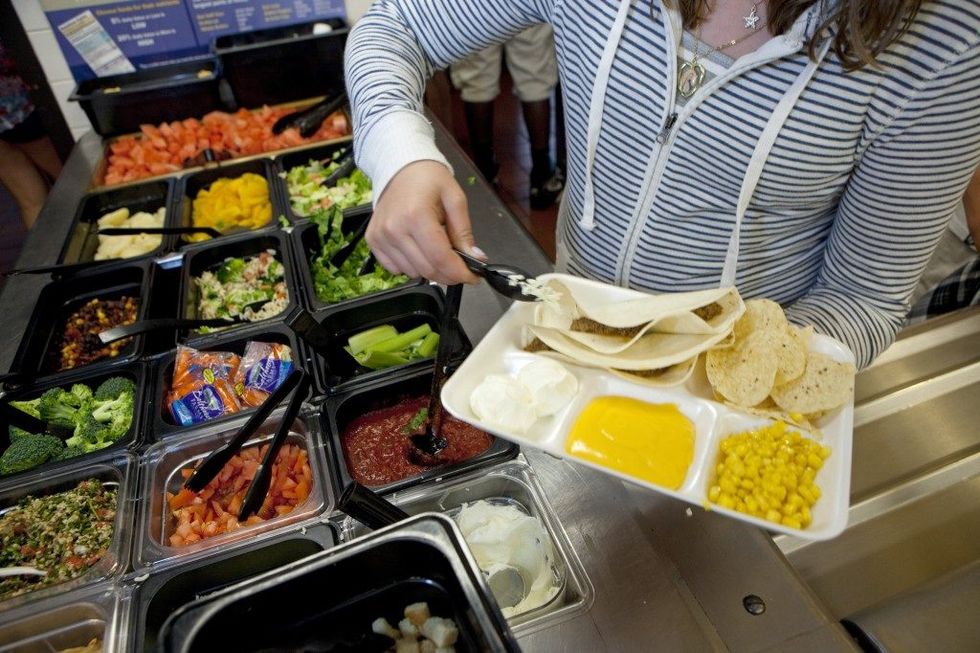 Credit: Source
These changes are codified in the bipartisan budget resolution Congress is set to pass later this week.
Advocates of the Obama nutrition standards say such changes will harm students' health. Margo Wootan, a lobbyist for the Center for Science in the Public Interest, said "by forgoing the next phase of sodium reduction, the Trump Administration will be locking in dangerously high sodium levels in school lunch."
But Perdue insists, it's simply about what kids will or won't eat. "If kids aren't eating the food, and it's ending up in the trash, they aren't getting any nutrition - thus undermining the intent of the program," he said. Perdue claimed that at schools in the South, kids are throwing away the whole grain grits because they have black flakes in them.
But the Let's Move healthy foods initiative isn't the only passion project of Michelle Obama's that the Trump administration is looking to roll back. According to an internal Trump administration memo, the 2015 Obama initiative "Let Girls Learn," which helps enable adolescent girls in developing nations to get an education, would be ended immediately. Employees were instructed to stop using the "Let Girls Learn" name.
Despite the memo, a subsequent statement from State Department spokesperson Heather Nauert insisted there have been no changes to the program. "The Administration supports policies and programs to empower adolescent girls, including efforts to educate them through the completion of secondary school. We are committed to empowering women and girls around the world and are continuing to examine the best ways to do so."