[DIGEST: USA Today, Yahoo, geek.com, Fortune, CNET, Forbes]
Before this year's Silicon Valley Comic Con (SVCC) – themed "The Future of Humanity: Where Will We Be in 2075?" – Apple co-founder Steve Wozniak (Woz) discussed his thoughts about the future. Woz expressed ideas on everything from future business growth and everyday life on Earth to more advanced technology and outer space.
---
Co-founder of Apple and the SVCC
Living in Los Altos since creating Apple with Steve Jobs in 1976, Woz has a history of accurate forecasts – he successfully predicted the invention of portable laptops in 1982. Even after departing Apple, Woz has remained a principal figure on the Silicon Valley technology scene. When he helped create the SVCC in 2016, he wanted to design something unique, beyond the traditional Comic Con comic book scene.
Woz told cnet.com: "We'll have the popular culture side of Comic Con, but we'll mix in a lot of the science and technology that's local here in Silicon Valley," he said. "It seems like [tech and geek culture are] made for each other in a lot of ways."
The conference, which ran from April 21 to 23, included robotics and virtual reality (VR) exhibits, and discussions on future technology, such as flying cars and implanting computers into people's brains. The 2017 SVCC also hosted the 30th anniversary of Star Trek: The Next Generation, and featured appearances from actors William Shatner and John Cusack and former astronaut Buzz Aldrin.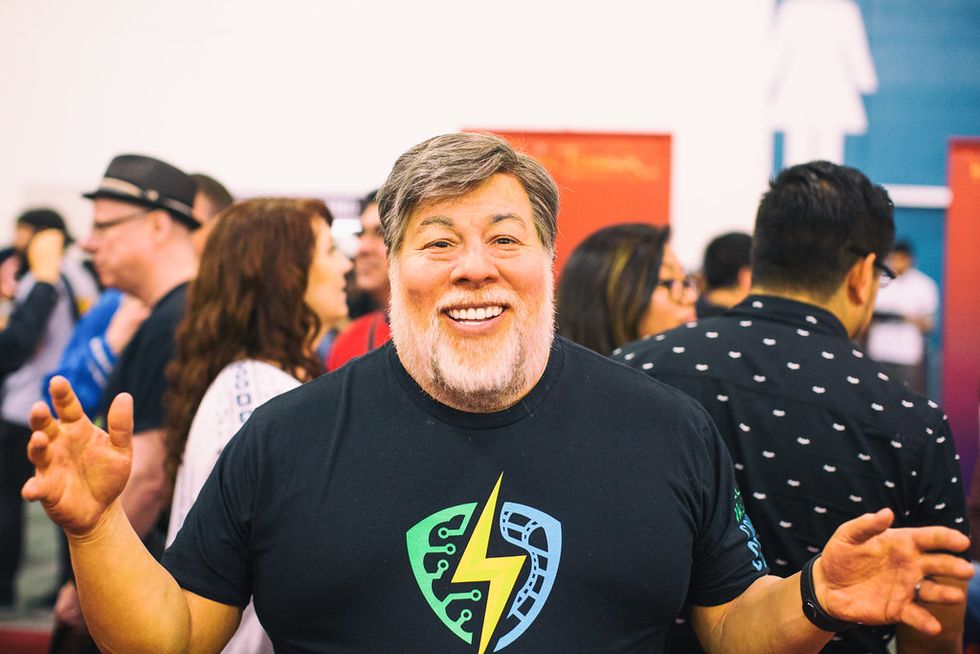 Steve Wozniak. (Credit: Source.)
Business Forecasts
When Woz helped to found Apple, he said he believed it was a computer for the future. He still believes that today.
Woz told USA Today in an interview, "Apple will be around a long time, like IBM," established in 1911. "Look at Apple's cash," he said, estimated at $246.1 billion as of the last fiscal quarter. "It can invest in anything." As for the year 2075, he added, "It would be ridiculous to not expect [Apple] to be around. The same goes for Google and Facebook."
Artificial Intelligence and VR
By 2075, Woz predicts artificial intelligence (AI) and VR will dominate people's lives. AI will allow consumers to conduct daily activities such as shopping, communication, and entertainment through smart surfaces, he said. In addition, patients will use the technology
to receive doctor-free diagnoses and prescriptions. He said, "The question will be ethical, on whether we can eliminate the need for physicians."
Likewise, Woz expressed high expectations for VR, and told cnet.com: "VR is going to be popular to everyone that tries it. And the only factors that keep you away from it are size and cost. It can eventually come down to be very convenient." Eventually, he said, "it won't be a big heavy thing you have to wear."
New Landscape for Earth and Beyond
Woz does, however, imagine people will require special outerwear for trips outdoors in specially designed desert cities to solve future housing problems. He also envisions shuttles to transport people between dome-shaped buildings.    
While people would continue to reside on Earth, Woz predicts that Mars will be zoned for heavy industry. In fact, he wants to be a part of the pioneering missions, even if he can never return.
"Absolutely I would go," he said.
"It'd be like discovering the new part of the world, you're the first ones there and actually setting it up!" Woz explained, "Creating a living community on Mars involves so many steps that have to work just right, that's what computer programming is like to us geeks!"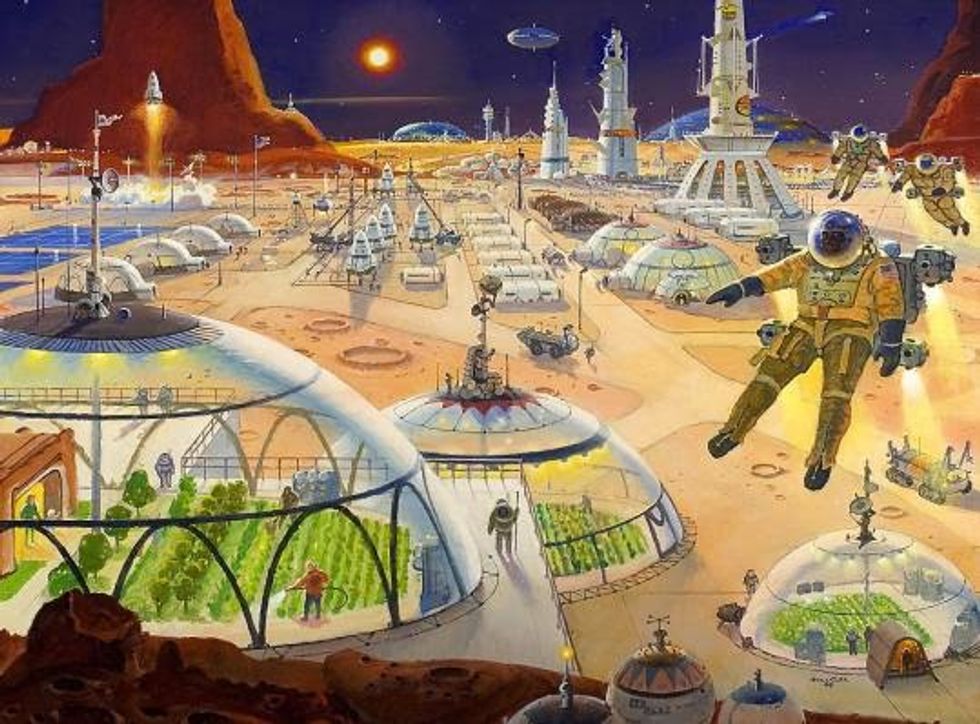 An artist's representation of a Mars metropolis. (Credit: Source.)
Wozniak is also a realist. "The energy to get to Mars... there are so many difficulties we haven't solved yet," he said. "Will they get solved in 75 years... I don't know."
In another dose of reality sure to disappoint many SVCC fans, Woz says he only believes in a "random chance" that people on Earth will communicate with extraterrestrial beings. "It's worth trying," he said, "but I don't have high hopes."
In the end, Woz said, the trouble with predicting the future is that it's constantly changing. For instance, he says, "Who could have foreseen the rise of an Uber a decade ago?"
So, despite the 2017 SVCC's futuristic theme, Woz said – as an engineer – he prefers to focus on what is possible today.
"The future is going to be filled with who knows what," Woz said. "This is how technology always goes – trying to make people into the superheroes that are in the comics."