[DIGEST: ABC, ScienceAlert, Payments, Independent, Government Technology]
In early August, the Wisconsin tech company Three Square Market hosted a chip party for its employees. This wasn't about chips and dips, though. 50 employees — about half the company — agreed to have tiny microchips embedded in their hands in a group implantation event. The volunteers now have these superpowers: By waving their hand over a chip reader, they can purchase food and beverages in the company's break room, unlock secured doors, and access computers.
---
The chip uses radio frequency identification (RFID) technology and near field communication (NFC) to communicate with systems throughout the building. The chip-bearer uses their hand in the same way that smartphones can be used to make a purchase via a mobile wallet or app.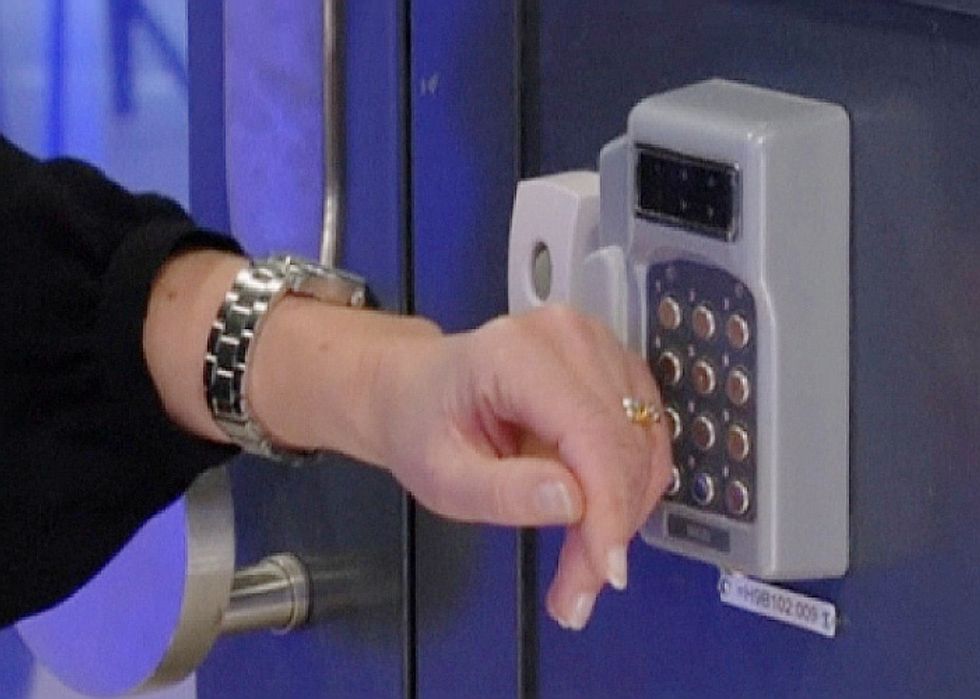 Credit: Source.
"Getting chipped" is completely voluntary. Employees who underwent the procedure said they wanted to be among the first to experience the technology. The group of employees also provides the company with an onsite test group of the company's new product before it reaches the broader consumer market.
Patrick McMullan, Three Square Market's president and COO, said the process felt like getting an ordinary immunization and took about 90 seconds. A trained tattoo artist implanted a chip between his thumb and forefinger. McMullan said that if an employee wanted to remove it for any reason, extrication was as simple as removing a splinter.
"The majority of employees in our headquarters are running full-speed into doing this," McMullan said. "[Participating employees] are very enthusiastic about it because they're on the leading edge of something that is new," he said. "When you're a technology company, you're enthusiastic about being innovative. They're looking forward to [discovering] what it can do and helping us develop other applications."
Variations of implantable chip technology have played a role in science fiction for decades, and characters in The X-Files, The Matrix, The Hunger Games, Law & Order: SVU and Doctor Who all grappled with involuntary implantation of devices used to monitor or track them. The technology raises the specter of "Big Brother," especially when a workplace offers to chip its employees.
McMullan said that the chips he and his employees now bear are not fitted with GPS technology and cannot be used to track an employee's location. People who are concerned about privacy should be more concerned about the technology in their smartphones or Facebook, he says, which track and monitor their users' activities.
"You have more tracking information on your cell phone than you can possibly imagine," McMullan said. "People that are concerned about [being tracked] need to throw their phones away."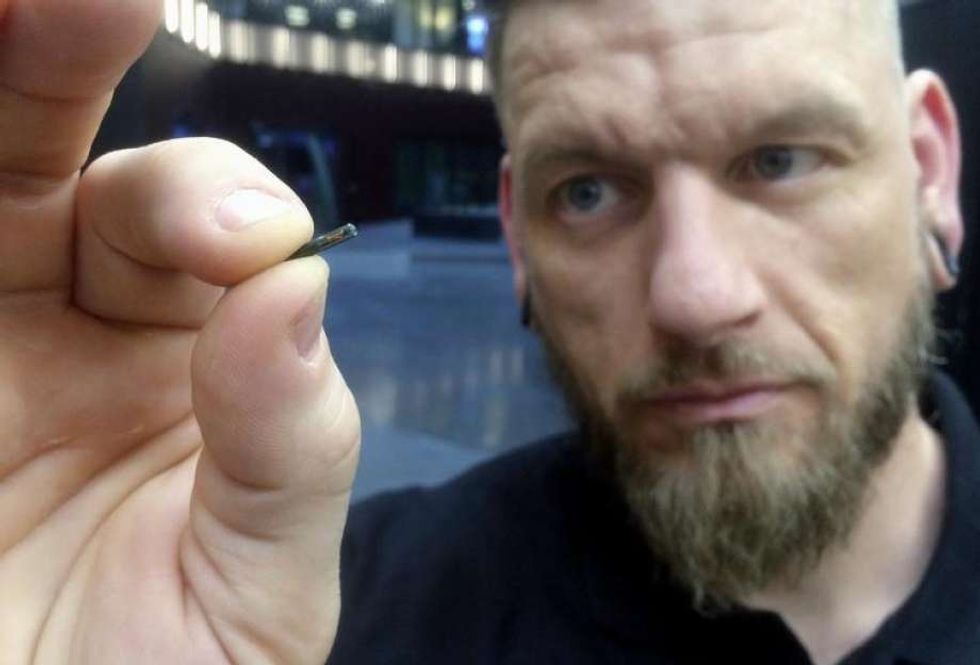 Credit: Source.
This isn't the first voluntary, real-world use of implantable chip technology. In Sweden, more than 2,000 people have been implanted with biometric technology. Most of them are affiliated with the tech industry, but once a person has a chip, they can coordinate with other entities that utilize RFID technology. For example, the state-owned rail company SJ is coordinating to offer passengers the option of using a biometric chip implanted into their hand in lieu of a paper train ticket, and a chain of Swedish gyms lets clients use their chip as a membership card.
"As North Europe's largest train operator and one of the top 10 digital companies in Sweden, we are at the forefront of digital developments," said SJ's spokesperson. "This is an interesting project that gives us ideas of how to enhance the digital customer experience even further."
But some people remain wary. VeriChip, a Florida company, developed an implantable chip the size of a grain of rice that could carry a person's medical records. The chip could be scanned in emergency rooms and could save lives. However, the company's own research found that 9 out of 10 people were uncomfortable with the idea of implantable chips, citing concerns about privacy and surveillance. On that other hand, that's exactly why chip technology has become so popular — with pet owners.