[DIGEST: STAT News; Advisory Board Company; The Verge]
Stanford, the University of Pennsylvania, University of Pittsburg, Memorial Sloan Kettering Center and other top medical research institutions are breaking the law and putting patients at serious risk, according to an investigation by STAT News. But the government is doing almost nothing to enforce it.
---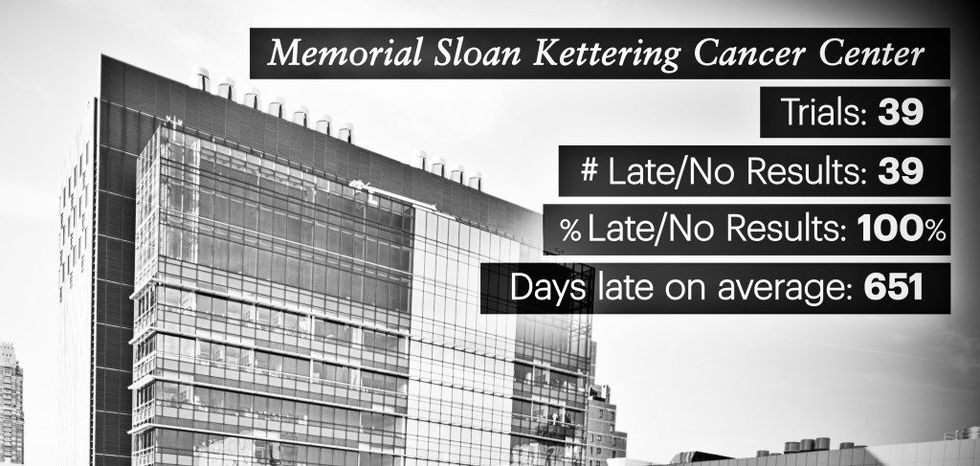 Credit: Source.
A federal law requires medical research conducting human clinical trials to report study results on the safety and benefits of medical treatments within a year of completing a study. Congress passed the law to ensure that findings from human drug and medical device tests were available on the National Institute of Health's website, ClinicalTrials.gov, to prevent companies from hiding data that would hurt pharmaceutical sales. But many if not most institutions have ignored this requirement, submitting 95 percent of results either after the deadline or not at all.  This has left doctors and patients without essential information about potential dangerous side effects of medical treatments.
Late reports have real world consequences. For example, a University of Indiana researcher studying Avastin, a controversial treatment for breast cancer, failed to report that the drug was so harmful that the trial was canceled prior to completion. Doctors could have benefitted from that information, but the data was not made public; several years later the FDA
To read more, continue to the next page.
concluded that Avastin should not be used to treat breast cancer.
The Food and Drug Administration is empowered to fine companies up to $10,000 a day per trial for late reports. According to STAT, which published a detailed report on institutions that are violating the law, the FDA could have collected approximately $25 billion in fines over the past seven years, but thus far has not acted.
Lack of enforcement likely drives this widespread non-compliance. Most of the medical researchers required to report their findings either have not ignored this requirement or have submitted their reports late. Some of the missing reports include information about serious side effects of experimental drugs.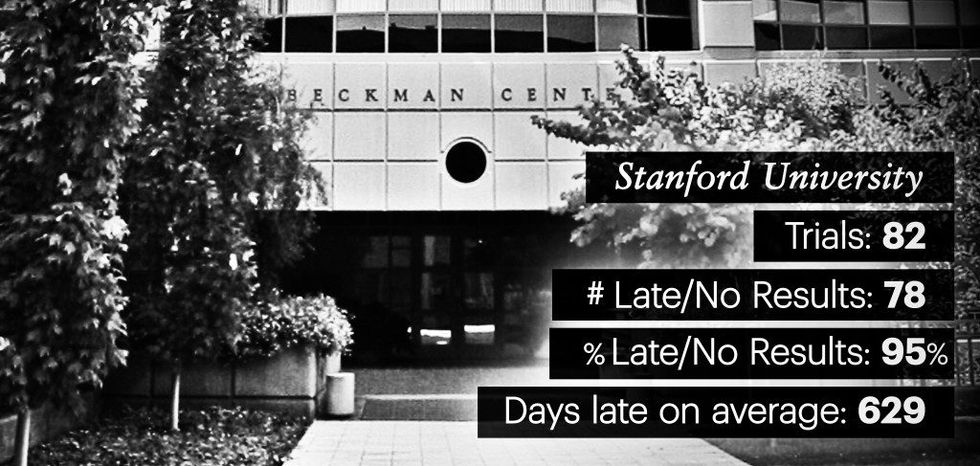 Credit: Source
Several of the worst offenders were top medical research institutions that receive a large amount of NIH funding. Six organizations either did not submit reports or submitted them past the deadline 100% of the time. Even scientists working directly for NIH – the very entity that oversees the reporting mechanism – violated the law.
In a recent statement, NIH director Francis Collins said the findings are "very troubling."
Recently two officials from the World Health Organization issued a statement calling better enforcement of clinical trial reporting. Marie-Paule Kieny, an assistant director-general at the WHO, and Dr. Vasee Moorthy, a leader of WHO's vaccine program said that the STAT study, along with a separate study published in BMJ Open, "have confirmed beyond all doubt" that reporting on human clinical trials is "unacceptably low." They warned that late reports can 
To read more, continue to the next page.
"lead to exposure of future volunteers to risks already identified but not publicly available."
Some institutions claim that they simply do not have the time to follow the federally-mandated reporting requirements. A Stanford communications official told STAT news that the researchers conducting the studies find the process for reporting their data too onerous "given the multiple existing restraints on their time" and lack of funding for additional staff. Some experts also suggest that institutions delay reports to appease corporate sponsors for commercial reasons.
But given the importance of the information, some argue that there is no excuse for non-compliance. Jennifer Miller, a medical ethicist from New York University, argues that "there is no ethical justification for ignoring the law."
Because access to the information can help save lives "it's not OK to say, 'I'm too busy to follow the law.'" Collins believes all institutions must meet the mandates of the law, and that non-compliance is not an option.
The NIH has publically recognized the issue of non-compliance and is pushing to have all institutions report findings on time. Collins said that starting next spring the NIH will institute new ClinicalTrials.gov rules that will give the NIH and FDA "a firmer basis for taking enforcement actions." If institutions fail to meet the reporting deadlines, they risk losing their NIH funding.