[DIGEST: NBC, NPR, Science Direct, Health Leaders Media]
Each year, an estimated 19 million people around the world acquire sepsis, an infection that enters the bloodstream and leads to catastrophic organ failure. It is the number-one cause of death in hospitals, the most expensive condition to treat in hospitals, and has some of the highest readmission rates of any disease. In the U.S. alone, more than 300,000 patients die of sepsis every year.
---
For centuries, it has been one of medicine's greatest challenges. Current antibiotic treatment protocols are only marginally effective, and up to 60 percent of patients who develop this unpredictable and fast-moving condition will die — many of them children. However, a controversial new treatment may improve the odds.
Dr. Paul Marik, a critical care physician at Eastern Virginia Medical School in Norfolk, VA, has developed what he says is an inexpensive and effective treatment for sepsis. Marik had read studies about the connection between Vitamin C and improvements in patients with sepsis, and created an off-label treatment that combined Vitamin C with the steroid hydrocortisone and another vitamin, thiamine. He administered the treatment intravenously to a critical patient.
"Her kidneys weren't working. Her lungs weren't working. She was going to die," Marik said. "In a situation like this, you start thinking out of the box."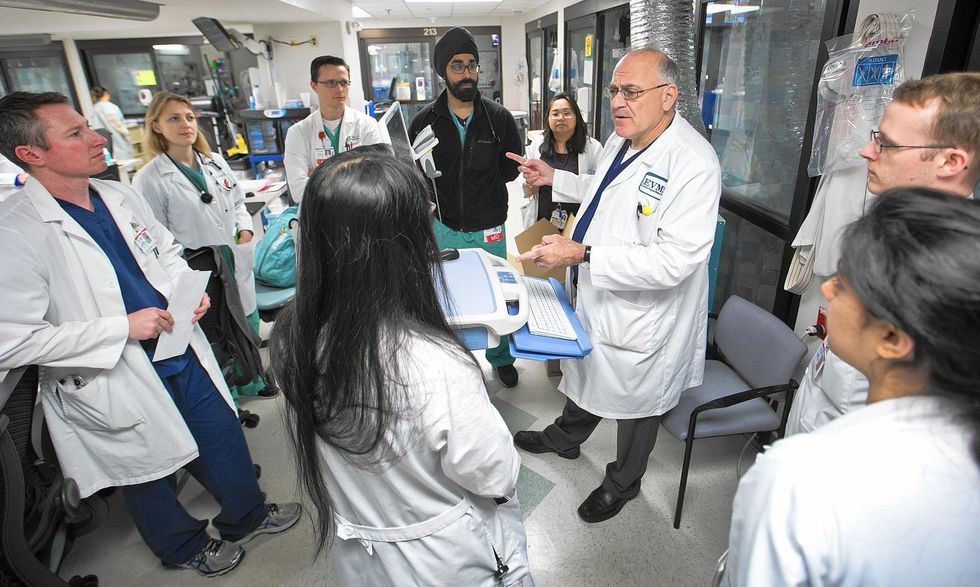 Dr. Paul Marik speaks to his colleagues. (Credit: Source.)
The patient left the hospital within three days. With those encouraging results, he began treating other sepsis patients with the same combination, and in the year since he began using it, sepsis has become a manageable condition at his hospital.
"We haven't seen a patient die of sepsis since we began using the combination therapy a year ago. We have completely changed the natural history of sepsis," said Marik.
Now other hospitals and ICUs are beginning to adopt the treatment. "I have colleagues across the country who are using it, and they are telling me they are seeing exactly what we see."
"Dr. Marik has developed a brilliant and elegantly simple hypothesis in the treatment of sepsis," said Richard Homan, MD, President and Provost of EVMS and Dean of the School of Medicine. "The implications of the findings are profound and, if replicated, may transform the treatment of sepsis worldwide."
But is the treatment too good to be true? There are skeptics.
When Marik published the results of his experiences with the Vitamin C treatment in the medical journal Chest, critics responded by saying that his limited experiences don't count as proper research; his paper is based on the results seen with only 50 patients.  Others criticize his treatment as an off-label, improper use of the medications. Others are concerned that the treatment is so simple — and so widely available — that lay-people might try to use Vitamin C on their own to cure infections.
"The fact that it's widely available for consumer purchase now — and vitamin and supplement manufacturers are well known to push the boundaries of acceptable advertising — I wouldn't be surprised to see manufacturers use this story as 'proof' that vitamin C is good for infections, and so on," said Dr. Joseph Ross, an internist at Yale University.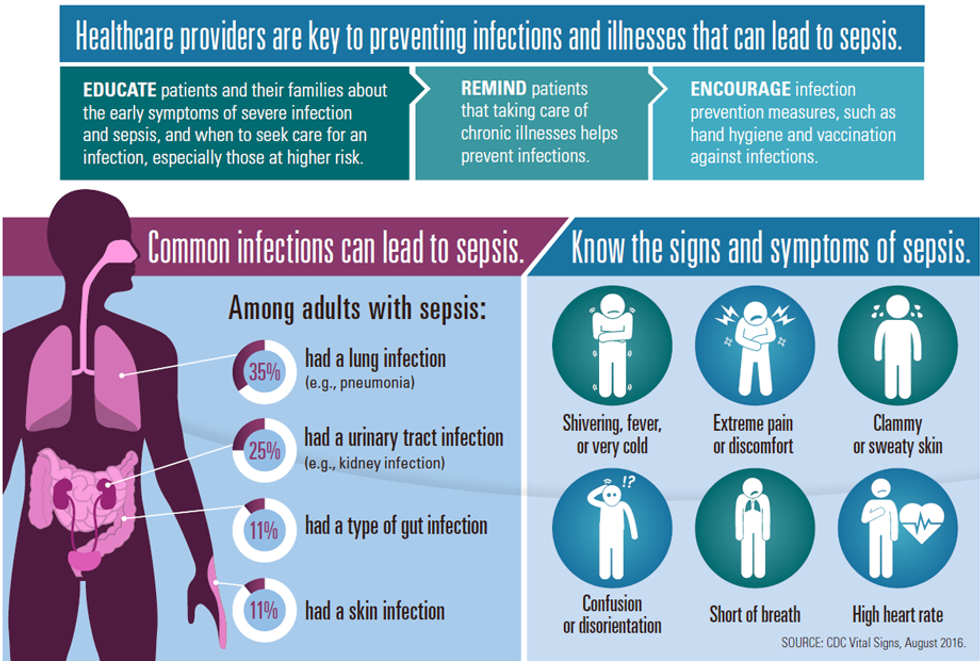 Credit: Source.
It's further worth noting that the pharmaceutical industry has invested billion of dollars into finding a cure. Marik's cure depends on widely available, inexpensive medications, and costs a mere $40.
Before the cure will be widely accepted, more studies will need to validate Marik's results. Dr. Craig Coopersmith, a surgery professor at Emory University School of Medicine and a top sepsis researcher, says results "can look really exciting when you do it on a group in one hospital with one set of clinicians, and then when you try to validate with a larger group in multiple centers — thus far we've been unsuccessful with anything."
But to Marik, there is no time to waste when patients could be saved right now. "To do a [randomized control trial] you need a lot of money and it takes three or four years… In the meantime, millions of patients are going to die while they wait. I say, what have you got to lose?
"There is no evidence of harm. Initial results are very good. The other doctors who have tried it are happy with the results. This becomes important because we think, in our setting, it is unethical not to do it."