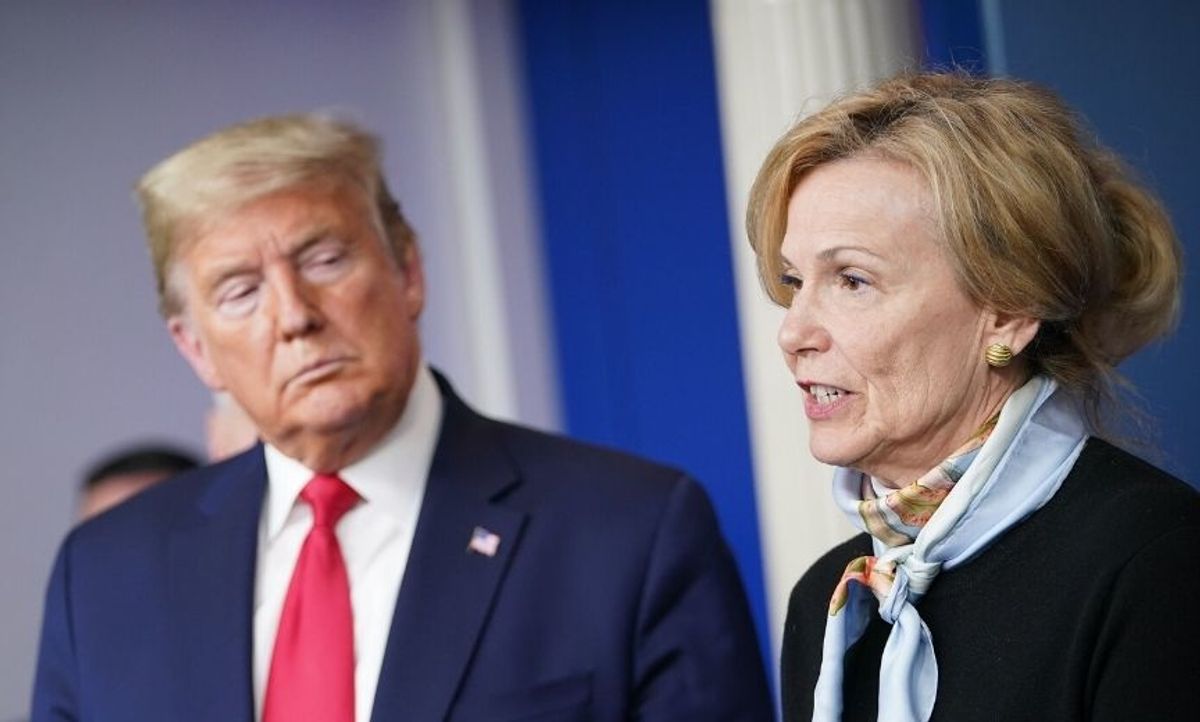 MANDEL NGAN/AFP via Getty Images
The global pandemic has killed thousands of Americans and unemployed millions more, but if you're looking for some heartening assurance that the President of the United States has the situation under control, you should probably stop reading.
Acting Homeland Security Under Secretary for Science and Technology William Bryan gave a presentation on the most effective ways to eliminate the microscopic saliva droplets through which the virus is spread from surfaces.
Bryan mentioned that it was harder for the virus to survive in sunlight and that common disinfectants like bleach and isopropyl alcohol were effective at preventing transmissions through shared surfaces such as kitchen counters.
That was when Trump wondered aloud about the possibility of injecting UV light and disinfectants into human bodies in order to cure the virus.
Watch below.
Trump said:

"I see the disinfectant knocks it out in a minute, one minute. Is there a way we can do something like that? By injection, inside or almost a cleaning? Cause you see it gets in the lungs and it does a tremendous number on the lungs, so it'd be interesting to check that. You're gonna have to use medical doctors, right? But it sounds interesting to me."
The dangerous suggestion stunned viewers and nearly broke the internet, but one of the most telling reactions occurred in real time.
One camera caught the reaction of Dr. Deborah Birx, a longtime physician, global health and vaccine expert, and a response coordinator for the virus. Birx has been walking a common tightrope of the Trump administration: trying to dispense factual information while also trying not to contradict the President.
In that moment, the two efforts became mutually exclusive, and the look on Dr. Birx's face said it all.
Watch below.
Birx's expression seemed to say what people were thinking: We're in deep excrement.
Some thought the look was more fitting set to music.
Is no one really going to say anything?
In case you're on the fence: don't consume bleach.
For a deeper look into the dangers of the Trump presidency, check out A Very Stable Genius, available here.
Keep reading...Show less