Republican Representative from Louisiana and House Minority Whip Steve Scalise tried to take heat off President Donald Trump who is still facing backlash over racist tweets posted Sunday attacking four Democratic Congresswomen. The Trump tweets follow a pattern of abuse directed at women and people of color by the President.
But Scalise implied the abuse was justified due to unfair treatment received by Trump from Democrats like the four women of color he recently targeted.
---
Scalise stated:
"We had disagreements with a lot of Barack Obama's policies, but we never disrespected the office. I called him President of the United States, as we all did."
Scalise added:
"If he asked us to go meet with him at the White House, we went. We expressed our disagreements in a respectful way, but what they continue to do to go after him personally, to call for impeachment of the President from day one..."
But despite Scalise's claims that Republicans always referred to Obama as President and respectfully attended all meetings Obama held at the White House, facts indicate otherwise.
Colorado GOP Representative Doug Lamborn called Obama a "tar baby" in 2011 and another said in 2012 it was time to send Obama "back to Kenya." The GOP also routinely ignored invitations from Obama despite Scalise saying otherwise.
There are even videos outlining how poorly President Obama was treated while in office.
Despite no cloud of Russian interference or lies about meetings with foreign operatives hanging over Obama, GOP members of Congress even spoke of impeachment. Scalise, when asked about it in 2014, refused to say it was not a possibility.
People noted everything Scalise complained about—as his justification for racist tweets from Trump—was done by Republicans while Obama was President.
The gaslighting is always so exhausting. We all know what the President did and who he is. Everyone. On all sides.… https://t.co/gWhhzWb8KC

— Chris Hayes (@Chris Hayes) 1563312262.0
Steve Scalise just said that unlike Democrats today, when Republicans took issue with Barack Obama, "We expressed o… https://t.co/W6MwAgyZIs

— Paul Waldman (@Paul Waldman) 1563287297.0
2009: Joe Wilson calls Obama a liar 2011: Doug Lamborn calls Obama a "tar baby" 2012: Mark Meadows says Obama sho… https://t.co/9z5wn3JCOO

— JM Rieger (@JM Rieger) 1563299239.0
Trump tool Steve Scalise while defending the racist idiot tells the press "House Republicans never disrespected Oba… https://t.co/swfrkgHVpZ

— Stone 🥶 (@Stone 🥶) 1563303183.0
Steve Scalise says Republicans treated the office of the president respectfully when Obama was in office. OK...

— Domenico Montanaro (@Domenico Montanaro) 1563287409.0
Every time Steve Scalise's name comes up—"David Duke without baggage"—should be a recurrent lesson in moral philoso… https://t.co/sS1bNxrb6D

— Richard Yeselson (@Richard Yeselson) 1563313869.0
Steve Scalise, as one of your colleagues famously said at Obama's joint address to Congress: "You lie." https://t.co/XFnWdXEqer

— Mrs. Betty Bowers (@Mrs. Betty Bowers) 1563288576.0
Like saying he was a secret socialist who was born in Kenya? The chief of the GOP tribe reached the White House aft… https://t.co/g7ONS5dOwe

— David Corn (@David Corn) 1563287699.0
It's worth pointing out that Scalise is critiquing "the squad" for disrespecting the president yesterday and contra… https://t.co/wqKNbGLG8N

— Alana Abramson (@Alana Abramson) 1563287190.0
@stonecold2050 President Obama was NOT A RACIST!!! Nor did he express his admiration for Putin & other dictators! N… https://t.co/0NW6TsH1ns

— Bahia Wilson (@Bahia Wilson) 1563303377.0
@postpolitics Denying any hearing for Obama's SCOTUS nominee is the ultimate "disrespect for the office". Scalise has a very short memory.

— Albatrossity (@Albatrossity) 1563299435.0
2019: "Steve Scalise says Republicans had disagreements with President Obama but that they 'never disrespected the… https://t.co/Wmqyqwsc2I

— Waleed Shahid (@Waleed Shahid) 1563298196.0
Scalise's comments are the latest attempt to deflect criticism from President Trump's racist tweets. Prior efforts were made by a Trump 2020 campaign staffer, the Vice President and other members of the GOP.
However those statements are being derailed by Trump's reaction. As of Tuesday afternoon, the President has demanded an apology from the women he targeted and refused to apologize or accept responsibility for posting White nationalist talking points to an international audience.
The book The Wrongs of the Right: Language, Race, and the Republican Party in the Age of Obama, available here, shows "how the political Right deploy[ed] racial fears, coded language and implicit bias to express and build opposition to the Obama administration."
Or if you're missing a certain someone, this shirt, available here, can express your feelings.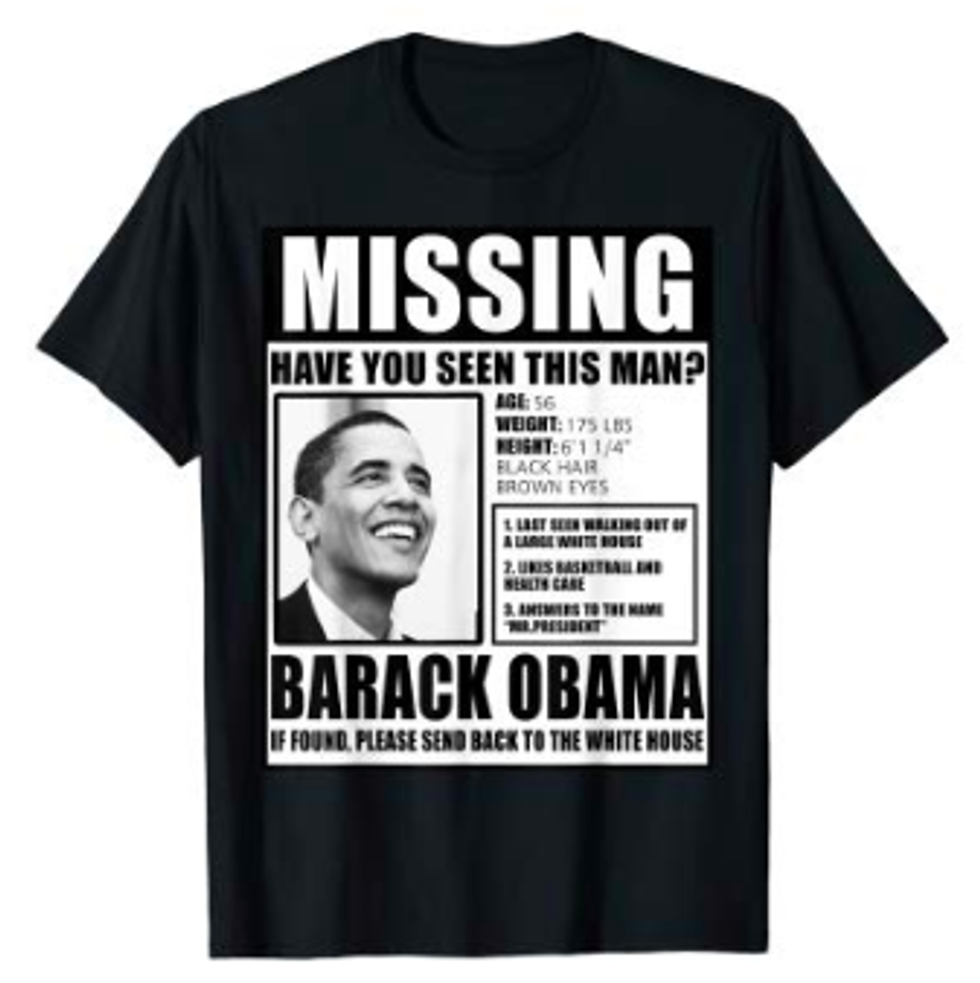 Amazon