Republican Representative Bruce Poliquin of Maine's 2nd congressional district lost in his reelection bid against Democratic challenger Jared Golden. Golden, a United States Marine veteran and state legislator, was declared the winner on November 15, nine days after the polls closed.
The election was historic as Maine became the first state in the country to adopt a ranked choice voting system for all federal level elections.
---
Incumbents Democratic Representative Chellie Pingree of Maine's 1st district and independent Senator Angus King easily won their first ranked choice votes. But Poliquin and Golden's contest which also included independents Tiffany Bond and William Hoar failed to produce a winner in the first round of voting tabulation.
On ranked choice ballots, voters choose a first, second, third, etc... choice.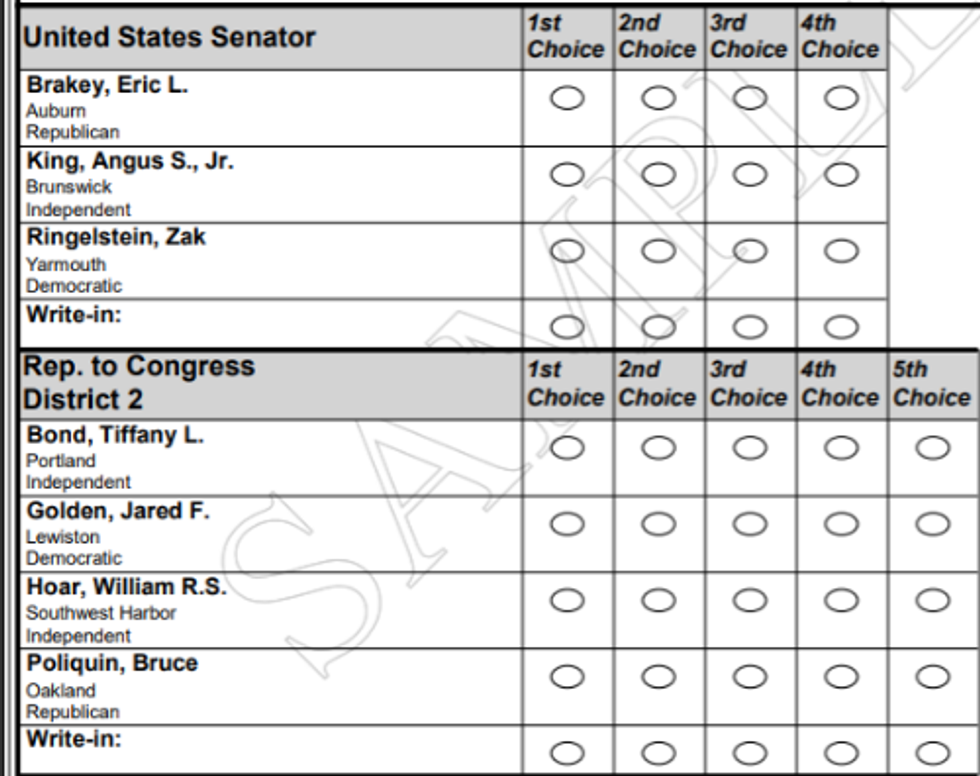 Maine sample ranked choice ballot (Maine.gov)
Under Maine's ranked choice voting law—twice approved at the polls by Maine voters—a candidate cannot win without over 50% of the support from their constituents. In the first round, Poliquin received 46.2%, Golden received 45.5%, Bond 5.8% and Hoar 2.4%.
Under ranked choice, the second round eliminates the candidate that finished last—Hoar. Everyone who voted for that candidate has their votes transferred to their second choice. This continues until a candidate receives over 50% support.
After ranked choice tabulations, Golden received 50.5% of the votes while Poliquin received 49.5%. Golden was declared the winner of the election.
Results in CD2 tabulation https://t.co/odSPYRqYax

— MaineSOS (@MaineSOS) 1542303555.0
Thanks to Maine's ranked-choice voting system, Democrat Jared Golden has defeated drug company and NRA sweetie Bruc… https://t.co/PtniFboKJM

— Stephen King (@Stephen King) 1542308950.0
Our Democrat #JaredGOLDEN WON his #Maine House Race -- he #FLIPPED the district #BLUE!! LET'S MAKE SURE HE… https://t.co/HECjEnyjmt

— Gina (@Gina) 1542774239.0
However once it became clear to Bruce Poliquin that he would not handily win reelection in the first round like his fellow incumbents, he attempted to stop the counting and have himself declared the winner.
Poliquin filed a request for an injunction to stop Republican Secretary of State Matthew Dunlap from tabulating the votes. Poliquin claimed the law, voted on twice by Maineiacs, was unconstitutional. Dunlap refused Poliquin's request unless ordered to do so by a judge.
When the President Donald Trump appointed United States District Judge, Lance Walker, denied that request, Golden was declared the winner. Poliquin then amended his request to ask for either a new election or to be declared the winner. He also called for a hand count of all ballots as he claimed Dunlap used "artificial intelligence" to tabulate the votes.
@StephenKing response to Poliquin accusing Sec of State of using artificial intelligence to count the ballots. "Mai… https://t.co/OvWaSuOnSq

— pikapika (@pikapika) 1543455585.0
The Republican Party in Maine challenged the ranked choice voting law in the legislature and in court several times. Representative Poliquin was not a participant in any of those lawsuits by his party leading up to the election.
Poliquin never challenged ranked choice voting at all in any fashion. Until it looked like he might lose.
And that fact—that Poliquin waited until after they cast their ballots under ranked choice voting and after he might be personally affected to question the constitutionality of the law—angered his constituents.
Maine's 2nd congressional district covers most of the state's land mass. It includes the rural areas of the state where the fishing industry, logging and farming play major roles in the economies. It is also where Trump was able to garner one of Maine's four electoral votes.
Republicans do not hold a majority in the district, but their voters are often straight ticket GOP loyal while independent and Democratic voters often split their votes among various candidates and political parties. Maine has a history of electing candidates who fail to win a majority, such as in 2014 when Poliquin first won his seat with only 45.2% support.
Split votes traditionally help the GOP. But after a Tea Party Governor, Paul LePage, won twice in the state while failing to get even 40% support from voters, Maineiacs said "enough."
In the 2016 general election, a citizens referendum was put on the ballot. Maine voters put the measure on the ballot through petition drives then approved the law at the polls. After a GOP lead legislature and Governor LePage passed a law trying to eliminate ranked choice voting, Maineiacs put a citizen's veto on the 2018 primary ballots and once again confirmed their commitment to ranked choice voting for the state.
With such widespread voter support for ranked choice voting, Poliquin's challenge to the law only after votes were cast and he appeared to not have the majority he needed, is not sitting well.
@StephenKing *whew!!* I was seriously concerned that Poliquin would somehow overturn the RCV system, because he didn't like the results.

— PhallacyHunter (@PhallacyHunter) 1542369168.0
@hodgman Poliquin's desperation is an affront to weaselkind. By every account but his, RCV was a resounding success.

— Jason Sewall (@Jason Sewall) 1543585640.0
@Salon I live in Maine, cannot stand Bruce Poliquin, but am beginning to pity the idiot. He legit cannot accept that he lost.

— Tweetse Fly (@Tweetse Fly) 1543576812.0
Poliquin has come under fire before however for refusing to answer questions from constituents and the press, famously running away and once even ducking into a bathroom to avoid questions.
By the way, Bruce Poliquin was the congressman who ducked in to the women's bathroom to avoid reporters asking him… https://t.co/AjaUD3Vf1C

— Drew Savicki (@Drew Savicki) 1542307828.0
"Bruce Poliquin has held more press conferences this last week than he did in the last two years"—Jared Golden.

— Bill Roorbach (@Bill Roorbach) 1543553814.0
Ladies, if he: - avoids your calls - never returns messages - hides in bathrooms from the press - does his best to… https://t.co/ZotAN3tKVp

— Em Burnett (@Em Burnett) 1543427981.0
@StephenKing I'm so flippin happy! He's terrific, and, unlike Poliquin, he probably won't hide from reporters in th… https://t.co/Prg6Ni8O5Z

— Mary Samiljan (@Mary Samiljan) 1542323019.0
In response to Poliquin's suit brought by his Washington DC based attorney, Golden's Maine attorney, James Kilbreth, stated:
"Now, after 296,077 Maine citizens have voted based on their understanding that the [ranked-choice voting] system would be used to determine the winner of the election, Poliquin would like to change the rules."
"Poliquin's sour grapes preliminary injunction is too little, too late, and is outweighed by the injury to the thousands of Maine voters who selected Golden over Poliquin and who would be disenfranchised by Poliquin's attempt to use the courts to overturn the results of the election."
"Further, the chaos, disruption, and violation of fundamental rights that would result from Poliquin's attempt to rewrite the rules after the election is anathema to the public interest. Golden won the election fair and square."
A hearing on the motion will be held Dec. 5 and a decision is expected by Dec. 14, the deadline to certify the results.