George Conway, the husband of presidential counselor Kellyanne Conway, is at it again.
Despite being married to one of the president's staunchest supporters––this is the same woman, by the way, who coined the term "alternative facts"––Conway has made it very clear that he is no fan of President Donald Trump's, and he made this very clear with his most recent tweets.
---
Conway, at one point, quoted CNN legal analyst Renato Mariotti, who explained what the decision of federal prosecutors to grant immunity to Trump Organization CFO Alan Weisselberg means for the continuing investigation.
"It means that Individual-1 needs a real lawyer," Conway quipped.
It means that Individual-1 needs a real lawyer. https://t.co/p95SJcqGxC

— George Conway (@George Conway) 1535132432.0
Conway also said––sarcastically––that Trump's inclination to attack AG Jeff Sessions on Twitter but not acknowledge the issues he has with him when he sees Sessions in person, amounts to a "profile in courage."
profile in courage https://t.co/XDIGHQ97M2

— George Conway (@George Conway) 1535112450.0
Conway also quoted Trump himself, saying that the nation would benefit from having a leader "capable of comprehending what it means to 'take Care that the Laws be faithfully executed."
What everyone should want, and the country needs, is a "President" capable of comprehending what it means to "take… https://t.co/HrOeOPa8jc

— George Conway (@George Conway) 1535112532.0
That last tweet, in particular, earned a response from CNN national security analyst Sam Vinograd who wondered what "kind of statement" the State Department would issue regarding "respect for the rule of law."
@gtconway3d @AshaRangappa_ Imagine, for a moment, that @StateDept @WhiteHouse saw this occurring in a foreign count… https://t.co/6prQ0Pw83P

— Sam Vinograd (@Sam Vinograd) 1535120103.0
Conway's response was sobering.
@sam_vinograd @AshaRangappa_ @StateDept @WhiteHouse They might say nothing, because they might perceive that the sy… https://t.co/AinQNUkopp

— George Conway (@George Conway) 1535122722.0
This is far from the first time that Conway has posted material or commentary critical of the president, and people ate up his latest jabs at the president.
In the spring, he posted polling results indicating support for a challenge to Trump in 2020.
@gtconway3d You are invited to our house for cocktails and baseball any time you are in LA, George.

— Molly Knight (@Molly Knight) 1535142706.0
@gtconway3d Hi Mr. George Conway, how are you so different from your other half ? #KellyanneConway https://t.co/njURXtVHbc

— LLeigh_Laura 🌀 🌊 (@LLeigh_Laura 🌀 🌊) 1535126942.0
@gtconway3d Thank you, George, for being the adult in the room. 🍻

— Deborah L Phillips (@Deborah L Phillips) 1535123768.0
@gtconway3d @MaxKennerly If someone told me Kellyann's Husband would become an unsung hero of the resistance, I would have been shocked

— Molly Jong-Fast (@Molly Jong-Fast) 1535113026.0
@gtconway3d @notaxationworep What do you and your wife talk about over dinner? Love can overcome a lot of things, b… https://t.co/3iX4RFCR8I

— Marie (@Marie) 1535114666.0
It all began when Haley Byrd, a reporter for The Weekly Standard, tweeted poll results highlighted in an article titled "How Conservatives Can Win Back Young Americans." She highlighted the following statistic:
An incredible 82 percent of Republican and Republican-leaning voters between the ages of 18 and 24 say they "want another Republican to challenge President Trump for the party's nomination in 2020." So do 57 percent of those aged 25 to 34 and 58 percent of those aged 35 to 44. Compare that number with the 74 percent of Republicans over the age of 65 who oppose a primary challenge, and you've got a chasm the size of the Grand Canyon.
"The Trump divide here tells you everything you need to know about the current age dynamics of the Republican Party," she wrote, noting that the poll found that 82 percent of GOP voters between 18 and 24 say the president should be challenged in the 2020 general election and that 74 percent of GOP voters aged 65 and older say otherwise.
The Trump divide here tells you everything you need to know about the current age dynamics of the Republican Party.… https://t.co/54t9yQNzbO

— Haley Byrd (@Haley Byrd) 1525963935.0
Conway quote-tweeted Byrd's message and added other age brackets.
"ages 25-34: 57% yes ages 35-44: 58% yes," he wrote, suggesting that it's more than just millennials who want the president out of office in 2020.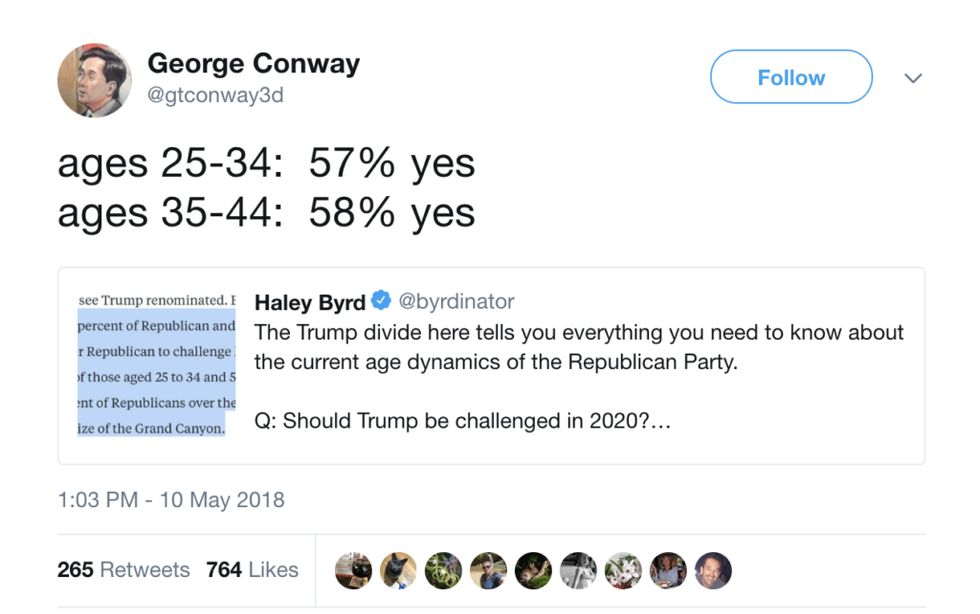 Later in the day, Conway tweeted a New York Times story criticizing Trump's attorney Rudy Giuliani after Giuliani claimed that hush money payments were common at the firm he just resigned from, a statement he made in defense of ex-Trump lawyer Michael Cohen, who this week pleaded guilty to eight criminal counts, including five charges of felony tax evasion, two counts of campaign finance violations, and one count of bank fraud. Cohen said that he made the payments at Trump's behest to buy the silence of two women with whom Trump had had affairs and influence the election.
Conway even retweeted a post from New York Times reporter Michael Schmidt, which reads: "Rudy's firm undercuts his claim it was routine for hush $ payments to be made without Trump knowing. 'Speaking for ourselves, we would not condone payments of the nature alleged to have been made or otherwise without the knowledge and direction of a client,' the firm said."
In April, Second Nexus reported Conway purged his Twitter feed of posts that were critical of the president. When asked why he said there was "no good reason."
Among Conway's deleted tweets was one referencing the difficult time the White House has had finding a replacement for Hope Hicks, who resigned in March from her role as White House Communications Director.
The Trump administration has become notorious for its flurry of resignations. (A New York Times report called the number of hirings and firings "unprecedented.)
"So true. It's absurd. Which is why people are banging down the doors to be his comms director," he wrote.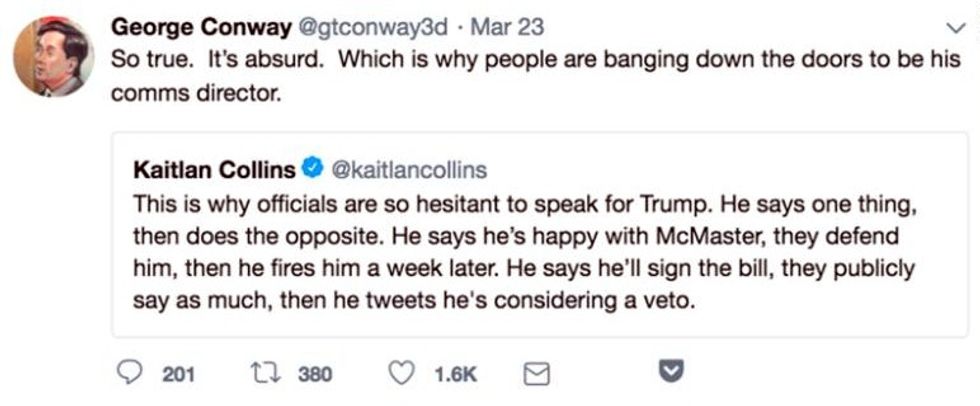 In February, Conway made headlines after he retweeted an article which praised conservative columnist Mona Charen, who'd rebuked Trump after his incendiary statements at the Conservative Political Action Conference.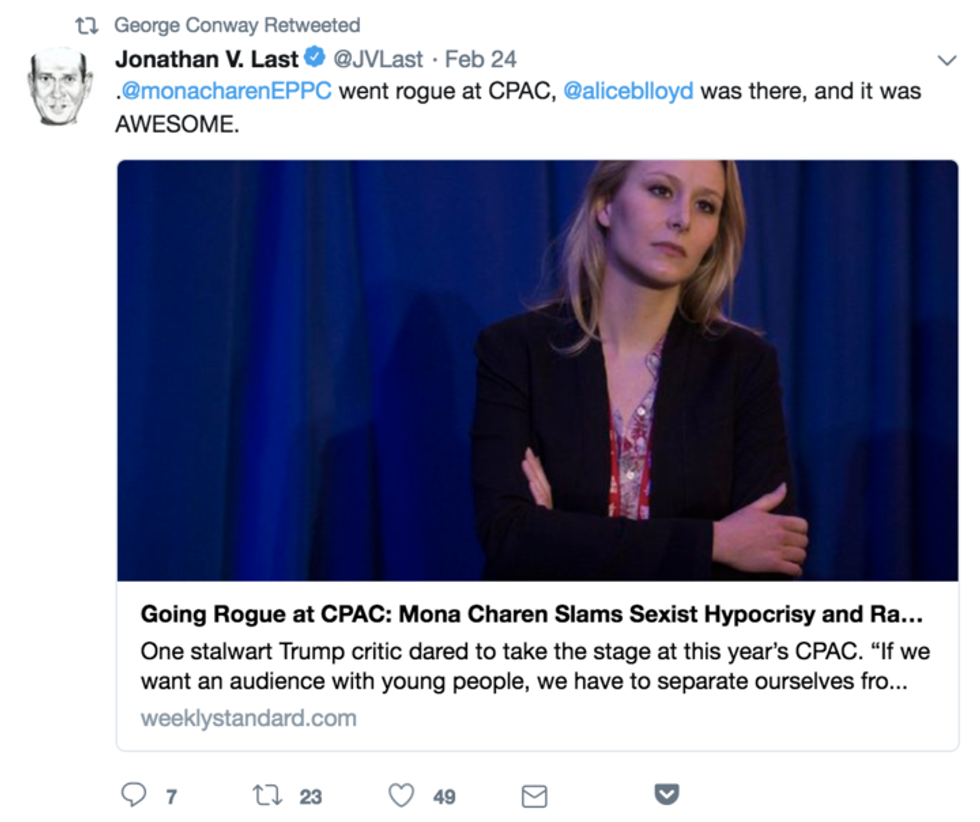 The following month, Conway praised former FBI agent Asha Rangappa, who wrote a thread criticizing the president for firing former Deputy FBI Director Andrew McCabe, a noted critic of the administration.
Great thread. https://t.co/JLilnjiYwP

— George Conway (@George Conway) 1521301670.0
He further retweeted stories which were clearly pro-Robert Mueller, the special counsel spearheading the investigation into Russian election meddling.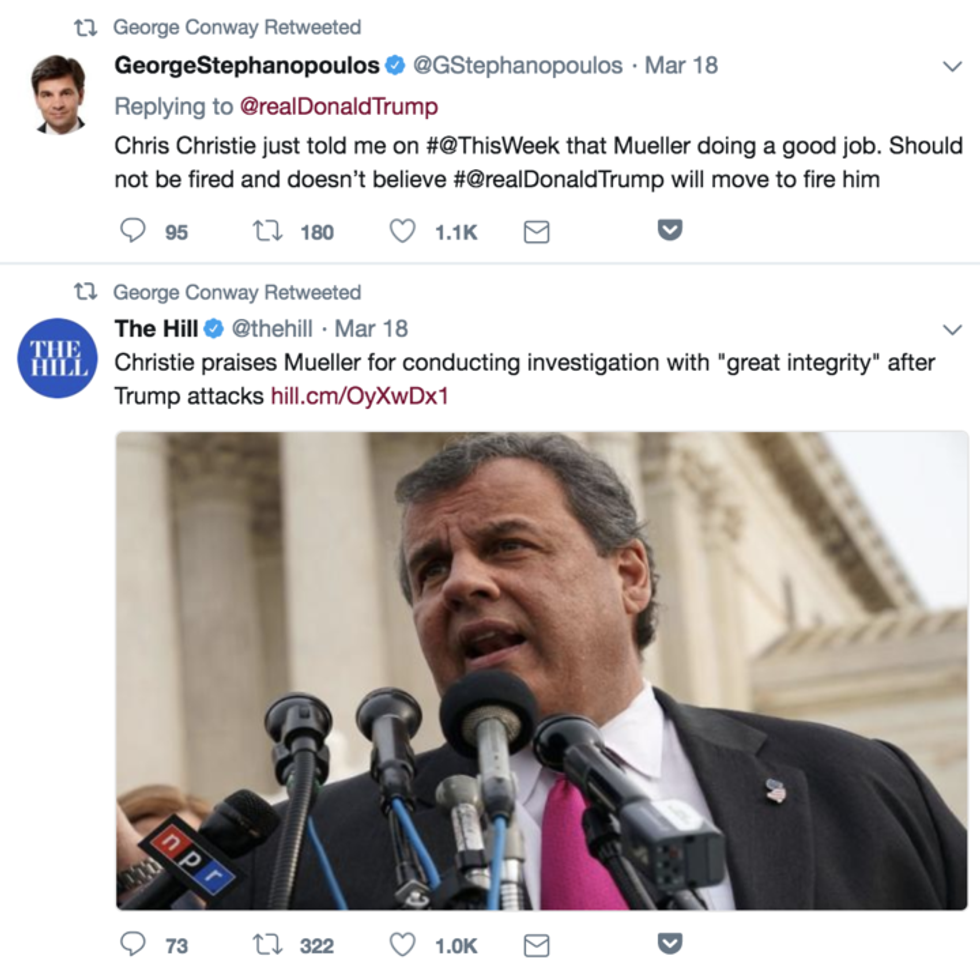 Conway tweeted Federal Election Commission guidelines for personal donations after the president admitted he paid back his lawyer Michael Cohen for hush money he paid adult film actress Stephanie Clifford, better known as Stormy Daniels.
https://t.co/bsZKAUJpu3 https://t.co/xJgZXrvSuT

— George Conway (@George Conway) 1525349871.0
The newspaper article seen below also found its way to Conway's Twitter feed after the president referred to Robert Mueller's investigation as a "witch hunt."
Your obligatory Watergate comparison to the news that Trump's lead lawyer John Dowd has resigned because his client… https://t.co/G4OO4pVZKQ

— Andre Plaut (@Andre Plaut) 1521732391.0
Conway was one of many who, in tweeting the article drew comparisons to Leonard Garment, an attorney of former President Richard Nixon's who resigned amid the Watergate scandal. A Washington Post article dated December 7, 1974, notes that Garment "was one of the first aides to warn Nixon of the potential dangers of Watergate, but his advice went unheeded."