Digest: [NYTimes; Yahoo News; NPR]
Note: This story will be updated as information is released.
---
***A family assistance hotline has been established for persons who believe a family member may have been killed or injured in the attack: (800) 637-6653.***
After yesterday's deadly attacks in San Bernadino, California, that took the lives of 14 people, two suspects are dead and many questions remain unanswered. Here's what we know so far:
Where and When?
The attack began yesterday at about 11:00 AM at the Inland Regional Center, a non-profit organization that provides services for individuals with intellectual disabilities. The IRC, which has 670 staff members, does not appear to have been the target of the attack. Instead, the target appears to have been a holiday party that was taking place in the IRC's conference center. The conference center had been rented out by the San Bernardino County Health Department for their annual holiday party.
Who?
14 people were killed. Another 17 were wounded, and some of those injured are in critical condition. Their names have not yet been released. A police officer was injured in the shootout that occurred afterward, but his injuries are not reported to be critical.
Police report that the two primary suspects in the shooting were subdued after a dramatic firefight in a suburban neighborhood. Both have been killed. Police have
identified them as Syed Farook, 28, and Tashfeen Malik, 27.
According to the New York Times, the two suspects had been married for two years and had a 6-month old daughter. The couple reportedly left their daughter with Farook's mother hours before the event, telling her that they had a doctor's appointment.
Original reports claimed that there were three shooters because a third suspect was caught by police fleeing the scene. The third suspect, however, does not appear to have been involved in the shooting.
The New York Times reports that Farook, an American citizen, was born in Illinois and had worked at the San Bernardino County Health Department as an environmental inspector for the past five years. He had been in attendance at the office holiday party that was the subject of the attack, but had become upset and left. When he returned, he and Malik were wearing masks, tactical gear and carrying assault rifles. They also allegedly placed three potentially explosive devices in the building.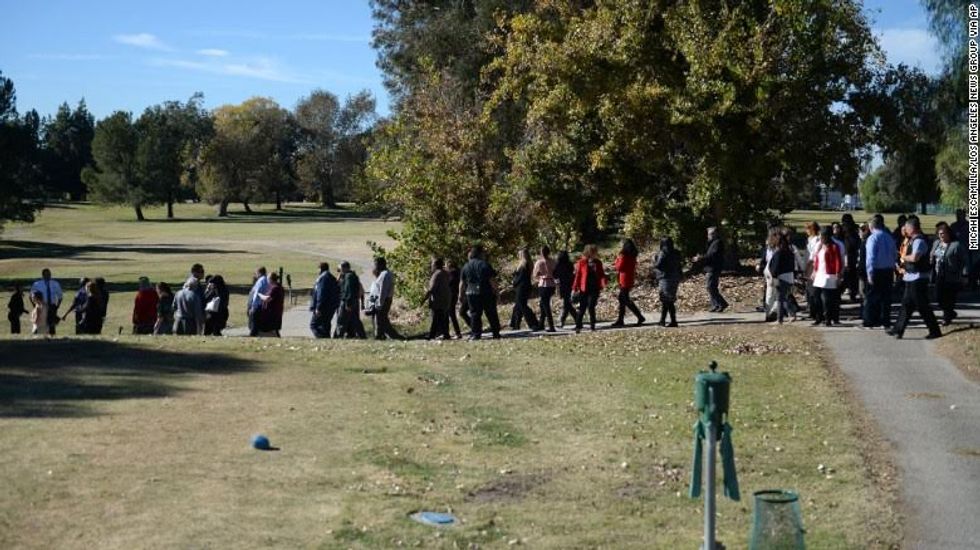 People being escorted by police away from the Inland Regional Center onto a golf course across the street. Credit: Source.
No motive for the attack has yet to be identified and family members of the attackers have publicly expressed their shock. All that is clear at this point is that Farook and Malik were very prepared for this event.