On March 3, 2017, Thomas John Russ, 32, was fatally shot on a Columbia Heights park-and-ride. The Minneapolis man was changing a flat tire when his assailant fired two rounds into his head, killing him on the side of the road. An ensuing manhunt that involved 12 different law enforcement agencies spanned the Columbia Heights area before suspected killer, 25-year-old Marcus Hallmark, was discovered in the woods and apprehended.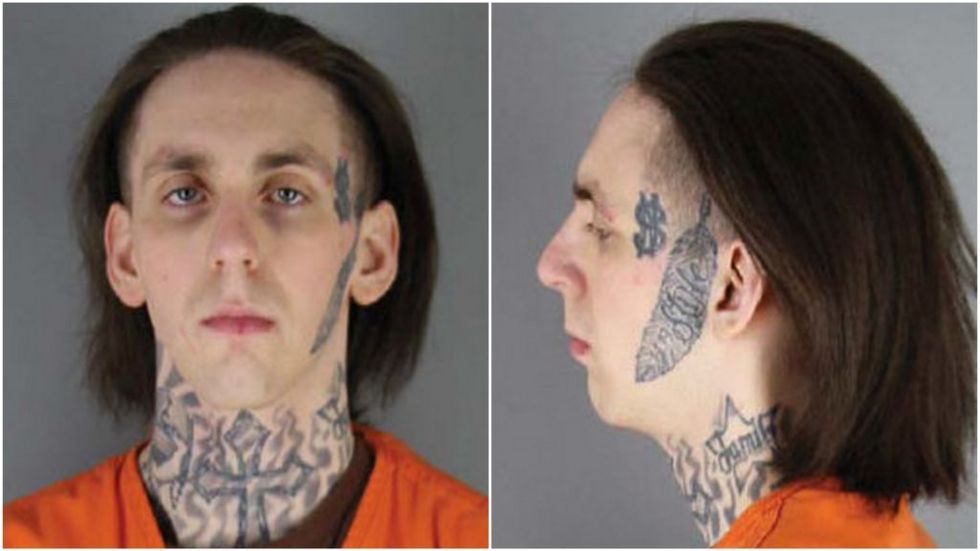 Source: Marcus Allen Wayne Hallmark (Courtesy of Hennepin County sheriff's office)
---
Prior to the shooting, Hallmark had borrowed a car from a friend of his sister but was forced to abandon it at the park-and-ride ramp on Wayzata Boulevard in Columbia Heights after a tire went flat. After hanging out with Hallmark, Hallmark's sister, and two other women, Russ assisted in changing the car's flat tire.
While Hallmark's sister, whom Russ had been dating, and her friends waited in another car, Hallmark and Russ worked on the tire. Moments later, the women reported hearing a loud bang that drew their attention to Russ, who they found lying on the ground. According to their account, Hallmark then approached Russ and fired a second round into his head.
There was no question as to Hallmark's guilt and, after almost a year since the murder, the Columbia Heights man was found guilty of one count of first-degree and one count of second-degree murder and, at his sentencing on Feb. 26, 2018, is expected to get life in prison without parole.
The murder was an open and shut case with no question as to who committed the crime, but Hallmark's past is a checkered one that shines some light on who he really was. Here's what you need to know about Russ' killer:
Russ was Shot with a Stolen Police Officer's Gun
The murder of Thomas John Russ didn't spark much of a debate on gun control for one simple reason: the murder was committed with a stolen weapon. On March 2, 2017, the day before the crime, a Hastings police officer filed a report stating his Ruger .380 handgun had been stolen from his Farmington, MN residence.
Within 24 hours of the murder, a sheriff's deputy in Isanti County was alerted to a backpack on the side of the road. Upon inspection, the bag was found to contain police badges, ID cards, and a lock for a Ruger .380 that belonged to the Hastings officer.
Along with the identification and firearm, Hallmark was also accused of stealing two televisions, jewelry, cash, and "assorted electronics" from the Hastings officer.
Marcus Had a Long Rap Sheet of Prior Convictions
In January 2017, Hallmark was arrested for felony prohibited possession of a pistol and possession of a dangerous weapon. After his arrest, the 2nd Precinct Minneapolis Crime Watch & Information Facebook page released details about his past, which included a rather long list of prior convictions.
Source: 2nd Precinct Minneapolis Crime Watch & Information
His arrest history included:
05/13/2009 - Fourth-degree intentional damage to property
10/20/2009 - Underaged drinking and disorderly conduct
10/29/2009 - Endangering the safety of the public
03/05/2010 - Underaged drinking
06/25/2010 - Possession/sale of marijuana
07/06/2010 - Failing to yield to pedestrians at a crosswalk
08/10/2010 - Aiding and abetting assault with a deadly weapon
08/04/2011 - Theft
08/22/2011 - Second-degree burglary
06/26/2012 - First-degree burglary
01/06/2014 - Aiding and abetting second-degree burglary
02/28/2014 - First-degree burglary
Hallmark was Involved in a Shooting in August 2011
During an incident at the Hi Way House motel in Spring Lake Park, MN, Hallmark was on the receiving end of a firearm when he was shot by an unknown assailant. At the time of the shooting, Hallmark had been described by the Anoka County Sheriff's Office as "having no permanent address."
Connected with the shooting was 19-year-old Pierre Tyshuan Henderson, who was arrested and charged with two counts of aiding and abetting first-degree attempted murder, aiding and abetting first-degree assault, and aiding and abetting second-degree assault. Hallmark had claimed that, while Henderson didn't pull the trigger, he had ordered the shooter to kill him and Henderson's ex-girlfriend, who was also present.
Hallmark was able to make a full recovery from the incident, which left him with a gunshot wound to the abdomen.
He Allegedly Grew Up in a Volatile Environment
Little is actually known about Marcus Allen Wayne Hallmark, but when the 2nd Precinct Minneapolis Crime Watch & Information Facebook page posted details about him in relation to the shooting, Hallmark received quite a bit of support from friends that apparently knew him.
One individual that spoke up in defense of Hallmark, Zachary Lindskoog-Bullerman, claimed he "grew up with [Hallmark]." The comment went on to claim anyone would "come out the same way he did if [they] grew up in the environment he did." There was no follow-up explanation or further details provided.