[DIGEST: The Guardian, ScienceAlert, Christian Science Monitor]
When an aerial survey organized by Ocean Cleanup flew over the Pacific Ocean between California and the Hawaiian Islands, the crew was shocked by what they saw. While they'd expected to see some trash – scientists have known for years about rotating gyres of garbage swirling at different spots in the Pacific, pulled there by ocean currents – the quantity was much higher than they'd anticipated. In 2.5 hours, they counted over 1,000 pieces of garbage.  
---
"Most of the debris was large stuff. It's a ticking time bomb because the big stuff will crumble down to microplastics over the next few decades if we don't act," said Boylan Slat, founder of Ocean Cleanup.
No one knows exactly how large the Great Pacific Garbage Patch is, since the gyre is constantly moving and the trash is breaking down into smaller pieces. Estimates have ranged from 270,000 square miles to 5.8 million square miles of trash. What scientists do know is that the tiny plastic particles are increasing dramatically. A study in February 2015 found that 4.8 to 12.7 million metric tons of plastic had been dumped in the ocean in 2010 alone. By 2050, the oceans are expected to hold more plastic than fish.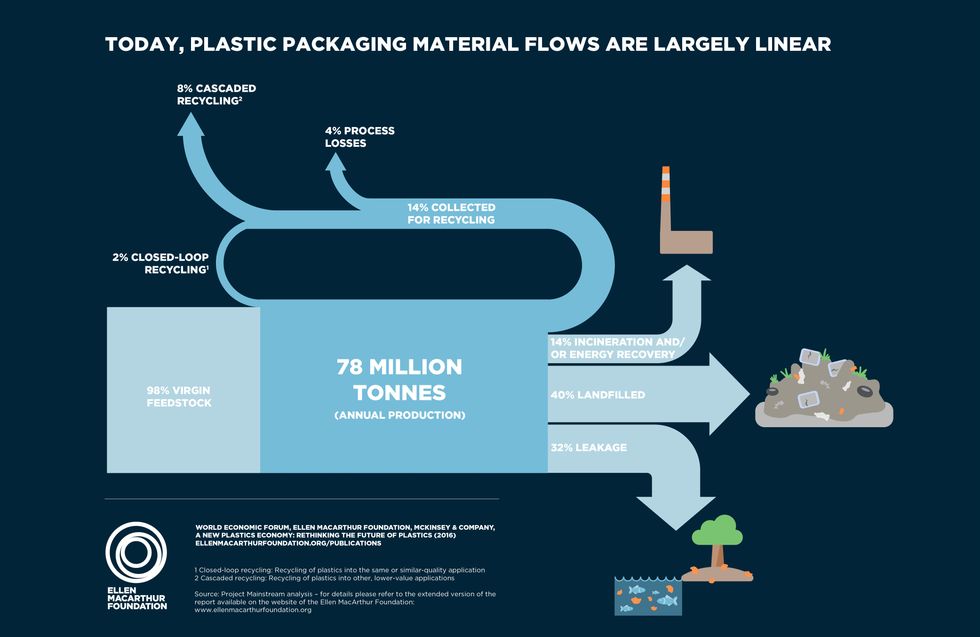 Credit: Source.
Onboard the modified C-130 Hercules aircraft, the Ocean Cleanup survey used LIDAR (laser) scanners and multispectral camera technology to measure the debris swirling around the ocean.
"Through a combination of our sensor technology and human observer data, we are helping to achieve the first detailed data map of plastic in the Great Pacific Garbage Patch," said Michel Stanier, general manager of Teledyne Optech Inc. Teledyne partnered with Ocean Cleanup to provide surveillance technology for the study.
Part of the difficulty in understanding how much trash is in the ocean has to do with where the plastics go. Once they break down, the plastics move beyond the surface and pass through the foodchain, getting eaten by fish, birds and possibly even humans.
"A comparison I like to use is that the debris is more like flecks of pepper floating throughout a bowl of soup, rather than a skim of fat that accumulates (or sits) on the surface," said Carey Morishige, a member of the Marine Debris Program at the National Oceanic and Atmospheric Administration.  
It might sound like all bad news, but Ocean Cleanup has plans to scoop the trash right out of the Pacific. The nonprofit has created a giant v-shaped rubber boom, which would float on sea currents and funnel trash into a cone. Ocean Cleanup will test a prototype of the barrier next year. If the trials go well, they'll deploy a full sized 62-mile barrier into the ocean in 2020. Additionally, states and countries around the world have pledged to help the problem by banning plastic bags and promising to reduce the number of plastics being dumped into the world's oceans.