[DIGEST: CNN, Science Alert, Fortune, Slate]
Bill Gates is investing in clean energy. He's joining up with nearly 30 other billionaires, from Facebook's Mark Zuckerberg to Virgin Group's Richard Branson, to form a new clean energy investment group. Their goal: a world where clean energy is not more expensive than today's hydrocarbon energy.
---
Gates's initiative, called the Breakthrough Energy Coalition, was announced at this month's United Nations Climate Change Conference in Paris. The coalition will fund early-stage companies that are working on new technology to make clean energy available to everyone.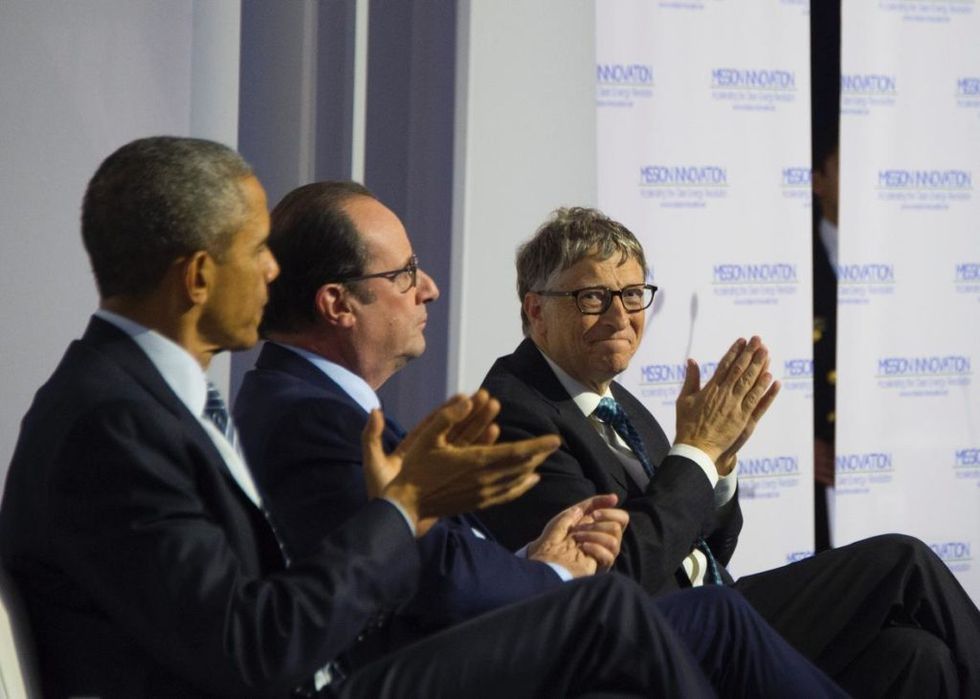 President Obama, French President François Hollande and Bill Gates in the Paris. Credit: Source. Credit: Source.
While there have been some advances in zero-carbon technology, energy companies tend to under-invest in new energy solutions. Research into energy technology can take decades to play out, with little reward for investors. By comparison, pharmaceutical companies can know within a couple of years whether their research and development investments will pay off.
The Breakthrough Energy Coalition hopes to reduce the risks associated with funding R&D by forming private-public partnerships to support a wide variety of energy innovations. The coalition will make investments across an array of sectors, including electricity generation and storage, transportation, industrial use, agriculture and energy system efficiency. This investment strategy will give a variety of creative but yet unproven energy solutions a chance to succeed.  Once the investments are de-risked, Gates expects that other private entities will invest in later stages.
"The renewable technologies we have today, like wind and solar, have made a lot of progress and could be one path to a zero-carbon energy future. But given the 
To read more, continue to the next page.
scale of the challenge, we need to be exploring many different paths - and that means we also need to invent new approaches," Gates wrote in a statement.
Gates believes that he and his group of billionaire investors will not only see a financial gain on their investments, but that these investments will reduce our heavy dependence on fossil fuels. Gates wrote that zero-carbon energy "will make most countries energy-independent, stabilize prices, and provide low- and middle-income countries the resources they need to develop their economies and help more people escape poverty—all while keeping global temperatures from rising more than 2 degrees."
The debut of the Breakthrough Energy Coalition came at the same time as a major announcement from nineteen governments, including China and the U.S., which have pledged to double spending on carbon-free energy development over the next five years in a program called "Mission Innovation."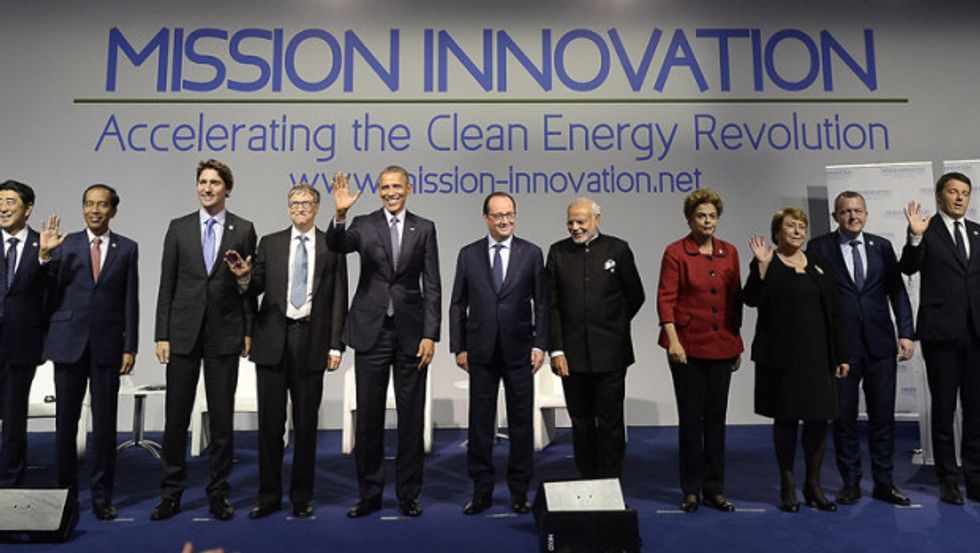 Credit: Source.
Together, both programs could ensure more than $7 billion in additional funding for energy innovations.
The new Gates initiative is not without its critics. Fortune Magazine saw the announcement as premature because none of the key details have been hammered out. The Coalition has not yet 
To read more, continue to the next page.
identified or hired any investment staff or other professionals. No contracts have been signed and it is not clear how the fund will be structured. Fortune fears that the "grandiose announcement" might just be "all talk"-- other than Gates, none of the billionaires who have signed on to the coalition have promised any specific amount of money.
Despite these criticisms, the fact that so many of the world's most successful businesspeople are willing to sign on may be an indication that funding clean energy R&D is not just a public good, but a smart investment. That's good news for the clean energy industry, which could benefit from a new infusion of funds from motivated sources.