President Donald Trump's supporters often hail the President as a savior who invigorated the Republican party with his lack of a filter and his willingness to be petty.
Some even liken him to former Republican President Ronald Reagan, considered by many Republicans to be the party's most exemplary candidate.
---
Trump amplified a similar sentiment on Monday by retweeting a fake Reagan quote, which purported that Reagan had a gut feeling that Trump would be president after the two shook hands.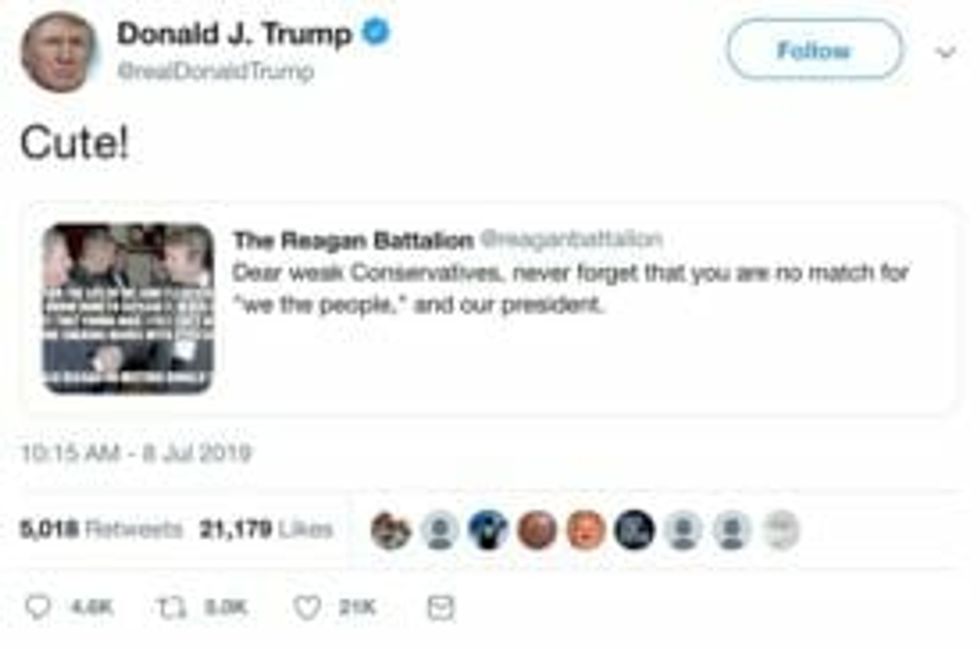 @realdonaldtrump/Twitter
The quote, tweeted from a since-suspended account impersonating moderate Conservative publication The Reagan Battalion, claimed Reagan said of Trump:
"For the life of me, and I'll never know how to explain it, when I met that young man, I felt like I was the one shaking hands with the president."
The quote has been debunked before, though Reagan and Trump did meet in 1987. Whether Trump knew the quote was fake is undetermined, but people were quick to point it out to him.
Interestingly enough, Trump blasted legendary entertainer Bette Midler for spreading a quote falsely attributed to the president.
Unlike Midler, Trump has yet to apologize or acknowledge that the quote was fake.
The Reagan Battalion, however, has confirmed that the now-suspended account was impersonating them.
Soon, people were trolling Trump for getting the account suspended from Twitter.
Though Reagan passed away in 2004, the policy positions he expressed in legitimate quotes have been at odds with the Trump administration's. This may explain why Trump was extremely critical of Reagan during Reagan's tenure as president. Ronald Reagan's own daughter, Patti Davis , minced no words in a scathing op-ed earlier this year calling on the Republican party to stop likening Trump to her father.
Cute.