In 1990, Playgirl magazine had a contest the prize for which was sleeping with Donald Trump.

Trump was married to Czech model Ivana Zelníčková until 1992.
If you've always wanted to sleep with the former Republican President, we regret to inform you that you missed your chance.
Anyway, lest you think this can't possibly be real, the internet obviously has screenshots, and hoo boy... they are something else.
Before you start saying this is a Photoshop job, it really did happen--Snopes verified the "Sleep With Donald Trump" contest and everything!
And like seemingly everything with Donald Trump, Snopes theorizes it was probably a publicity stunt orchestrated either by a book publisher or by Trump himself. Ever the showman, that guy.

In addition to the extremely sexy cover reading "Sleep With Donald Trump" (no thanks!), the Twitter post from the account Old Donald Trump posts included shots of the issue's table of contents and the contest page itself, both of which are... something!
The table of contents tries really hard to sell the reader on the idea of bedding "the Donald" with copy that naturally contains a typo. Incompetence has always been his brand, even in 1990!

@oldTrumpTweetz/Twitter
The table of contents reads:

"He's rich, almost single and yours for the asking. Here's how can you [sic] get the Donald out of your dreams and into your bed."
The phrase "almost single" is likely a reference to Trump's then-ongoing divorce from his first wife Ivana Trump, which made headlines at the time for her accusations of "cruel and inhuman treatment" by her soon-to-be ex-husband.
What a prize.
As for the contest page itself? Well... it has to be seen to be believed.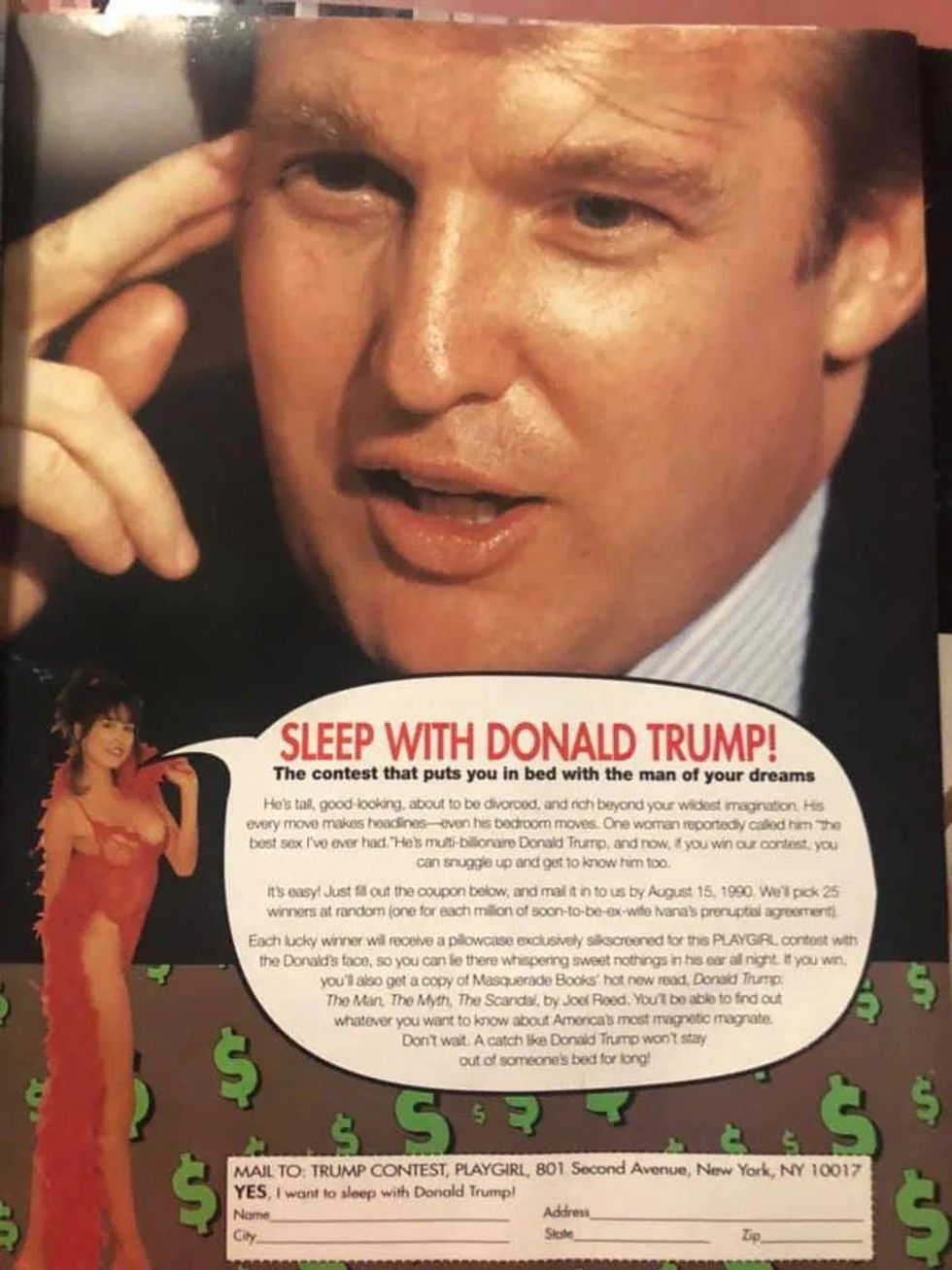 @oldTrumpTweetz/Instagram
It's hard to land on the most bonkers thing here. Is it the choice of a sexy lady to pitch this contest to straight women and gay men? Is it the phrase, "YES, I want to sleep with Donald Trump!" on the entry form? Or is it the crass dig at Ivana Trump?
Who's to say, but fittingly for Donald Trump the whole thing turns out to have been a cleverly worded ploy--the prize wasn't a date with Trump but rather a copy of a book about him and a pillowcase with his face on it, so you could "lie there whispering sweet nothings in his ear all night."
If you're screaming in horror, you're not alone--lots of people on Twitter were horrified.
And of course there was wave after wave of jokes.

If any of the winners of this contest are reading this, please, please get in touch. We need to see those pillowcases!