Early this evening, @realDonaldTrump's Twitter page went down. The president's Twitter page wouldn't load and read, "Sorry, that page doesn't exist!" A screenshot of the error message can be seen below. What happened?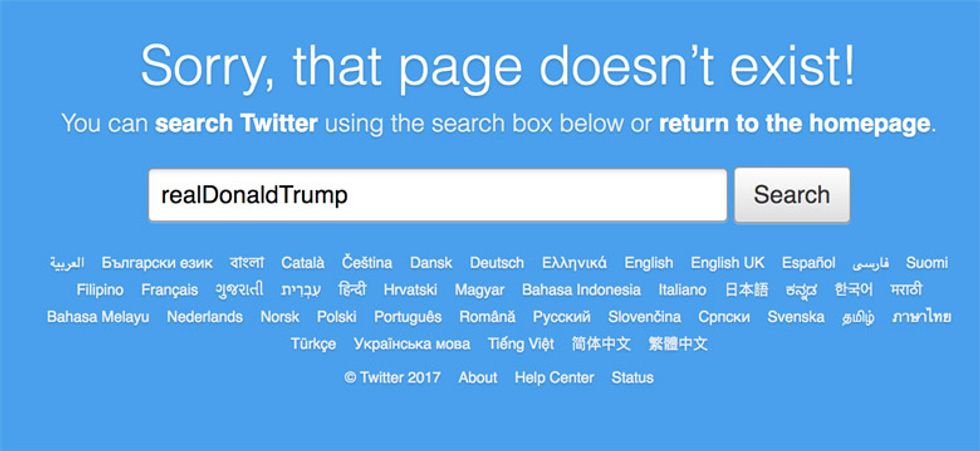 (Twitter)
---
@realDonaldTrump's Twitter was briefly offline because a human error made by a Twitter employee. According to later reports, the Twitter employee was in the process of departing the company when they deactivated Trump's account.
The incident occurred a little bit before 7 p.m. EDT. According to DownDetector, there were no serious outages reported on Twitter when @realDonaldTrump failed to load. The account was down for 11 minutes total.
However, despite some early reports saying that the president had been suspended from Twitter, the error message briefly seen was different than the one that appears when accounts are suspended.
Trump's page was only down for a short while and went back up around 7:02 p.m. EDT with no apparent issues. His latest tweet, a video of him announcing his the nomination of Jerome Powell to be the next Chairman of the Federal Reserve, was posted at 6:35 p.m. EDT.
Twitter intermittently goes down. In the past, it has also been the target of large DDoS attacks, or distributed denial of service attacks. The last large-scale Twitter outage occurred in November 2016, shortly after WikiLeaks claimed to have been the subject of a cyber-attack.
About a week before that, Twitter was also down, along SoundCloud, Spotify, Shopify, and other websites like Box, Boston Globe, New York Times, Github, Airbnb, Reddit, Freshbooks, Heroku and Vox. In this incident, the outages were the result of multiple DDoS attacks, reports Tech Crunch.
Those attacks came in two waves, once in the morning, and again later that same day.