Few manage to outmatch President Donald Trump in crassness and tactlessness, but his son Don Jr. definitely gives him a run for his money.
The antagonistic eldest son of Donald Trump continued that pattern when he shockingly used an Instagram story to compare undocumented immigrants to animals in a zoo on the night of his father's first Oval Office address, which the senior Trump used to vilify ignorance to bolster funding for a wall at the southern border.
---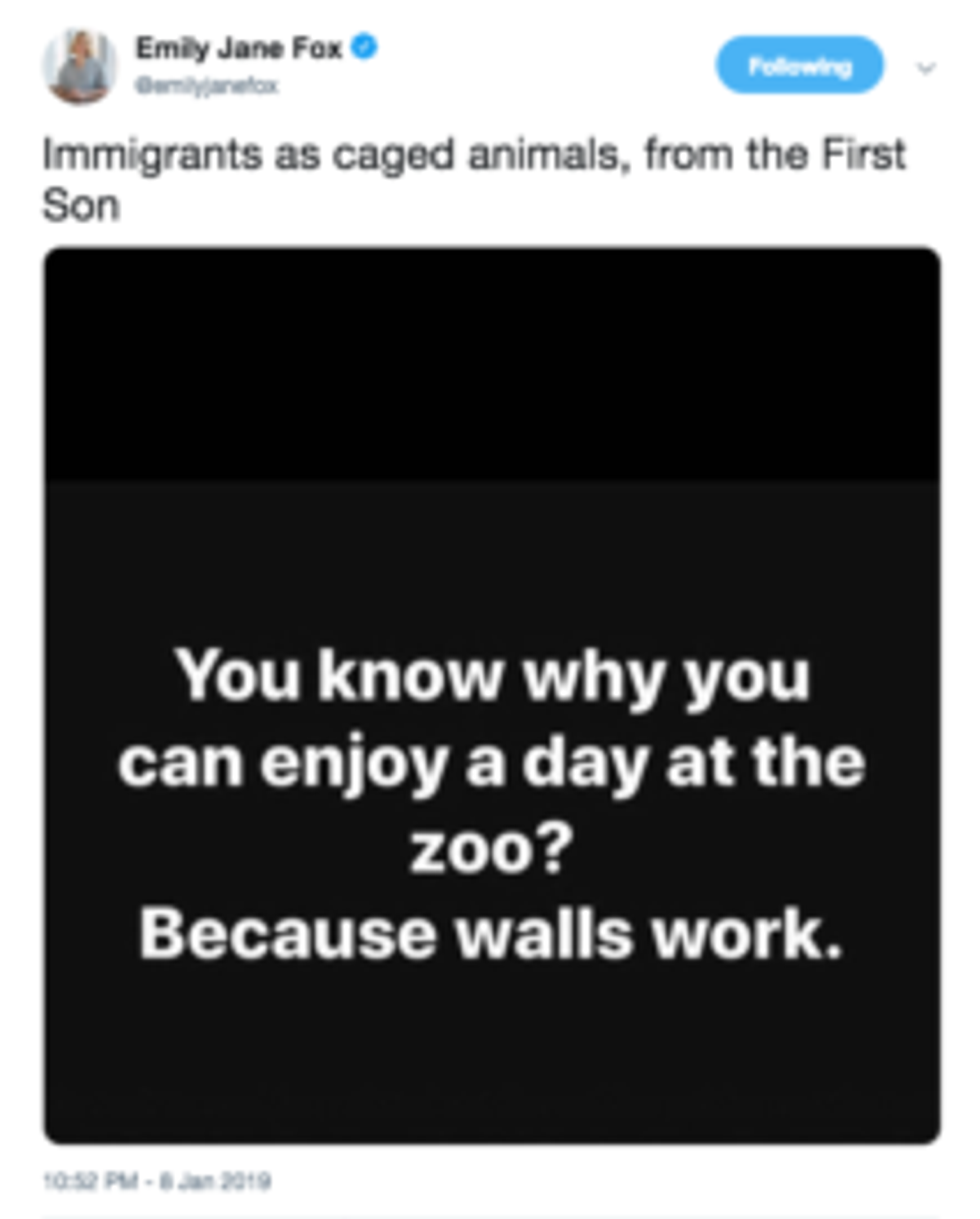 While Instagram stories are fleeting, screenshots are forever, and people have a lot to say about this one, and about Trump Jr.'s character as a whole.
@emilyjanefox Just the first son equating poor brown people and children to animals. I wonder if this is gonna be r… https://t.co/a2jmixn6sP

— Vivian Vacca (@Vivian Vacca) 1547010719.0
@emilyjanefox Not a single one of them has risen to meet the tremendous opportunity they were given as members of t… https://t.co/GeM7LKPrXZ

— Mo (@Mo) 1547010235.0
@emilyjanefox I thought his answer was going to be "because it gives me an idea what defenseless animal I want to shoot next"

— Jo Blo (@Jo Blo) 1547013639.0
@emilyjanefox The nut doesn't fall far from the tree...

— Sarah Carlson (@Sarah Carlson) 1547012806.0
@emilyjanefox I'm sure the animals are happy for the walls to protect them from don jr

— Lisa Gallant (@Lisa Gallant) 1547031110.0
But there was one unifying joke to be made.
Many believe that Trump Jr., his father, and maybe even other family members will soon be behind bars...just like animals in a zoo.
@emilyjanefox If they made the Trump Friends and Family prison wing open for visitors, I'd go to that zoo.

— M. (@M.) 1547037568.0
@emilyjanefox Kinda funny considering he and the rest of the First Crime Family will soon be behind bars.

— calm like a bomb (@calm like a bomb) 1547014182.0
@emilyjanefox Taking solace in the thought that Don Jr and various members of his crime syndicate family including… https://t.co/GxaLqcolY3

— Zelda (@Zelda) 1547010724.0
@emilyjanefox Who is destined to be caged soon. The difference is that .@DonaldJTrumpJr DESERVES to be behind bars.

— PaulaInTulsaOK (@PaulaInTulsaOK) 1547012221.0
@emilyjanefox He'll be enjoying his own walls very soon.

— csd (@csd) 1547010952.0
@emilyjanefox Junior will be experiencing life in a cage in the not too distant future.

— Glenn Harmon (@Glenn Harmon) 1547009669.0
@emilyjanefox https://t.co/3vrBayBXmn

— John Palubski (@John Palubski) 1547013328.0
Maybe he should spend less time being inflammatory and more time seeming innocent.
UPDATE: This article originally claimed Donald Trump Jr. deleted the post from Instagram, it's been corrected to reflect that it was part of an Instagram story.