President Donald Trump lashed out at Senate Minority Leader Charles "Chuck" Schumer earlier today over his recent criticism of the president's decision to pull the United States out of the 2015 Iran nuclear deal.
True to form, the president referred to Schumer by one of the derogatory nicknames he uses to criticize politicians, foreign leaders, and media figures.
---
"Senator Cryin' Chuck Schumer fought hard against the Bad Iran Deal, even going at it with President Obama, & then Voted AGAINST it!" the president tweeted. "Now he says I should not have terminated the deal - but he doesn't really believe that!"
He added: "Same with [former FBI Director James] Comey. Thought he was terrible until I fired him!"
Senator Cryin' Chuck Schumer fought hard against the Bad Iran Deal, even going at it with President Obama, & then V… https://t.co/VjBpbVfIbi

— Donald J. Trump (@Donald J. Trump) 1525962627.0
Schumer responded with a short and sweet tweet, writing only #BeBest, the hashtag used by First Lady Melania Trump for her new social wellness initiative.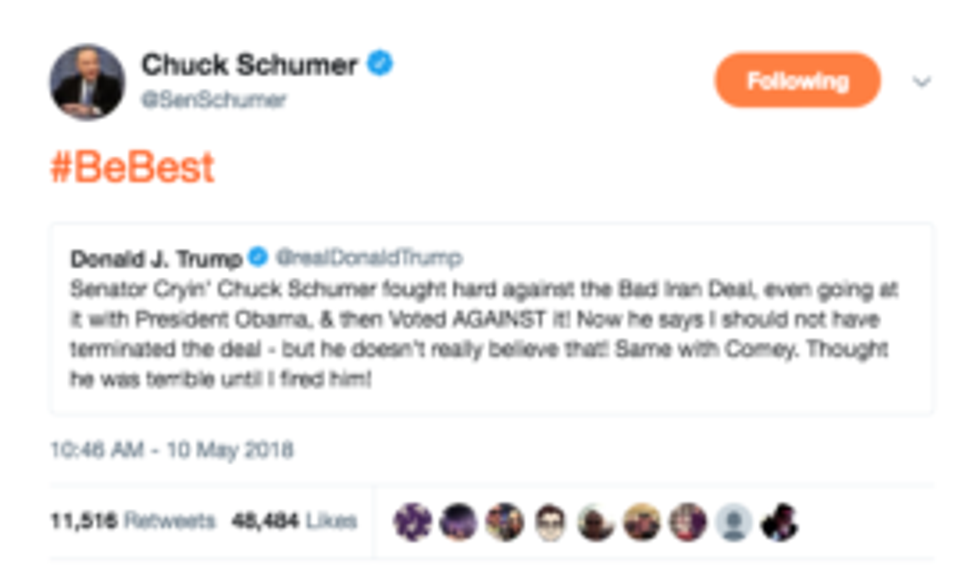 The First Lady's new initiative, in addition to supporting those affected by the opioid crisis, is meant to "encourage positive social, emotional, and physical habits" among children and improve their well-being online. The First Lady has faced criticism for speaking out against cyberbullying while her husband continues to attack people online. Despite this, Mrs. Trump has pledged to make cyberbullying one of the cornerstones of her tenure as First Lady.
"My passion is the same [as I've said in the past]: helping children and helping women. And also, I see now in 21st century, the social media, it's very damaging for the children," she told Anderson Cooper in October, shortly after an Access Hollywood tape from 2005 emerged showing her husband bragging about sexually assaulting women.
"We need to guide them and teach them about social media, because I see a lot of negativity on it, and we need to help them. It has some positive effects as well, because this is the life that we live in now. But has a lot of negativity as well. And I see more and more children being hurt by it . . . A lot of bullying."
Last month, the First Lady addressed the skepticism others have toward her leading an anti-cyberbullying campaign.
"I'm well aware that people are skeptical of me discussing this topic. I have been criticized by many for my commitment to tackling this issue, and I know that will continue," she said during a meeting with tech leaders. "But it will not stop me from doing what I know is right. "I'm here with one goal: helping children in our next generation."
The First Lady's good intentions were obscured by controversy, however, after it emerged that the booklet detailing the initiative's goals was first published by the Federal Trade Commission during the Obama administration.
This isn't the first time the president has criticized Schumer for his stance on the Iran nuclear deal. In 2017, he accused him of flip-flopping.
"Dem Senator Schumer hated the Iran deal made by President Obama, but now that I am involved, he is OK with it. Tell that to Israel, Chuck!" the president wrote at the time.
Dem Senator Schumer hated the Iran deal made by President Obama, but now that I am involved, he is OK with it. Tell that to Israel, Chuck!

— Donald J. Trump (@Donald J. Trump) 1508158167.0
In 2015, Schumer praised former President Barack Obama and then-Secretary of State John Kerry for their work on brokering the landmark agreement but insisted he could not support it.
"It is because I believe Iran will not change, and under this agreement it will be able to achieve its dual goals of eliminating sanctions while ultimately retaining its nuclear and non-nuclear power," he said at the time.
He continued: "Better to keep U.S. sanctions in place, strengthen them, enforce secondary sanctions on other nations, and pursue the hard-trodden path of diplomacy once more, difficult as it may be."
Today's attack against Schumer appears to have been precipitated by a statement Schumer gave reporters yesterday, saying that Iran has not violated the agreement and that the president's decision to exit the deal could complicate peace talks with North Korea.
"By dividing our allies ... you're making it harder to go after Hezbollah, you're making it harder to go after Iranian activities that are really dangerous and you're probably making it harder to come to a North Korea deal," Schumer said.
Trump had long campaigned against the nuclear deal and made exiting the agreement one of the signature pledges of his candidacy during the 2016 presidential election. He noted that any nation that helps Iran obtain nuclear weapons would also be "strongly sanctioned."
Statement on the Iran Nuclear Deal: https://t.co/O3SpryCKkc

— Donald J. Trump (@Donald J. Trump) 1525805520.0
"This was a horrible one-sided deal that should have never, ever been made," the President said. "It didn't bring calm, it didn't bring peace, and it never will."
The president had earlier criticized the deal as one of the Obama administration's "worst" decisions, and in his statements, he expressed his belief that the deal served to benefit the Iranian regime while sponsoring terrorism.
"At the point when the US had maximum leverage, this disastrous deal gave this regime — and it's a regime of great terror — many billions of dollars, some of it in actually cash — a great embarrassment to me as a citizen," Trump said.
But the president's move received swift condemnation from American allies. In a joint statement, the leaders of the United Kingdom, France and Germany expressed "regret and concern," acknowledging they wish to sustain the agreement, which provided Iran some relief from international sanctions in exchange for limits on and guarantees of transparency about its nuclear aspirations.
European leaders had earlier tried––and failed––to convince the president to preserve the nuclear deal.
French President Emmanuel Macron met with President Trump last month and urged Congress to not only stay in the deal but seek to improve it. German Chancellor Angela Merkel and British Foreign Secretary Boris Johnson, in separate meetings with the president, also urged him to keep the deal, agreeing with the assessment from U.S. intelligence agencies and Secretary of State Mike Pompeo that the deal limits Iran's nuclear capabilities for now and that Iran has always complied.