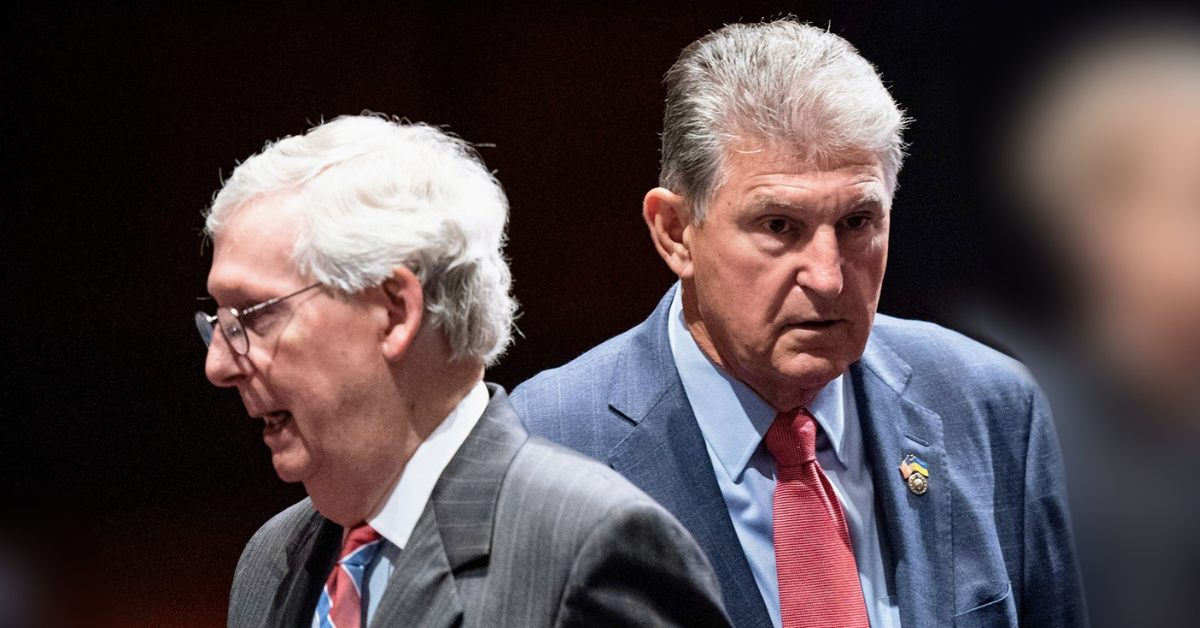 JABIN BOTSFORD/POOL/AFP via Getty Images
Washington, D.C. lit up on Wednesday with news of a breakthrough budget bill, smartly renamed the "Inflation Reduction Act of 2022," which had been negotiated in secret between Democratic Senators Chuck Schumer of New York and Joe Manchin of West Virginia and announced publicly by the latter.
Other leaders on Capitol Hill were caught off-guard by the news, and by the end of the night progressives and climate activists were cheering while the GOP was left reeling.
Tiernan Sittenfield of the League of Conservation Voters said:
"Holy sh*t! This deal is coming not a moment too soon."
Within the bill are $369 billion in long-sought after subsidies and tax credits for clean energy (e.g. solar, wind, hydrogen, small-scale nuclear and carbon capture) along with $7,500 for new/$4,000 for used electric vehicle credits that Manchin had long opposed. It also includes a whopping $60 billion earmarked for low-income areas and communities of color that suffered inequitably from environmental pollution.
The figure is roughly in line with earlier proposals that had called for $300 billion in tax credits for clean energy tech. Experts predict that, if implemented, it could lower U.S. carbon emissions by 40 percent from 2005 levels by the year 2030.
Given Manchin's about-faces in the past, many of his colleagues were careful not to get too excited.
But as details began to emerge, praise for the proposed bill has grown. Progressives got very good news with the inclusion of the ability for Medicare to regulate prescription drug prices starting next year, which will lower costs for many elderly Americans, and an extension of ACA premium subsidies for another three years.
It also raises new tax revenue of $313 billion by imposing a minimum corporate tax of 15 percent and closing the "carried interest" loophole used by venture capitalists to count their earnings as capital gains instead of ordinary income. And for budget hawks, the use of raised revenue to actually pay down the deficit by $300 billion is a great selling point.

The bill, if passed, will give Democratic President Joe Biden and the Democratic Party a solid win to run on for the upcoming midterms.
Many in Washington were so stunned by the developments that they were left wondering how all this happened so quickly and whether to trust it. After all, two weeks ago, things were looking very bleak for Democrats.
Manchin, through a different highly public announcement, had seemingly ended all hope of action on climate change before the midterms. Because the GOP looked poised to retake at least the House in November, this meant he likely had doomed its chances forever.
Gone, too, likely were any plans for a hike in corporate taxes to undo some of the giveaways of the Trump administration to corporations and high net worth individuals. The best Democrats could manage was perhaps to cobble together some modest action on lowering prescription drugs and expanding healthcare access, two things Manchin had somewhat lamely noted he was still interested in doing.
Minority Leader McConnell had been quite pleased until Wednesday.
To kill any chance of a deal, in late June he had threatened to torpedo the U.S. Innovation and Competition Act, a popular measure that would help aid American semiconductor manufacturers and bring home manufacturing jobs, should the Democrats so much as try to revive a "reconciliation" budget bill, formerly known as Build Back Better, that could pass with only Democratic votes.
McConnell tweeted:

"Let me be perfectly clear, there will be no bipartisan USICA as long as Democrats are pursuing a partisan reconciliation bill."
That threat seemed to work, with Manchin making it clear and "unequivocal" mid-July that a big budget deal with big climate action wasn't going to happen. On Wednesday, McConnell allowed the USICA, now rebranded as CHIPS, to move forward with a bipartisan vote in the Senate, with GOP votes whipped in favor. It passed with 17 Republican votes, enough to overcome a filibuster.

Then, last night, after CHIPS made it through the Senate with McConnell's blessing, Schumer and Manchin sprang their switcheroo and announced the new budget bill. McConnell reacted furiously, threatening out of spite to scuttle the CHIPS bill by having GOP House members vote against it.
His messaging also seemed off-point, with him tweeting:
"Democrats have already crushed American families with historic inflation."
"Now they want to pile on giant tax hikes that will hammer workers and kill many thousands of American jobs."
"First they killed your family's budget. Now they want to kill your job too."
In a time of high inflation and low unemployment, a bill aimed at reducing inflation by taxing big corporations seems more in the pocket than this diatribe.
Given this series of events and the timing of the announcement, it's tempting to presume that Schumer and Manchin simply outplayed McConnell.
But there's also reason to believe that Manchin truly meant to torpedo the climate bill in mid-July and only came around after intense work and pressure by climate activists and lobbying by fellow Democratic Representatives like Ro Khanna of California, a progressive who is surprisingly close to Manchin and stayed in touch with him through the recent weeks, even speaking with him personally Wednesday night after the agreement was announced.
Then there is the lingering question of whether Manchin means what he says this time, as opposed to last time. Manchin maneuvers and flip-flops so regularly that it would be unwise to assume that he is ever fully on board, even with his own negotiated and announced bill.
He is the proverbial Lucy with the football, and Democrats are understandably reluctant to run to kick it. It's therefore important to ask, somewhat cynically, what Manchin received in exchange for this turnaround.
Manchin certainly did not come away empty handed.
As part of the deal, Democratic leaders, including Speaker Nancy Pelosi and President Joe Biden, agreed to allow a bill later this fall that eases rules that have been slowing upgrades to the power grid and constricting new energy production, including a shale pipeline Manchin very much wants in his own home state of West Virginia.
He can take that back to his constituents.
Plus, Manchin is once again the center of a high stakes drama and is pushing to have his own bill passed rather than the one nearly all other Democrats wanted. In some ways, Manchin watchers shouldn't be surprised at these last minute developments.
All of his moves very much resemble what happened last year with the For the People Act, a broad voting rights bill to which Manchin dramatically announced his opposition, only to be heavily lobbied by civil rights activists and to emerge with his own re-branded "Freedom to Vote Act."
There, Manchin needed 60 votes to get the Senate on board, so his substitute Act ultimately failed. But today, thanks to the special rules around reconciliation, Manchin could see his Inflation Reduction Act of 2022 squeak through an even-divided Senate.

Besides Manchin killing his own bill, which feels unlikely but should never be ruled out at this late point, there are a handful of things that could still go wrong as the Senate readies to take up the bill next week. It must pass muster before the Senate Parliamentarian as qualifying under the budget reconciliation rules.
Then, all 50 Democratic Senators need to be healthy and present for the debate, in the form of a lengthy vote-a-rama of amendments—a risk underscored when Manchin tested positive for Covid two days ago and had to self-isolate.
Then there's the other chaos agent, Democratic Senator Kyrsten Sinema of Arizona, who also needs to be on board, which is never a given. But in this case, the bill seems mostly targeted to things she has approved of in the past, including the minimum corporate tax as the primary revenue generating mechanism.
And while she is on record opposing elimination of the carried interest loophole, it makes up only a relatively small ($14 billion) portion of the whole bill. From where I sit, it looks like as though this was put in as a line item that Schumer might later strike out, should he need to appease her.

Finally, the bill in a very similar form also has to pass the House. There, moderate Democrats may balk at the lack of state and local tax (SALT) cap removals, something they had earlier demanded be a part of any reconciliation package.
It is unclear how they will feel now that their feet are to the fire, but most observers do not believe that they would dare sink the bill, not to mention their party's chances in November or the health of the entire planet, simply to lower taxes for their middle to upper class constituents. Pelosi's skills as Speaker and Representative Jim Clyburn's of South Carolina as Majority Whip will be put to the test, as the party can afford few defections.
In short, it's certainly going to be a very high stakes end to this legislative session.
Biden has already notched bipartisan wins in infrastructure and likely soon in chip manufacturing and countering China, but he has yet to deliver on key promises of addressing climate change, having corporations and the wealthy pay a fairer share of the tax burden, and lowering health care costs.
If this bill can pass Congress, and reach his desk under the slimmest of margins, it will cast his administration in an entirely different light in the eyes of many voters while making huge strides toward addressing critical national and global issues.